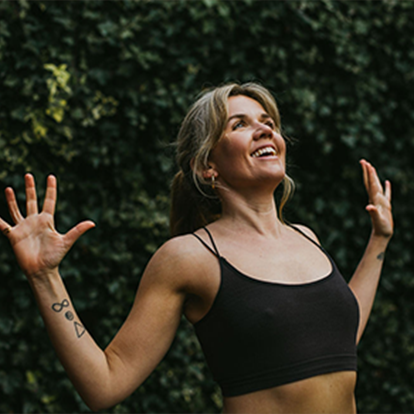 Rosie is a yoga teacher and paddle-boarding coach with over 10 years of personal practice. She initially trained in Bali in Hatha and Vinyasa Flow and has subsequently completed training in Yin yoga, Forrest yoga, SUP yoga, Thai yoga massage and Biodynamic Craniosacral Therapy.
She is known for her warm and engaging teaching style and personalised approach. She believes that yoga is not a 'one size fits all' and encourages individuals to work with their own bodies not against them. To establish a sense of their center and come home to who they truly are. Her distinct style of teaching closely mirrors her personality; observant, empathic, warm and supportive. Her dynamic classes focus on healthy, spacious alignment and Forrest yoga inspired core connection, fused with creative vinyasa flows. Her yin and restorative classes incorporate yoga energetics and therapeutics. Rosie's intention with every class is that the experience feels inclusive, healing and soulful.
Rosie has facilitated numerous retreats and specialises on experiences that that combine yoga, water (be that on it or in it) and a deep connection to nature; both your own and the outdoors.Rosie has a background in psychology with a focus on Eastern psychology and body psychotherapy. She is currently studying for a masters in psychological anthropology. These learnings add colour and depth to her teaching and her classes aim to support the body, mind and spirit combined.
When not teaching yoga or paddling, she can be found in cold water (swimming!) or drinking tea in bed first thing. She currently lives in London and travels extensively for work and life.