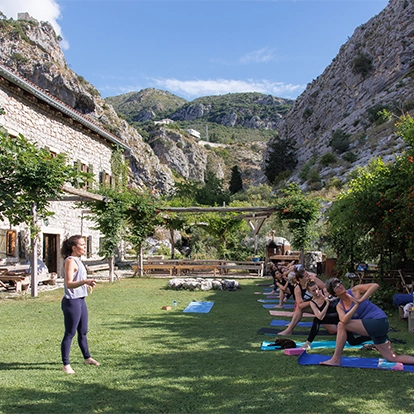 During a stressful period of working in the corporate world, running marathons and taking part in Ironman triathlons, Felicity found Yoga; a practice that totally transformed her life.  She practised for several years before training and qualifying in 2014 and it was then that she left the corporate world, went travelling for six months and started teaching yoga full time. Since then, Felicity has completed multiple advanced teacher training and has continued to develop her teaching skill and knowledge, training with world-renowned teachers in styles such as Hatha, Vinyasa Flow, Restorative, Pregnancy, Postnatal and Breathwork. She has a wealth of experience of teaching a range of experience levels, from complete beginners to the more advanced. Having experienced the impact that yoga has had on her own well-being, Felicity's mission is to make yoga feel less intimidating and more accessible to everyone, regardless of whether or not they can touch their toes so that the benefits of yoga can be felt by all.
Felicity has always had a passion for travel and adventure. As part of her university degree in French & Spanish, she lived in Mexico for a year and then travelled through Central and South America. After this there was no stopping her; every minute of her annual leave was spent exploring the globe, including cycling in Japan, Vietnam and China, hiking in Bhutan, adventure racing in Borneo, surfing in Lombok and Sri Lanka, and canoeing in the Yukon. She has climbed mountains around the world, including Mont Blanc, Kilimanjaro, Kinabalu and Everest Base camp, and has run 6 marathon majors. She has also done 250 skydives.
Whilst she loves travelling the world, she can also be found walking the Cornish coastal paths with her Rhodesian Ridgeback called Asha.