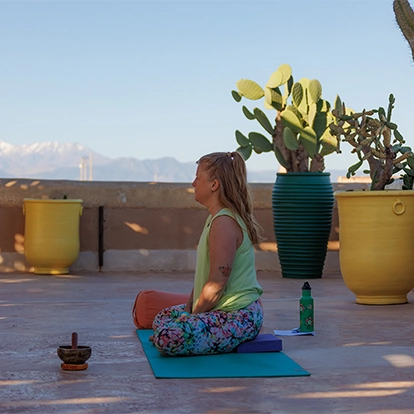 Louise began her Yoga journey whilst living a fast-paced lifestyle in London practicing dynamic styles of Hot Yoga. This fitted in with the intensity of her life and opened her up to what it felt like to be truly in the moment. After spending months in India at ashrams and taking her first teacher training, in Hatha Vinyasa Flow, she decided to shift things down a gear and move to Brighton in 2012. It was there that her Yoga mentor suggested to her that even though she was drawn to dynamic Yoga what she really needed was the opposite, to slow things down, to help heal injuries and to find a sense of balance.
It was then Louise discovered Yin yoga, a slow mindful practice that is the perfect tonic to a busy over stimulated world. Louise has since studied Yin with Norman Blair, Sarah Powers and Bernie Clarke and now runs her own Yin Teacher Trainings. She is a life coach, Reiki healer and blends all of this with the philosophy of Yoga & Chinese Medicine when she teaches.
Louise is passionate about helping people create space in their life to connect with themselves, to breathe deeply, to think clearly and listen to their heart's guidance. Yoga has taught Louise that all you ever have to do is be yourself, just as you are right now and this underlying in her teaching. Louise teachings Mindful Hatha Flow & Yin Yoga and teaches to all levels.