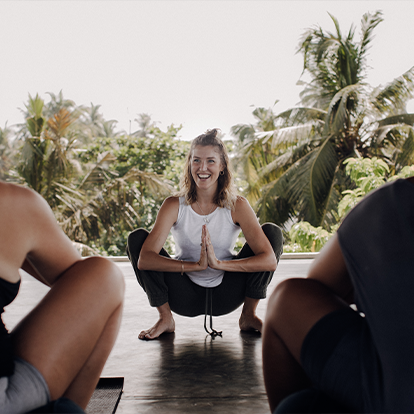 Jessamin's movement journey began in the mid-2000s with a fulfilling international career as a professional dancer and performer in theatre, film and opera. During this time she started integrating yoga into her daily dance training, as a method of grounding, energising and realigning the body while on tour.
Jessamin went on to study intensively with leading Vinyasa Flow teachers Claire Missingham, Shiva Rea and Abby Hoffmann, culminating in her becoming a Yoga Alliance certified yoga teacher with over 500 hours of training behind her. She now teaches yoga to professional dancers, surfers and yoga students around the world.
'I'm passionate about sharing the joy and freedom of movement through yoga – with classes that challenge, strengthen and restore.
My heart-centered offerings are tailored to individual needs, encouraging students to honour their bodies and minds in a conscious embodiment of yoga practice. Creative, mindful flows weave together deep, alignment-focussed asana (postures) and pranayama (breathing techniques) with hands-on-assists, heavenly scents and soulful sounds, leaving students grounded and uplifted in equal measure.
I specialise in Prenatal, Mindful Vinyasa Flow and Yin Yoga, holding space for these offerings in Private, Group and Teacher Training settings from my home in Sri Lanka, Online and on retreat around the world. I am also a hypnobirthing and women's circle guide, and mama to Avila Rae – my greatest teacher.
I am so looking forward to meeting you on retreat, and diving deeply into this space where you can just be. Space for you to receive, reflect and re-fill your cup. ALL of YOU is welcome here.'