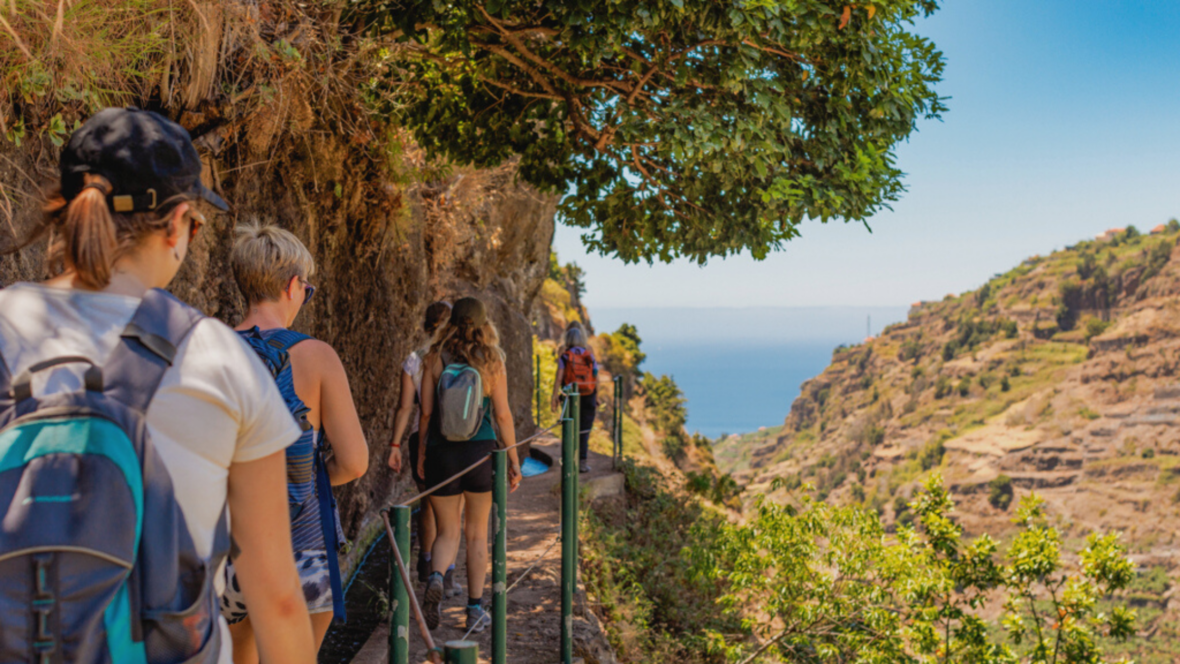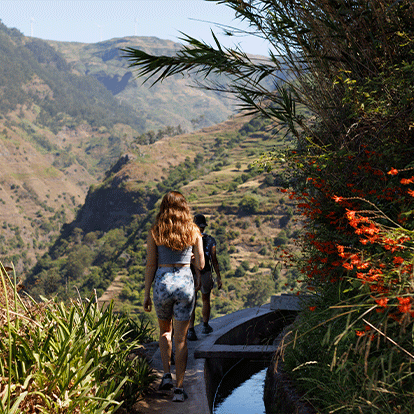 New year in Madeira 2023/24
New year Madeira Yoga Retreat, Portugal: December 29th 2023 - January 5th 2024
Enjoy a new year adventure in this award-winning destination with jaw-dropping views of the rugged coastline and ocean. Enjoy culture, hikes, stunning scenery, new year fireworks and feast and blissful yoga.

29th December 2023

Madeira
Time to join us for a new year yoga holiday in Madeira!
Escape the usual new year and take time out for yourself to spend a whole week in this tropical paradise. With yoga twice a day, a selection of hikes that show off the landscape of Madeira, delicious veggie/plant-based food and the culture and friendliness of the locals, return home feeling refreshed and ready for 2024. And don't forget the infamous fireworks display on New years eve…a spectacle to be ticked off the bucket list.
As it is a new year yoga holiday with us and as with all our new year retreats we share with you a setting intentions workshop, to get clear on your goals for 2024 and a New years eve feast and ceremony to bring in 2024 with positivity, peace and community.
Madeira is situated not far off the coast of North Africa, an island full of raw, natural beauty and adventures. Madeira may be small in size but it makes up for it by everything else being on a grand scale. To begin, it boasts Europe's highest sea cliffs, and over 1300 hiking trails and even shows off the world's largest firework display annually. This volcanic island really is a sight to behold.
Pioneers of slow tourism, Madeira is an island that protects and conserves its natural assets with care both on land and at sea. In fact, two-thirds of Madeira's 741km2 is classified as a nature reserve. Furthermore, the natural heritage of the Madeira archipelago makes it a prime ecological destination.
For our new year yoga holiday in Madeira this December, you will be staying in one of the oldest Quintas on the island. Perched high above the bay of Funchal with sweeping views across the city and out to sea it feels like home from the moment you arrive.
A vast estate, the property is a working farm with a vineyard and a long, fascinating history! There are beautiful gardens to enjoy and a swimming pool, anyone for a cold water dip?!   This is not a remote location, only a 15-minute walk into the city even though it feels like a fully secluded estate.
Honestly, there are so many adventures to be had in Madeira, that we struggled to create an itinerary that squeezes it all in! However, we have created a new year yoga adventure that blends the best this incredible island has to offer.
Itinerary
The days on your new year yoga holiday in Madeira will be the perfect blend of adventure and relaxation. The hikes in Madeira are challenging – this is a volcanic island so you can expect walks that have both ascents and descents. However, we take everything at a gentle pace so we can take in the beauty of where we are and the company we are in.
A day on retreat in Madeira
7 am
Tea and pre-yoga snacks served in the terrace
7.30 am
Energising morning yoga
9 am
Delicious vegan/veggie brunch to fuel the days adventures
10 am - Day 1
Walk into Funchal to explore the local area
10 am - Day 2
Guided hike through the Levada trails - setting intentions workshop, new year!
10 am - Day 3
Wake up a bit later, relaxed morning, enjoy Funchal
10 - am Day 4
Guided hike along the coastal paths, taking in the incredible views
10 am- Day 5
Trip to the stunning North of the island to enjoy another walk
10 am - Day 6
A day to yourself to do as you please
4 pm
Back home to relax and unwind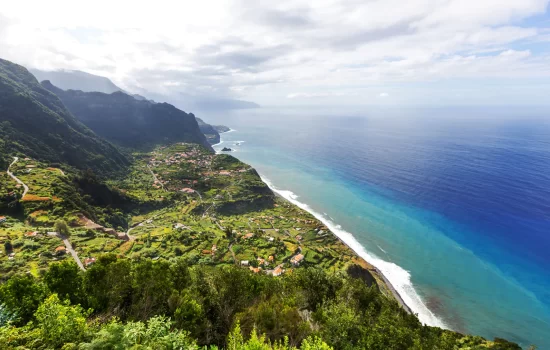 Beautiful Madeira
Madeira, a subtropical island located in the Atlantic off the coast of North-West Africa, offers a treasure trove of hidden gems waiting to be explored. With its breathtaking landscapes, this Portuguese territory is a dream destination for ocean and mountain enthusiasts. Whether you're seeking adventure or relaxation, Madeira offers something for everyone, making it an ideal location for a wellness retreat or walking holiday.
Read more
For those seeking a yoga retreat, Madeira offers the perfect getaway. Immerse yourself in the island's natural beauty and practice yoga amidst the stunning scenery. With numerous yoga retreats available, you can find the perfect program to suit your needs. Whether you're a beginner or an experienced yogi, Madeira is the ideal place to rejuvenate your mind and body.
Experience the ultimate in relaxation with a wellness retreat in Madeira. With its tranquil atmosphere and natural beauty, this island is the perfect place to unwind and rejuvenate. From luxurious spa treatments to meditation and yoga classes, there are plenty of options for those seeking a wellness escape. So why not treat yourself to a wellness retreat in Madeira and return home feeling refreshed and rejuvenated?
Here are out 9 top reasons to visit Madeira, Portugal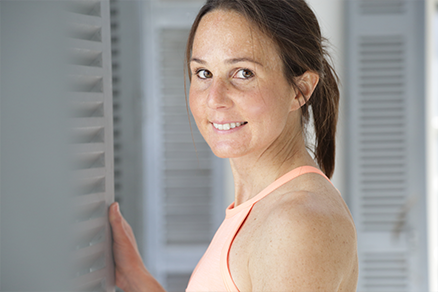 Felicity Wood
During a stressful period of working in the corporate world, running marathons and taking part in Ironman triathlons, Felicity found Yoga; a practice that totally...
About the yoga
The yoga classes on your new year yoga holiday in Madeira will be suitable for all levels and abilities, complete beginners are welcome.
There is a beautiful indoor yoga space perfect for your yoga classes.
Our morning yoga classes will be a blend of grounding Hatha, strong flows and creative movements to energise you for the day ahead. Evening sessions will be a blissful end to the day with restorative, yin and meditation.
We provide yoga mats on this yoga holiday and we recommend you bring anything else you think you would like to use.
Highlights
Exclusive use of stunning Quinta with views and gardens

Breakfast and dinner by our amazing AY chef

Twice daily yoga classes

Guided hikes with a local mountain guides

A new years eve feast and setting intentions workshop

Enjoy the new years eve fireworks display Madeira is known for
About the food
The island is known for its wonderful fresh produce that grows from the nutrient-rich volcanic soils of the island.
We will be making the most of the sub-tropical climate and the abundant organic local produce to create our plant-based/vegetarian meals for you to enjoy.
As you are probably aware, Madeira is also famed for two of lifes' most wonderful gifts – wine and cake. Of course, it would be rude not to, especially as our Quinta is home to a vineyard and you can experience from grape to glass from the garden!
Our post-yoga brunch will fuel your days' adventures and evening meals will showcase the skills of our chefs and produce of the island.
As we will be out and about during the days, lunches will be from local cafes, markets and restaurants while we are out. On hike days where this is not possible, we will provide you with a delicious packed lunch.
Your evening meal will be two courses, a main and dessert.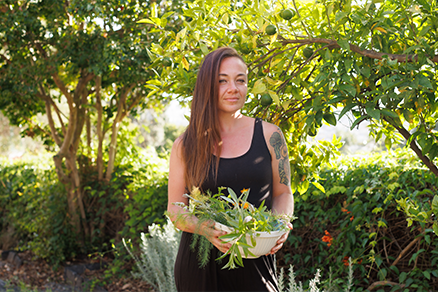 Chloe Webb
Chloe spent her twenties living and working in London, running the kitchens in cool East London cafes whilst freelancing in events catering on the side....
Suitability
This yoga holiday Madeira is suitable for anyone that is looking for a fun, activity-based yoga adventure in a community environment. It doesn't matter if you are a beginner to both yoga or the activities on offer, we love introducing people to new experiences! The yoga will be suitable for all levels and experiences to complement the activities on offer.
All ages
Beginners
Intermediate
Men & Women
Lovely - spacious, airy, homely, the terrace was a great spot for yoga in the mornings and the studio was a nice alternative space for yoga in the evenings. Great views from the rooms and terrace!
Lianne – Peak District
Great place for a group of people who like winter sports
Joseph – Ski Yoga Holiday
So far I've been on three AY retreats and I can't wait to go on my Fourth! Loved the surf, the beaches, the yoga shala, the rooms! All of it.
Sara Day – Costa Rica
I really needed this retreat after my abroad retreat was postponed twice. The Peak District long weekend however was as good as any retreat abroad, in beautiful surroundings and with like-minded people. It was nice to have a laugh again and make new friends.
Jenny Bastock – Peak District