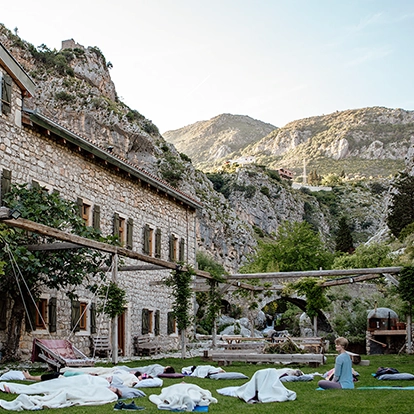 Autumn Multi Adventure Yoga Holiday in Montenegro
Montenegro, September 14th - 21st & 21st - 28th 2024
Join us for an exhilarating hiking yoga holiday Montenegro for an adventure week in a beautiful country.

14th September 2024

21st September 2024

Montenegro
If you are a lover of the great outdoors then our multi-adventure yoga holiday in our olive mill in Montenegro is for you.
Montenegro is a beautiful and yet still untouched country just outside Europe, bordering Croatia. It has everything you could dream of, mountains, vast lakes, beaches, waterfalls and wild swimming areas. We have planned a week to showcase all that this untouched area of the world has to offer.
For your week-long hiking and adventure yoga holiday, you can expect a relaxed yet exhilarating itinerary, with breathtaking hikes and walks, boat excursions, beautiful day trips and more, with 3 hours of yoga per day.
Come and stay in our much-loved venue, we have been staying here for 8 years and it is situated in a great place for easy access to country walks and hikes, waterfalls and rivers, the local historical village of Stari Bar, lake Skadar and the beach. You can choose to be as active or relaxed as you like on this adventure and everything is included in the price as soon as you arrive on Montenegro turf.
Our accommodation is a rustic renovated olive mill, with single room options as well as a twin and some triples, with a large relaxed communal space, or if you prefer to be outside, there is a large garden with an outdoor plunge pool to cool down. If you're an animal lover, there are two cats and chickens! This accommodation is of simple design (the original mill is several hundred years old), so you won't find mod-cons – but its character and peaceful setting make it very special.
Thinking of joining us on our hiking yoga holiday in Montenegro? Here are 5 reasons to join us 
Find out more about Montenegro here 
Itinerary
A Typical Day on your week-long multi adventure yoga holiday Montenegro:
8am: Wake up with hot water and lemon.
8.30-10am: Morning yoga practice.
10.00am: Brunch served.
11am-5pm: Time for activities – Walking, hiking, climbing or just relaxing in the chalet. Massage and other holistic treatments on offer.
6pm-7.30pm: Evening yoga practice.
7.45pm: Dinner.
Each day we have something exciting in store for you…
Please note that this schedule is all optional – it is your holiday so you can be as active or relaxed as you like. If you feel like you need a day off to relax, have a snooze and a massage then do it!
Please Note: The schedule is subject to weather changes and may vary during the retreat
For more info on Montenegro check out their tourist board website
Day 1

Arrival day, welcome briefing and meal at 8pm
Day 2

Explore the beautiful traditional old town of Stari Bar, discover the secret wild swimming cascading waterfalls of the area
Day 3

Enjoy a hike in the Montenegro mountains
Day 4

Transfer to Lake Skadar, and swim, relax and/or enjoy a boat trip around the magnificent lake
Day 5

Walk to a beautiful waterfall which starts from the retreat
Day 6

Local beach excursion for some chill time and swim
Day 7

Free day for sun worshipping, exploring the local area, enjoy a spa day, or we can organise for you to see anything you would like to in the area!
Day 8

Departure Day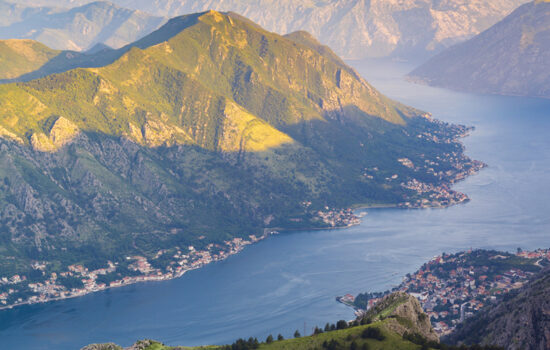 Beautiful Montenegro
Explore the untouched beauty of Montenegro on our walking and yoga holidays. Sandwiched between Croatia in the north and Albania in the south – all three countries having a coastline in the Mediterranean and Adriatic sea, Montenegro has a variety of jaw dropping landscapes that would surprise anyone.
Read more
Next to the Croatia border are the Montenegro Fjords around the city of Kotor where the cruise ships sail down. Moving along the coastline where the mountains meet the sea with spectacular cliffs to the north and enjoy sandy beaches down in the south. The rugged landscape inland along windy roads and stunning scenery lead you to Lake Skadar is where Albania and Montenegro meet with a dramatic mountain range. Inland to the north there are the Durmittor Mountains where you can ski in winter! Where we are located in a village called Stari Bar we are close enough to enjoy a whole day hike up the highest mountain in Montenegro – Rumija. With views of fjords and the sea on one side and the rolling hills on the other.
There really is something for every holiday preference in this untouched country from Montenegro walking holidays or the more relaxing yoga breaks Montenegro can offer. They use the currency the Euro but are not part of Europe yet, so the holiday maker can benefit from affordable pricing, unlike its sister country Croatia.
Stari Bar is also a quaint small village steeped in history with a fort to explore and cosy restaurants to relax in. And we mustn't forget the wild swimming pools that each hike leads to.
Check out our top 5 reasons to visit Montenegro!
For the foodies, take a look at food from our Montenegro travels
Our Yoga Teachers
Over the 17 years that AY has been organising our bespoke retreats, we have always made sure that we work with exceptional yoga teachers who are dedicated to their practice and live and breathe yoga, so you can feel safe in the knowledge that you will be inspired, relaxed and tensions dissolved by the end of your retreat with us.
About the yoga
Morning Class on your multi adventure yoga holiday Montenegro:
Our 1.5 hour morning classes are designed to help you awaken your body, focusing on energising and invigorating your body, ready for an exhilarating day exploring the stunning scenery.
Evening Class on your multi adventure yoga holiday Montenegro:
After your day hiking, exploring or relaxing at the beach, return to the olive mill to unwind and relax tired bodies with a restorative evening yoga class. This gentle session will vary each evening and include pranayama and meditation to help the mind and body really let go and allow you to enter a state of deep relaxation.
Highlights
A well balanced adventure combining Yoga, hiking, culture and relaxation

Explore untouched scenery and breathtaking views

Walks to picturesque wild swimming spots

Enjoy a half day hike and shorter walks to waterfalls

Delicious Gourmet Vegetarian/vegan meals

Incredible friendly local hosts so you can enjoy your perfect trip
About the food
The food in Montenegro is special. Local, seasonal, and as fresh as it gets. We use a combination of the local market, bakeries, delis and small shops for our supplies. You can expect delicious salads with the most amazing tomatoes and olives, wholesome meals to nourish and fuel your adventures, and freshly baked bread. We even sample some local sweet treats (the Baklava is amazing!) for the perfect fix after hikes.
You will enjoy brunch and a two-course evening meal while lunch will be at 'home' in the garden or even as a 'packed picnic' to take on our adventures! Of course, everything is vegetarian or vegan.
We will cater for any dietary requirements, just let us know in advance.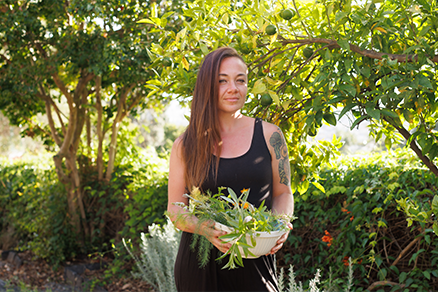 Chloe Webb
Chloe spent her twenties living and working in London, running the kitchens in cool East London cafes whilst freelancing in events catering on the side....
Suitability
This multi-adventure yoga holiday Montenegro this October is suitable for those who love hiking, the great outdoors and being active. All ages are welcome and no experience of hiking is necessary but a good level of fitness is desirable. Yoga is suitable for all levels and ages.
All ages
Beginners
Intermediate
Men & Women
I had the most amazing time. The location is beautiful and the food incredible. Really well organised and great activities within easy reach
Gemma Taylor – Montenegro
Montenegro is incredibly beautiful and we were able to explore the natural beauty of the surroundings without feeling like a tourist
Heena Pawaskar – Montenegro
Incredible experience. For anyone who is not a 'yogi' - go for it, you will change your mind on how you work out!
Kim Rowles – Montenegro