Vegan Mulled Berry Cheesecake – Vegan Christmas Dinner: Part Three:
Vegan Mulled Berry Christmas Cheesecake
Christmas dinner is the best time to get together with family and friends and share something delicious. However, when you are plant-based this can be a challenge and no one should miss out on a delicious meal at Christmas! Especially pudding. Especially, a pudding as delicious as this Vegan Mulled Berry Cheesecake!
In this household, Christmas pudding has never been a winner. So, this is something different for all those non-fans of the traditional pud. Furthermore, Vegan Mulled Berry Cheesecake is a lighter finish to a heavy meal.
Vegan Mulled Berry Cheesecake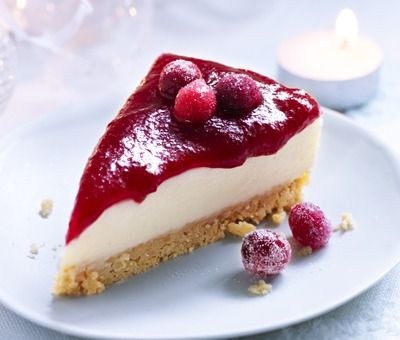 Vegan Mulled Berry Cheesecake Ingredients:
200g/7oz vegan biscuits, such as plain Hobnobs/supermarket Oatie biscuits or McVitie's LIGHT Digestives
75g/3oz vegan margarine, eg Pure OR mild coconut oil
50ml/2fl oz soya milk
350g/12oz packet silken tofu, firm or soft – eg Blue Dragon, Morinu, Morinaga or other brands
200g/7oz vegan cream cheese – eg Violife original (Tesco etc) or Tofutti original, available from health food shops
1 tbsp vegetable oil
1-2 tbsp golden or agave syrup syrup
1 tsp vanilla essence
½ tsp lemon or orange essence (optional)
2 tsp arrowroot
Fruit topping:
3 cups frozen fruit of choice. Obviously, we love mixed berry.
2tsp arrowroot
Mulled spices
Maple/agave syrup (to taste)
Vegan Mulled Berry Cheesecake Method:
Preheat the oven to 350°F/180°C/Gas Mark 4.
To start your Vegan Mulled Berry Cheesecake, grind the biscuits in a food processor or similar until there are no large lumps left.
Then, melt the margarine or coconut oil and mix in the biscuit crumbs.
Next, spread in a greased flat tin – about 18cm/7inches diameter if round – or a 20cm/8 inch square will do also. A loose-bottomed springform is the easiest to use! Bake the base in the oven for 5 minutes.
Meanwhile, blend all the other ingredients thoroughly until smooth (except the fruit).
After, remove the crumb mixture from the oven and pour the filling over the base.
Bake in the oven at the same temperature for 20-30minutes. To test, shake the tin and it shouldn't wobble in the middle. Remove and leave to cool.
Add your fruit to a saucepan and turn onto low heat.
When the berries have started to reduce and resemble a sauce, add your mulled spices and arrowroot.
Next, stir often and add more arrowroot if needed.
Once desired consistency has been achieved, take off the heat and add maple/agave syrup to taste. I like my fruit topping to be quite tart to contrast the cheesecake so add approx 2 tablespoons.
Finally, put fruit mix and cheesecake in the fridge until ready to serve. Slice the Vegan Mulled Berry Cheesecake then dribble the fruit mix all over it and enjoy!