The Italian Bramble Mocktail – Festive Mocktails
This is the third in a series of festive mocktail recipes, created especially for you! The Italian Bramble Mocktail! You can see our recipe for a Grapefruit and Rosemary Mocktail, and our Ginger, Basil and Grapefruit Spritzer, here!
While a classic bramble calls for gin and blackberry liqueur, this bramble mocktail incorporates juniper berries and frozen blackberries to create a similar effect. With a homemade lemon-rosemary juice that's beautifully layered beneath the juniper-blackberry mixture, this mocktail is almost too pretty to drink.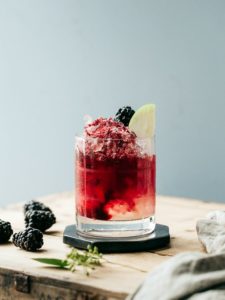 Bramble Mocktail Ingredients
– 1 cup frozen blackberries
– 10 juniper berries (you can get them in the canning
section of a specialty store or at a gourmet shop)
– 1/3 cup sugar
– 3 lemons, juiced
– 1 small sprig of rosemary
– 6-8 cups of ice
– Sparkling water
– 1 small apple sliced and blackberries as garnish
Bramble Mocktail Instructions
1. Place 4 glasses in the freezer. Leave them there to frost ready for your Bramble Mocktail.
2. Put the frozen blackberries, juniper berries, and sugar in a pot with a tiny splash of water and bring it to a simmer. Smash the fruit with a whisk until it breaks down. Simmer for 15 minutes, then remove from the heat. Then, cool down for a couple of minutes and place in a blender on high speed until pureed and smooth. Strain through a fine-mesh and place strained content in the fridge to cool down.
3. Rinse your blender and add the lemon juice and small rosemary sprig and blend for 20 seconds. Strain juice into a clean cup and set aside.
4. Place the ice in the blender and break it down in batches. Just pulse it a few times; you want it to be chunky.
5. Take the frosted glasses out of the freezer, fill halfway through with crushed ice, then pour equal amounts of the lemon/rosemary mix into each glass, add a splash of sparkling water and top each glass with ice all the way to the top. Finally pour about 3oz (2 shots) of the juniper and blackberry reduction in each glass. Garnish with apple slices and blackberry ready to serve your delicious Bramble Mocktail!
If you'd like it to be a touch sweeter you can either increase the amount of sugar or add more of the blackberry mix into the drink. Why not join us on one of our New Year Retreats and experience some of our chef's favorite mocktails to add t your recipe list!