Ayurvedic Poached Pears for Autumn
Poached Pears for Autumn
We love this poached pears recipe! In autumn, we run our Ayurveda for autumn retreats in Somerset and we tailor the food to suit the season with the help of our Ayurvedic practitioners' advice on seasonal diet.  Poached pears are  a perfect autumnal dessert to warm the soul and nourish the body, and it's delicious too!
The Ingredients for poached pears
6 ripe but firm pears
4 pitted dates
juice of one orange
2 tsp maple syrup or date syrup
1 tsp ground cinnamon
½ tsp fresh grated ginger
½ tsp grated orange zest
2 tbsp shredded coconut (optional)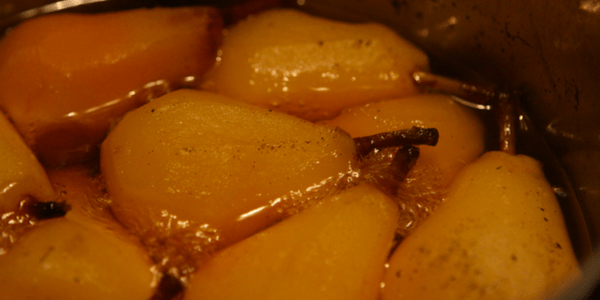 The Recipe for poached pears
Peel each pear, leaving stalk and cut a thin slice off base so it stands up. Place in a saucepan with an inch of water and bring to simmer. Add dates, orange juice, zest, syrup, cinnamon and ginger and simmer until pears are tender (about 12 minutes). Remove pears and place on serving plates. Continue to simmer liquid in the pan, stirring all the time until it thickens enough to spoon glaze over pears. Garnish with coconut to serve. For Kapha in moderation!
For something a little different, check out our recipes our favourite Mocktails, one using pears! And, check out this article on why pears are so good for you! HERE!
Thanks to Joanna Webber for this recipe.
We would love to meet you on one of our yoga retreats! With so many to choose from in the UK and abroad!