Mocktails for an Alcohol Free New Year – 5 of the best!
Tis' the season to be jolly! We are seeing more and more people go alcohol free and loving the effects it has on their physical and mental health but, when it comes to the festive season being jolly can often mean going back to the booze! So, here our top 5 mocktails for New Year to try and keep you hangover free!
Mulled 'wine'
The smell alone is enough to boost the festive spirit and keep you feeling warm with this delicious mocktail for New Year.
Combine 500ml Pomegranate juice with 250ml Apple Juice – not from concentrate if possible
1 or 2 cinnamon sticks
1 or 2 star anise
4 cloves
3-5 black peppercorns
Handful of blackberries – frozen work fine!
One orange cut into slices
½ apple cut into slices
Heat the pomegranate and apple juice on a low heat until it warms and steam starts to rise but try not to let it boil.
Add all of the spices and leave for 10 minutes. The longer you leave it the more the spices will infuse through.
After a minimum of 10 minutes if you wish, you can add the sliced fruit or if you prefer you can use it to garnish the drink once it is on the glass.
Use a ladle to pour into a glass or mug trying to leave all of the spices left behind. You may wish to put it through a sieve if the spices have broken up.
Mojito Mocktail
So simple you will be wondering why this hasn't been your go to drink all year!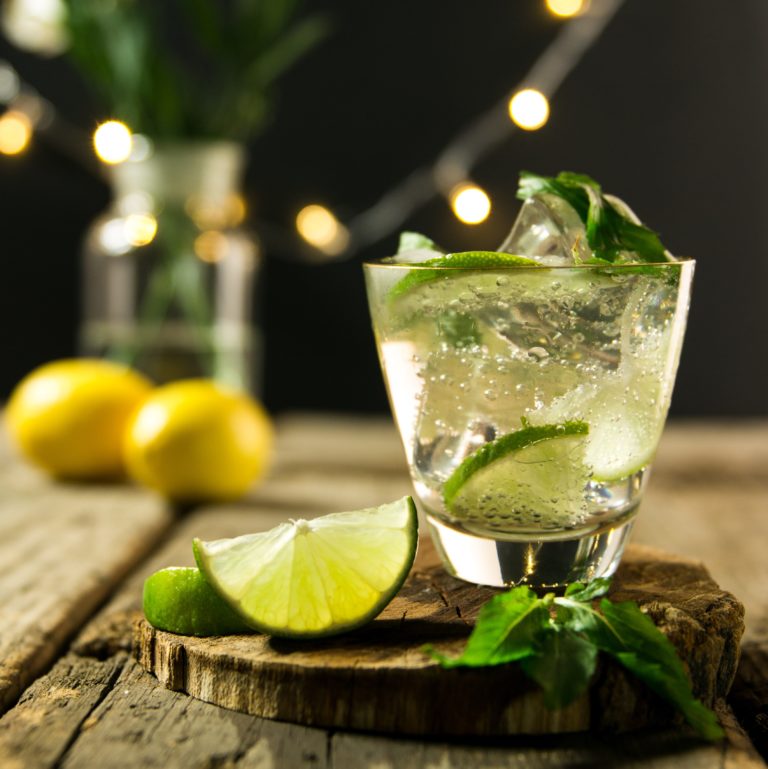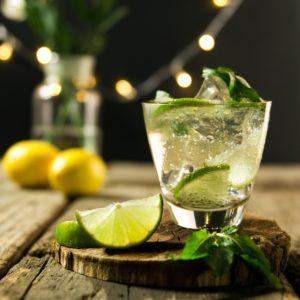 Handful of mint leaves – must be fresh
1tbsp brown sugar
Soda water
Crushed ice
3 limes, juiced
Mix the sugar and mint leaves together in a pestle and mortar without breaking up the leaves too much ( or a bowl and the end of a rolling pin works a treat)
Divide the lime juice into the bottom of the glasses.
Place a spoonful of sugar mint combo on top.
A handful of crushed ice into the glass (this is optional).
Top up with soda water and voila!
(Slightly) Festive Pina Colada
Nothing says party like a Pina Colada and it can briefly take you back to magical trips and travels! It's a tropical mocktail for New Year!
1 can of coconut milk
½ a pineapple – pineapple juice works fine but the flavour is amazing with fresh!
1 lime
Pinch of cinnamon – goes so well and adds that little festive feel!
Crushed ice
In a blender put your chopped pineapple, coconut milk, cinnamon and a good squeeze of lime.
If you have a blender that can, also put a handful of crushed ice in.
Whiz and blend until smooth.
Pour into a glass, put the party tunes on and celebrate!
Chai Latte
Another stove top wonder and yogi favourite that makes the house smell as delicious as this tastes! Feel free to change the amount of spices you use to fit your personal tastes but we recommend…
1 decaf tea bag
2 star anise
1 large cinnamon stick
4 cloves
5 peppercorns
3 cardamom pods
Oat Milk or Coconut Milk is lovely and water
In a large pan put 500ml of water and bring to a simmer.
Add the tea bag and all of the spices.
Put a lid  on it and let it simmer, after 3 – 4 minutes remove the tea bag but leave all the spices!
Simmer away for another 10 to 15 minutes.
Add 500ml of your chosen milk, return to a gentle simmer for a few more minutes until heated again.
Ladle out into a big mug (trying not to fill your mug with spices, you can sieve it if you wish), sprinkle some cocao or cinnamon on top and sit around the fire to enjoy.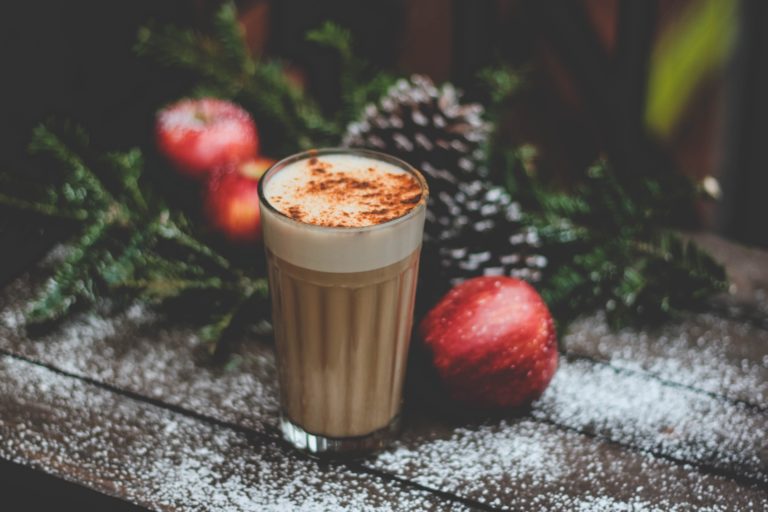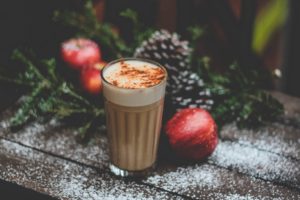 Pear and Ginger Fizz
Fresh and zingy and great in a champagne flute to replace the real thing for a New Year cheers.
4 pears – this actually works best with tinned pears but if you use fresh make sure they are super ripe and sweet, fully peeled and cored.
Ginger – a little or a lot depending on how you like it! We recommend a thumb size piece.
Crushed ice
2 lemons juiced
Lemonade – or for a less sugar option we love tonic water!
Place the pears, ginger and lemon juice into a blender and blend until smooth.
Put a handful of crushed ice into each glass and pour the pear and ginger mix on top.
Fill with either lemonade or tonic water, cheers!
We hope you enjoy our delicious mocktails for New Year and hope you use them beyond the holiday season too!