5 Best Meditation Spots in Madeira | Adventure Yogi
Madeira is a stunning island situated in the Atlantic Ocean, southwest of Portugal. With its breathtaking scenery, year-round mild climate, and tranquil environment, Madeira is the perfect place to escape the hustle and bustle of everyday life and find inner peace through meditation. Meditation has been proven to reduce stress, improve focus, increase creativity, and promote overall well-being. Let's explore some of the most beautiful and serene spots on the island where you can practice meditation and experience its numerous benefits. So, whether you're a seasoned meditator or just starting out, join us as we take a journey through the 5 Best Meditation Spots in Madeira!
Monte Palace Tropical Garden
This tropical outdoor garden is located in Funchal and provides a tranquil setting for meditation. The garden features a wide variety of plants, waterfalls, and ponds that create a soothing atmosphere. The stunning views of the surrounding mountains and the city of Funchal add to the peaceful ambiance. It is free to enter and explore and is without a doubt the perfect backdrop for you to sit, put your earphones in and play some calming music and enjoy some me time!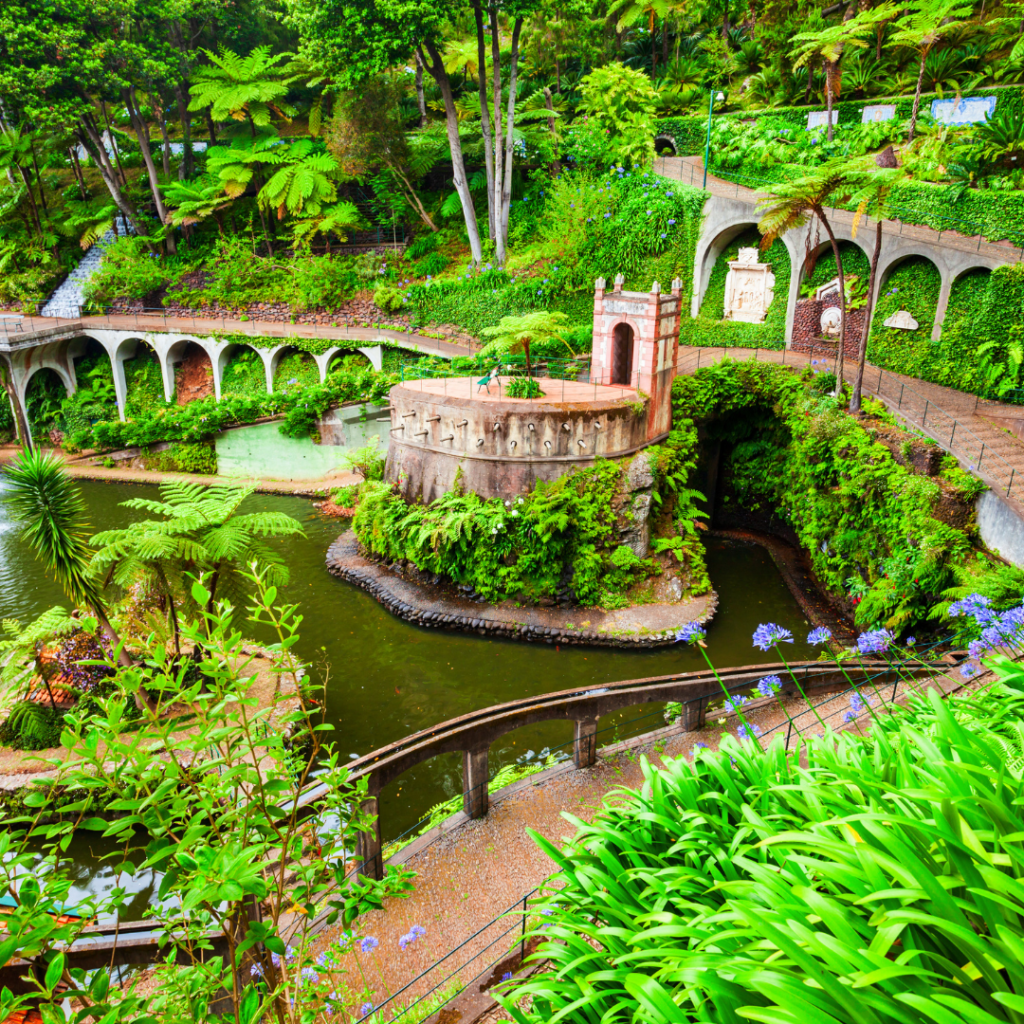 Sao Vicente Caves
If you are looking for a unique spot to meditate, then the São Vicente Caves are for you! The caves are 890 thousand years old, formed from natural lava tubes that have been turned into an underground attraction. The cave's serene atmosphere and the sound of dripping water create a unique environment for reflection and meditation. Of course, it's best to ask if you can take a few moments to sit and reflect but if you get the chance to meditate here – it will be a spot you won't forget!
Pico do Arieiro
Pico do Arieiro is the third-highest peak in Madeira and offers a breath taking panoramic view of the island. Groups gather in the morning to watch the sunrise through the thick clouds and it is truly out of this world – if you're a sunrise chaser like we are then this is a must see on your trip to Madeira. It goes without saying that after your hike to the top, you will need a few moments to yourself to take it all in. Practice some breathwork in the fresh mountain air and bask in the incredible rugged landscape.
Praia Formosa Beach
Of course it wouldn't be an Adventure Yogi blog without mentioning some beach meditation spots. Praia Formosa is one of the largest beaches in Madeira and is located just outside of the capital city, Funchal. While the beach is made up of pebbles rather than sand, you can always find a quiet spot to pop your towel down, put on some meditation sounds or simply listen to waves crashing and take time to reflect.
Ponta do Sol Beach
Ponta do Sol Beach is a picturesque and secluded beach located on the south coast of Madeira. The beach's stunning ocean views and serene atmosphere make it an ideal spot for outdoor meditation. The sound of waves crashing on the shore and the salty ocean breeze create a peaceful environment for reflection and meditation. We have  is one of our favourite spots to visit on our yoga retreats in Madeira.
If Madeira is on your bucket list, we have yoga retreats in May, July, August, October and November this year. This is the perfect chance to immerse yourself in the island's natural beauty and practice yoga amidst the stunning scenery while staying on a beautiful working farm with a vineyard for you to kick back and enjoy a glass of wine after your adventures.
Check out our 9 Top Reasons to Visit Madeira, Portugal