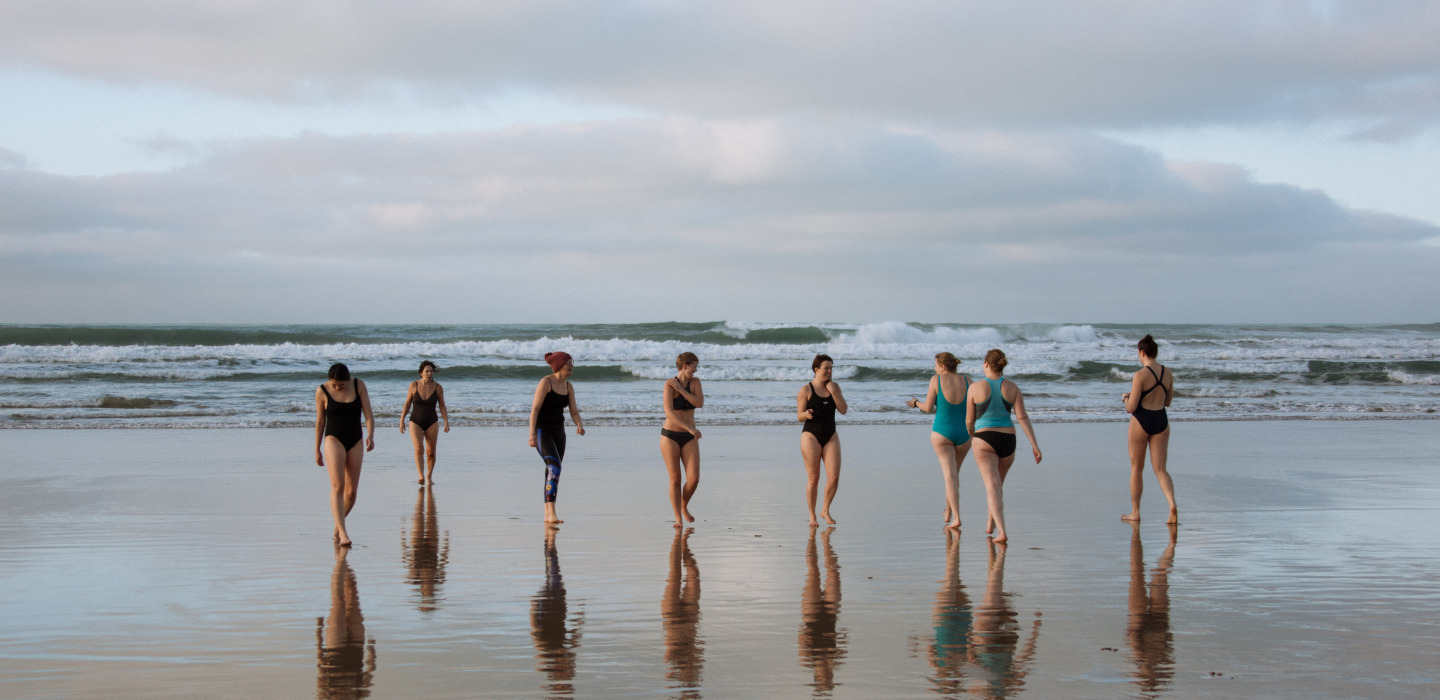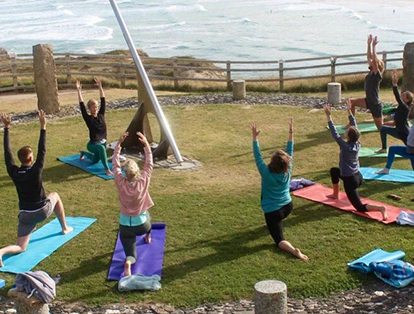 May Bank Holiday, Wild Swim & Coastal Walking, Cornwall
Cornwall, 24th - 27th May Bank Holiday 2024
Join us for a wild swim and coastal walking retreat over the May bank holiday in Cornwall. Spend an afternoon with swim coaches and learn the benefits of sea swimming and enjoy a swim together. On the second day enjoy a long coastal walk. Yoga twice a day and delicious plant-based food too of course!
New for 2024 – wild swim and coastal walking yoga retreat in beautiful Cornwall, UK.
Based within a stunning estate only 15 minutes away from some of the most famous beaches in north Cornwall, this location gives the perfect opportunity to relax in the beauty of the Cornish countryside whilst enjoying activities on the coast in the daytime.
After high demand we are introducing to our calendar wild swimming alongside our usual coastal walks and if you have the time or energy you can try out surfing or a SUP…why not?!
We have teamed up with a local Cornish wild swim company that are Open Water Swimming and Beach Lifeguard qualified to lead this half-day activity with a briefing, and some swim fit exercises before heading into the sea for a swim followed by hot chocolate and post-swim snacks on the beach with a debrief. Learn how to sea swim safely and build confidence if you are new to it and if a seasoned sea swimmer, share your experiences with others.
On the second day enjoy a coastal walk and enjoy the views and have an ice cream or even another dip in the sea.
After a fun day on the beach, come back to your country pile to relax in nature, enjoy yoga, delicious food, massage and cosy sofas to sink into or if sunny relax in the sun on a blanket on the lawns. The garden surrounding the manor house and additional properties is a 22-acre expanse of lawns, ornamental lakes, camelia woods, orchards and an incredible walled vegetable garden. When not enjoying yoga in the large studio the lawns create a perfect space for classes too.
There is something for everyone on our Cornwall adventures, if you prefer more walking you can enjoy this as the coastal paths are easy to follow and if you prefer more swimming, SUP or surfing, we can help arrange any of these activities.
Make this weekend retreat what you want and enjoy the relaxation and reinvigoration that comes with spending time in this beautiful place.
Itinerary
The retreat will begin at 4 pm on the first day with our opening yoga class at 6 pm.
On the last day, checkout is at 10 am.
The wild swim activity will depend on when the tides are and so the day's activities will fit around this activity accordingly. We will let you know in advance what the schedule will be for that day.
A Typical Day
7.30 am
Pre Yoga tea and snacks
8 am
90 minute uplifting yoga class
9.30 am
Delicious brunch
10.30 am to 1.30 pm
Coastal path hike, wild swim session, SUP, surf
2 pm
Light lunch
2.30 pm to 5 pm
Coastal path hike, wild swim session, SUP, surf
5 pm
Two hour restorative and meditation yoga class
7 pm
Two course dinner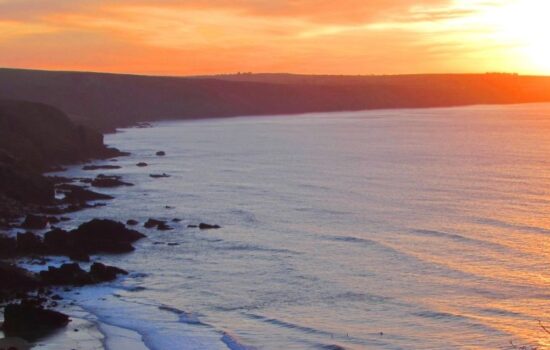 Beautiful Cornwall
Whether you have come to Cornwall to enjoy the coastal paths, surf the waves or just have some R&R, you will feel fulfilled in this beautiful region of England. Just taking some time out of the day-to-day is enough to return home with a new outlook and completely refreshed – those looking for a mindfulness retreat Cornwall is bound to tick many of your requirements.
Read more
We have two venues in Cornwall, a beach house in Mawgan Porth overlooking the beach and a stunning country estate 2 miles from the coast in beautiful private gardens.
Cornwall Country Estate
Our country estate is only 2 miles from the coast and a 20 minute drive to stunning beaches like Mawgan Porth and Perranporth. Enjoy a bit of countryside and beach on this sumptuous location.
Cornwall Beach House
Situated right on the beach at Mawgan Porth, the surf and southwest coastal walking path are on our doorstep. Roll out of bed and onto your surfboard or hiking boots! Mawgan Porth is a lovely-sized beach and it has a few nice cafes and restaurants, a surf shop, and a surf school. The sunsets are also very special.
We are close to Newquay and to other beautiful beaches for swimming, coastal walks, and stunning views.
There is plenty to see and do in Cornwall, or you can just relax at our gorgeous venue and enjoy the 2 outdoor hot tubs, have a massage, and restore with our team.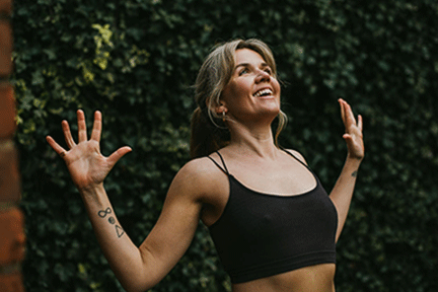 Rosie Markwick
Rosie is a yoga teacher and paddle-boarding coach with over 10 years of personal practice. She initially trained in Bali in Hatha and Vinyasa Flow...
About the yoga
On our wild swim and coastal walking yoga retreat in Cornwall in May, the classes are suitable for all ages and abilities, from beginners to intermediate levels. Everyone is welcome. We have a range of inspiring and experienced teachers who are well-practised at adapting the class for everyone's level.
Our yoga classes take place in the spacious and beautiful yoga shala with all the yoga equipment provided.
Highlights
Stunning country estate to retreat to after a day at the beach

Beach transfers included in the price

A wild swim experience with qualified swim coaches

Twice daily yoga in beautiful shala

Days spent on the beach, evenings in nature in 22 acres of private grounds

Coastal walks on the south west path
About the food
We are a plant-based company and take great pride in creating incredible food on our retreats! Our chefs create diverse and imaginative menus that really highlight the seasonality of local produce. We are able to cater to all dietary requirements.
Brunch and dinner will be at the venue and if on the beach for the day a packed lunch will be provided or lunch at the venue.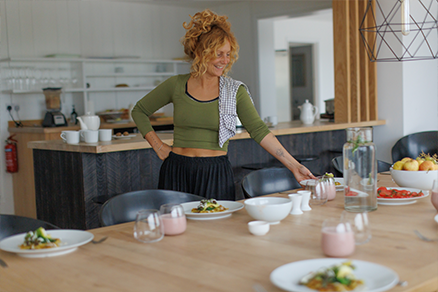 Francesca Paz
Francesca Paz creates food as vibrant as she is! She specialises in nutritious, plant-based food and cosmic tonics that beautiful, wholesome and inspired by nature....
Suitability
This wild swim retreat in Cornwall is suitable for anyone who'd like a weekend away with wellness, healthy food and Yoga. Beginners are welcome as well as all ages.
All ages
Beginners
Intermediate
Men & Women
AdventureYogi trips are incredible, you get to engage in new pursuits, enjoy restoring and rejuvenating yoga with amazing yogis, savour the delights of vegan chef magicians and be embraced by awesome venues. And you get to giggle, laugh and cry your way through this with amazing new friends.
Sian Ferguson – Cornwall
The team are super professional, flexible and honest and have shown up with the best of intentions, real care and clarity in the hardest of times! Really, you don't need to look anywhere else!!
Sian Ferguson 2 – Cornwall
We surfed every day which was a really good activity and value for money and the surf school were really nice. I'm feeling very relaxed mentally but physically tired. Nice to have had so much fresh air.
Pete – Cornwall
A fabulous weekend retreat in the beautiful backdrop of Cornwall. I highly recommend Adventure Yogi- everything about the retreat was well organised and of high quality. I met a wonderful group of ladies and loved every minute! I will be booking again!
Nadine Robson – Cornwall