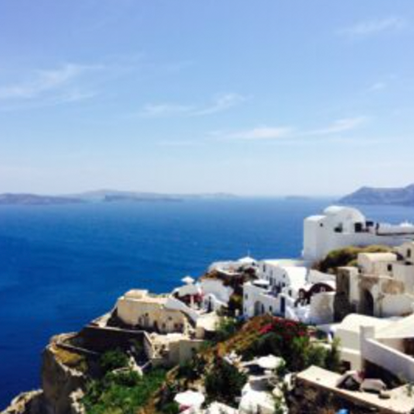 Santorini 18th – 25th June 2024
Sunshine yoga holiday Santorini 18th - 25th June 2024
Come and relax at a stunning villa with views looking out to the Aegean Sea below. An outdoor pool with space to relax in the sun or shade. Explore the infamous hillside villages of Oia and Thira, try some local wines, enjoy a day sailing around the Caldera and don't forget those breathtaking sunsets. And yoga...of course!

18th June 2024

Santorini
Come and join us on our sunshine yoga holiday Santorini. The wonderful heart-warming people of Greece, the food, and the stunning scenery make it a very special location to retreat to. There really is nothing else quite like Santorini for our sunshine yoga holidays.
The days are yours on our sunshine yoga holiday Santorini to do as you please. Our venue for 2024 is a private villa with amazing 180 views of the Aegean Sea and a 20-minute walk into Thira. There is an outdoor pool with wonderful views to relax and read a good book.   Or you can walk into Thira where there are many cobbled little mews with shops, cafes and stunning views of the Caldera, relax by taking in the sights here. In Oia you can do the same, both are white-washed villages stacked on the volcanic hillside facing the Caldera that is infamous.
Head into Thira or Oia for one of the evening meals out to experience the beauty of the Caldera. Also included is a 8km pilgrimage walk between Oia and Thira, culminating at sunset at Skaros Rock for sunset meditation and spectacular views. Enjoy optional wine-tasting of local Santorini wines amongst the vines at sunset.
We highly recommend a day sailing around the Caldera on a yacht (not included in the price) and this can be done privately or in a group booking with others to make things more affordable. For the more adventurous and to enjoy complete freedom, you can decide to hire a quad bike, scooter or car and take a drive around the Island and visit the volcanic black sandy beaches and historic sites.  It's your sunshine yoga holiday so be as active or relaxed as you like.
We bring our own chef and include all breakfasts, 5 evening meals and 3 lunches, drinking water with meals, plus of course, twice daily yoga either in our indoor yoga shala or outside to enjoy the views.
Santorini is an expensive Island and the shops have some lovely things that might tempt you. For the two evening meals out there is a choice of expensive and more affordable options depending on your budget.
Read our 7 reasons to visit Santorini here! 
Read what reviewer Queen of Retreats has to say about our Sunshine yoga holiday Santorini
Itinerary
More info about your June yoga holiday in Santorini
Excursions included in the price:
Wine tasting – a fun evening pre-dinner: 
Try a wine-tasting evening amongst the vines to enjoy the local Santorini wines and a perfect sunset amongst new friends. (taxis included)

10km pilgrimage from Oia to Thira:
With stunning views of the Caldera the whole way. Culminating by Skaros Rock for stunning sunset meditation over the Caldera.
(taxis to start location included)
Not included in the price:
We recommend a few excursions to make your holiday even more memorable:
Yacht cruise around the Caldera – A must!
Relax on a large luxury catamaran and be wined and dined whilst sailing around the bay of the Caldera. Take a dip in the natural hot springs from the live volcano. Swim in stunning turquoise waters. The price includes travel to the port, lunch or seafood and veggie BBQ, free drinks and a day on the yacht.
Price: From around €165.
Price TBC for 2024
Things to do in Santorini
An early evening at the spiritual rock in Thira to watch the sunset
An afternoon spent wandering and meandering around Thira – taking in the views of the Caldera
An afternoon spent wandering and meandering around Oia – taking in the views of the Caldera
Relax on one of the volcanic beaches and swim in the sea
Relax by the outdoor pool and take in the views
Hire a scooter/quad/car hire and explore the Island
Visit Akrotiri – the ruins
Visit beaches Perissa, Kamari
Read our blog about what to eat in Santorini
For other extra activities – please ask and we will arrange or find out the price for you
Everyone arrives at different times on arrival day so settle in and get ready for the welcome meeting and evening meal with the group.  Yoga starts the next morning and continues throughout the week. People leave at different times on the last day so the last yoga class will be in the evening on the last night, before the final dinner.
Santorini is an expensive Island but also a beautiful one and worth a visit to see the Caldera and the white and blue-washed churches and buildings.
Below is a typical daily schedule with individual days activities
8.00 - 9.30am
Morning Yoga
9.30am
Breakfast served by the pool
10.30am – 5pm
Time to explore Oia or other local towns, go to the beach, relax by the pool, have a treatment or enjoy an excursion
5pm – 6.30pm
Evening yoga
7.00pm
Time to Dine
Day 1
Afternoon
Arrival day - settle in, welcome meeting, dinner
Day 2
10.30am
Relaxed morning, Lunch, visit Thira, back for yoga
Day 3
8am onwards
Morning yoga 2 hours, breakfast, time to yourself, lunch, wine tasting, sunset and dinner in Thira
Day 4
10.30am
Day to yourself - relax at the venue by the pool, AY recommend things to do
Day 5
10.30am
Hike day! Oia to Thira in time for sunset at Skaros rock. Lunch and dinner at the venue. no evening yoga
Day 6
10.30am
Catamaran day! Sail around the stunning Caldera with lunch on the boat (not included in the price)
Day 7
10.30am
Day to yourself. Dinner in Oia
Day 8
From 10am
Departure Day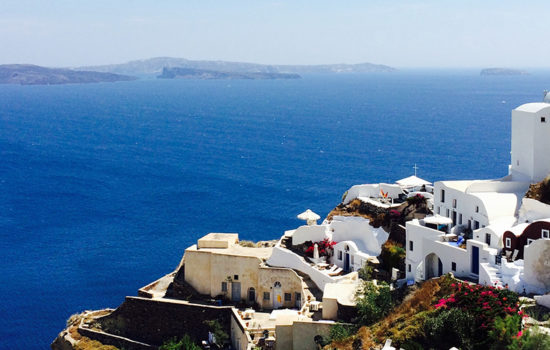 Beautiful Santorini
Santorini is a stunning Greek island located in the Aegean Sea, known for its breathtaking views, beautiful white-washed buildings, and unique volcanic landscape.
Read more
One of the most iconic features is its caldera – a large, submerged volcanic crater that provides awe-inspiring views of the sea and surrounding islands, which can be seen from Oia and Thira.
This scenery provides the perfect backdrop for a yoga retreat in Santorini, with views of blue-domed churches, turquoise waters and burnt orange and black sandy beaches creating a serene and peaceful atmosphere.
During downtime, you can sit in stylish cafes and enjoy a meal or drink and watch some of the most spellbinding sunsets you will ever see and return back from some evening yoga in our private Santorini villa.
An enjoyable afternoon, once the heat has died down, is to walk 10km from Oia to Thira. Few people know that this mythical volcanic island is a real haven for hikers due to the numerous trails crisscrossing its land. This picturesque destination perfectly combines comfort with adventure and relaxation with exercise. Along this walk, there are views of the Caldera the whole way and you can end up on Skaros rock in Thira for sunset…which has a whole history of itself and was a garrison to protect the local people over hundreds of years. This trail is a must-do when on holiday in Santorini.
There are a lot of vineyards in Santorini as it is known for its wine. Try a wine-tasting experience with a selection of wines or even add on a pairing menu and some of the vineyards are situated with views of the Caldera and some are amongst the vines.
Another must-do excursion whilst on your yoga holiday in Santorini is an afternoon on a luxury catamaran…obviously! Enjoy sailing around the Caldera and visit the red and white beach, the hot springs at the centre of the Caldera and a seafood BBQ lunch with drinks. his can also be enjoyed at sunset but we recommend the daytime more.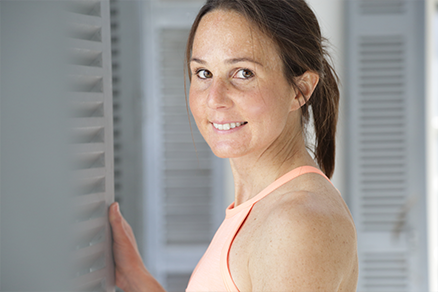 Felicity Wood
During a stressful period of working in the corporate world, running marathons and taking part in Ironman triathlons, Felicity found Yoga; a practice that totally...
About the yoga
Drawing from the energy of fire and water that surrounds you here in Santorini, with the volcano the Caldera and the Aegean sea, these elements will come into play during your yoga experience. From these elements be prepared for a powerful transformation.
In the mornings there will be a more dynamic yoga class to wake the body and mind with meditation and pranayama whilst overlooking the views of the sea below.
The evening classes will be yin and restorative yoga and held either in the yoga studio or outside. With 3 hours of yoga over 6 days, start to unwind from your daily life and release into relaxation and feel your energy revitalise over your week with us.  Any age, ability or level can enjoy this yoga practice.
Highlights
Gorgeous accommodation Greek boutique style villa

Wine tasting evening followed by dinner out with new friends

Stunning sunset meditation over the Caldera

A week of transformative and revitalising yoga

Private outdoor pool to relax around in the day with amazing views

Enjoy a day on a yacht with food, drinks, sunshine and snorkelling

Visit the beauty of Oia, potter in the shops and enjoy the views over the Caldera

Only a 10 minute walk into Thira - enjoy shops, cafes and sunsets here
About the food
All of our retreat chefs are highly experienced and passionate about their craft. We have always been a vegan/vegetarian company since 2006.
Our chef on this yoga holiday will create a menu that will reflect the local and seasonal produce available, with a Greek flare seeing as the holiday is in Greece. Expect delicious and creative brunch, 3 light lunches, and 2-course evening meal for 5 evenings. Each meal will be balanced to keep you energised all day.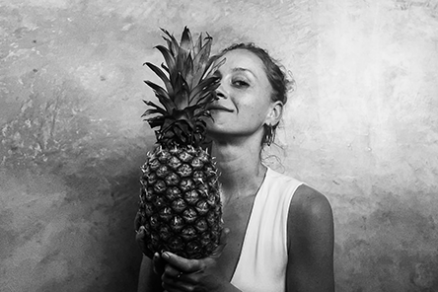 Kelly Mason
Kelly Mason is a Plant based chef, 1140 hr Yoga teacher and artist. Over the last 6 years she has worked on a number of...
Suitability
This sunshine yoga holiday Santorini is suitable for anyone who'd like a week in the sun with activities, wellness, healthy food, and Yoga. It is for those who like to be a part of a group but also like some independence. Beginners are welcome as well as all ages.
Advanced
All ages
Beginners
Intermediate
Men & Women
It was lovely that it wasn't a 'detox' retreat, but a holiday with yoga. You can eat and drink what you like, and the emphasis was very much on being kind to yourself. That included many chocolate milkshakes around the pool for some as the week progressed, alongside the customary greek salad of course.
Jade Williams – Greece
Loved it. Beautiful yoga shala and pool. Would definitely love to come back.
Pippa – Sri Lanka
The holiday far exceeded my expectations. I am new to come on holiday by myself but immediately felt at home, looked after and part of a family. The food was delicious and have loved relaxing and reflecting in the beautiful garden in the hotel. Yoga was wonderful. I can't believe how much I have learned about myself and yoga in 10 days. I am going home so uplifted and happy. Thankyou!
Sandy – Yoga holiday
Highly recommended and will seek out AY again for the kind of purity it offers. Every respect. I now feel nurtured, cared for and motivated to keep this up. Amazing experience all round!! Thank you so much.
Lucy – UK retreats
I feel really relaxed and much more healthy. Nice people, very nourishing but also time to do nothing and nice that you get yoga on both arrival and departure days.
Sophie – Atlas Mountains
I spent a week in Greece this summer with Adventure Yogi, and loved every second. I was apprehensive before going because I was a complete beginner (and didn't really know my Downward Dog from my Cobra), and 9 weeks pregnant (and full of nausea). But, I needn't have been nervous - I was completely spoilt by the yoga teachers, who were on hand with many adjustments to make sure the baby was safe and I didn't feel awkward at all about being inexperienced. The whole yoga experience was unbelievably fulfilling, much more so than I could have imagined.
Charlie Spencer – Greece