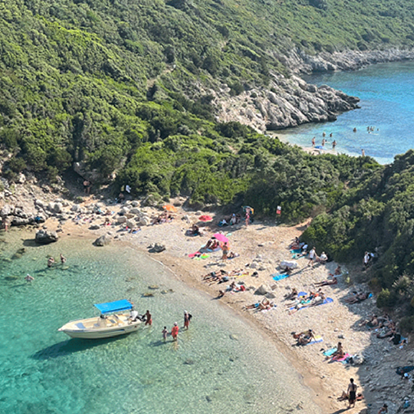 Corfu 22nd – 29th June 2024
Sunshine Yoga Holiday Corfu: 22nd - 29th June 2024
Enjoy a week's yoga holiday in Corfu staying at an eco-conscious organic farm estate, a short walk from the beach in the north-west of the Island, enjoy yoga twice a day and lots of fun excursions.

22nd June 2024

Corfu
Come and join us on our sunshine yoga holiday in Corfu, Greece. It is a beautiful Island with lush green hills and calm turquoise waters, with hot summers spent relaxing at the beach and cool spring and autumn seasons ideal for hiking and exploring the Island.  At any time of year, there is something to do for everyone.
At this time of year, it is warm and so time is spent keeping cool in the afternoon by relaxing around the pool, walking 20 minutes (or taking a bike) to the local beach for a sea swim or trying out kayaking and paddleboarding. Other activities are included in the price so read on to find out more.
When you arrive, enjoy an orientation walk of the local area and explore the grounds that are also an organic farm, growing specifically Kumquat – as well as seasonal vegetables and olives. The week will follow with beach days, pool days, a cooking class, a trip to explore Corfu town and an afternoon exploring an old village called Afiona that takes you to the iconic bay of Porto Timoni.  Your week's yoga holiday in Corfu can be as active or as relaxed as you like and if you prefer to relax by the pool with a good book then do what your body and mind need.
Our venue for 2023 is brand new and has been designed and built in an eco-conscious way, following the guidelines of Green Key whose criteria ensure the highest standards of sustainability within tourism. This is important to us here at AdventureYogi as we search to find more venues like this. It is also an organic farm and the food that you will eat will be straight from the garden.
Enjoy yoga twice a day in the yoga shala and the day is yours to do as you please.
Itinerary
More info about your sunshine and yoga holiday Corfu
Included in the price in Corfu:
An orientation walk on the first day to discover more about the organic farm, the walk to the local beach.
An afternoon spent at Afiona village followed by a walk to Porto Timoni for a swim. Dinner will be in Afiona that night at a restaurant. (dinner out not included in the price).
A cooking lesson
Explore Corfu old town late afternoon and enjoy dinner out (not included)
Relax at the local beach and swim in the sea
Relax by the outdoor pool and take in the views
Arrival and Departure days:
Everyone arrives at different times on arrival day so settle in and get ready for the welcome meeting and evening meal with the group.  Yoga starts the next morning and continues throughout the week. People leave at different times on the last day so the last yoga class will be in the evening on the last night, before the final dinner.
Daily itinerary
8.00 - 9.30am
Morning Yoga
9.30am
Breakfast served by the pool
10.30am – 5pm
A variety of activities, relaxation by the pool or beach
5pm – 6.30pm
Evening yoga
7.00pm
Time to Dine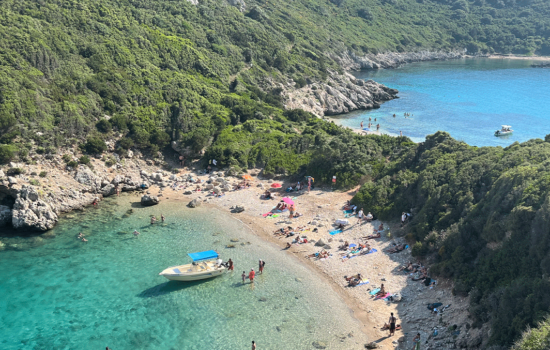 Beautiful Corfu
Corfu, also known as the Kerkyra in Greek, is a beautiful and lush island located in the Ionian Sea. Renowned for its stunning beaches, clear waters, and picturesque villages, it is the perfect destination for those seeking a rejuvenating and adventurous experience.
Read more
The island's rich heritage is an experience in and of itself, having been ruled by various civilizations over the centuries, including the Byzantines, Venetians, French and British. This has left an unforgettable mark on the island, with a fascinating blend of architectural style and cultural traditions.
In addition to practicing yoga in Corfu, explore the vast beaches, from the sandy shores of Glyfada to the pebbled coves of Agios Stefanos. Stroll through the dark green olive groves in the valleys or the rugged pine and cypress forested mountainsides.
Come and get lost with us on this Corfu yoga retreat, with water sports, daily yoga, plenty of outdoor adventures and a warm Mediterranean climate.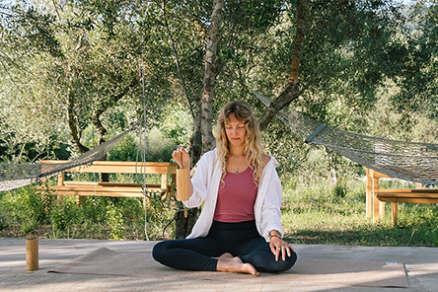 Marie Williams
Marie is a Yoga Teacher and Yoga Therapist, specialising in Vinyasa Flow, somatic movement, Yin and Restorative yoga. Her more active classes are not all...
About the yoga
Wake up to the sound of the cicadas and make your way to the outdoor and shady yoga shala.
In the mornings there will be a more dynamic yoga class to wake the body and mind with meditation and pranayama whilst overlooking the views of the sea below.
The evening classes will be yin and restorative yoga and held either in the yoga studio or outside. With 3 hours of yoga over 6 days, start to unwind from your daily life and release into relaxation and feel your energy revitalise over your week with us.  Any age, ability or level can enjoy this yoga practice.
Highlights
Private eco-conscious accommodation built with the planet at the heart

A week of transformative and revitalising yoga

Private outdoor pool to relax around in the day or wander to the beach

Enjoy a cooking lesson and get inspired

Visit the beauty of Corfu town and enjoy an evening meal with new friends

Explore Afiona and Porto Timoni
About the food
The food on this yoga holiday in Corfu is created by a local Greek chef and will all be vegetarian or vegan. If you have any dietary needs please let us know and we can accommodate them.
The fruit and vegetables will be straight from the organic garden to the table and a creative menu of delicious Greek-inspired dishes will be enjoyed.
Expect delicious and creative brunches, a few light lunches, and 2-course evening meal for 5 evenings. Each meal will be balanced to keep you energised all day.
On one afternoon you will enjoy a cooking lesson and will be able to enjoy the food afterwards.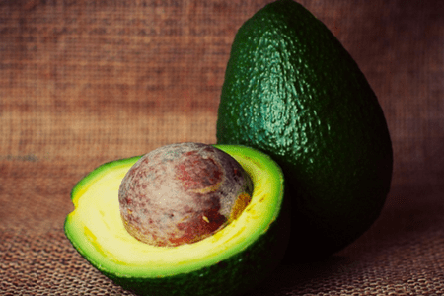 Our Yoga Chefs
Suitability
This sunshine yoga holiday Corfu is suitable for anyone who'd like a week in the sun with activities, wellness, healthy food, and Yoga. It is for those who like to be a part of a group but also like some independence. Beginners are welcome as well as all ages.
Advanced
All ages
Beginners
Intermediate
Men & Women
It was lovely that it wasn't a 'detox' retreat, but a holiday with yoga. You can eat and drink what you like, and the emphasis was very much on being kind to yourself. That included many chocolate milkshakes around the pool for some as the week progressed, alongside the customary greek salad of course.
Jade Williams – Greece
Loved it. Beautiful yoga shala and pool. Would definitely love to come back.
Pippa – Sri Lanka
The holiday far exceeded my expectations. I am new to come on holiday by myself but immediately felt at home, looked after and part of a family. The food was delicious and have loved relaxing and reflecting in the beautiful garden in the hotel. Yoga was wonderful. I can't believe how much I have learned about myself and yoga in 10 days. I am going home so uplifted and happy. Thankyou!
Sandy – Yoga holiday
Highly recommended and will seek out AY again for the kind of purity it offers. Every respect. I now feel nurtured, cared for and motivated to keep this up. Amazing experience all round!! Thank you so much.
Lucy – UK retreats
I feel really relaxed and much more healthy. Nice people, very nourishing but also time to do nothing and nice that you get yoga on both arrival and departure days.
Sophie – Atlas Mountains
I spent a week in Greece this summer with Adventure Yogi, and loved every second. I was apprehensive before going because I was a complete beginner (and didn't really know my Downward Dog from my Cobra), and 9 weeks pregnant (and full of nausea). But, I needn't have been nervous - I was completely spoilt by the yoga teachers, who were on hand with many adjustments to make sure the baby was safe and I didn't feel awkward at all about being inexperienced. The whole yoga experience was unbelievably fulfilling, much more so than I could have imagined.
Charlie Spencer – Greece