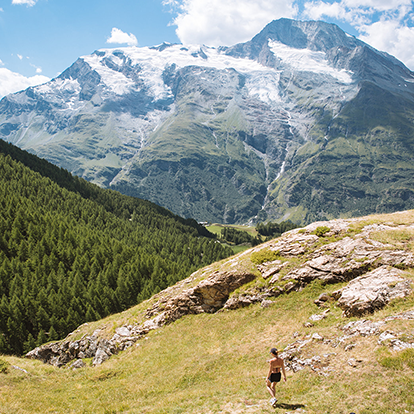 Hiking and Adventure French Alps in July/August 2024
Hiking & Yoga Holiday French Alps July & August 2024
Join us for an energising hiking and multi-activity yoga holiday in the French Alps. Staying in wellness apartments and the foot of La Rosiere ski area, hikes on your doorstep. Try white water rafting, parapenting and enjoy a spa.

20th July 2024

27th July 2024

03rd August 2024

10th August 2024

17th August 2024

24th August 2024

La Rosiere, French Alps
We are so excited to be heading back to the French Alps again this summer for our hiking yoga holiday in the French Alps. New for 2024 we are in one of our favourite locations, La Rosiere.
We have chosen this area because we love the Tarantaise Valley and all that it offers. You will be staying in the same wellness apartments that we use for our ski yoga holidays. They are centrally located in the small ski village of La Rosiere, right at the foot of the ski lifts and slopes so you can easily access the mountains. This means that the elevation is already 1850m, with panoramic views of the whole valley and a stunning sunset every evening.
The apartments have views of the whole valley and one has a large terrace for outdoor yoga or relaxing in the sun. Shops, cafes and supermarkets are right next door and the apartments have a wellness centre with 15m swimming pool, sauna, steam room, solarium and spa with massage treatments.
Your week retreat in the French Alps will be centred around being in nature, hiking to high peaks and enjoying a picnic with stunning views. Enjoy an outing to Bourg-Saint-Maurice for those who would like to feel exhilarated with some white water rafting, take a bike out or relax by the 50m outdoor pool.   There is plenty of time to wind down and relax and read a good book, enjoy the wellness centre or have a massage.
The apartments are spacious with a selection of single, twin and double occupancy with shared bathrooms and en-suite.  There are literally jaw-dropping views everywhere you look.
The hiking yoga experience here is a real adventure, and with local qualified mountain guides to show you around you will reach new heights. Feel connected to nature and escape the heat of summer, there's nothing like a hiking yoga holiday to exhilarate and enliven body and mind.
Yoga will be inside in one of the living spaces, outside on the terrace or even on the mountain finding a good spot! Feel revitalised by yoga in the morning with all yoga equipment in the evening to unwind and relax.
Itinerary
This yoga holiday in the French Alps is a hiking adventure, with hikes throughout the week to different locations.
If you would like to enjoy other mountain activities please let us know and we can arrange them.
Need help deciding what to pack? Here's some help.
A Typical Day
7.30am
Wake up with hot water and lemon and pre-yoga snacks
8.00-9.30am
Energising morning yoga practice
9.30am
Brunch
10.30am-5pm
Time for activities – Walking, hiking, climbing or just relaxing in the chalet. Massage and other holistic treatments on offer.
5pm - 7pm
Restorative evening yoga
7.15pm
Delicious 3 course evening meal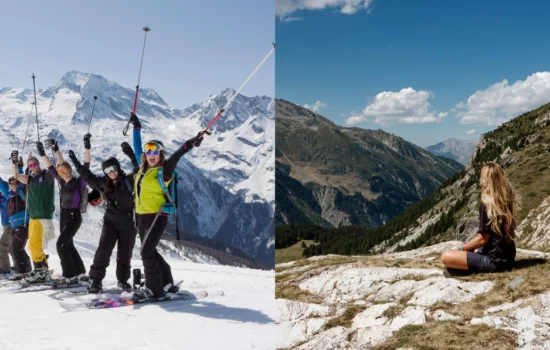 Beautiful La Rosiere, French Alps
For 2024 we are running both our ski/snowboard yoga holidays and hiking/multi-adventure yoga holidays in La Rosiere in the French Alps.
Read more
We have been staying around this area for the last 15 years and love the summers in the ski resort as much as the winters.
This ski/ summer mountain area is a part of the Tarentaise Valley which comprises other ski areas such as Val D'Isere and Tignes, Les Arcs and St Foy. La Rosiere is situated on the south-facing side of the mountain range so the front face of the ski mountain has sun all day with beautiful sunsets.
Ski Information
Low carbon travel:  If you would prefer to travel by train rather than fly then there are trains via Paris from London St Pancras to Bourg-Saint-Maurice and then only a short 20-minute transfer to your accommodation.
You can get 15% off your ski pass if you travel by train – find out more here.
La Rosiere itself is a part of the San Bernadino ski area, which is connected with La Thuile in Italy which means that you can enjoy the playful traverse to La Thuile which is usually the road in the summer for the mountain pass.  It also means you can enjoy croissants for breakfast and pasta or pizza for lunch. Or a bombadino if you are feeling adventurous!
The ski area is great for beginners, intermediate and advanced, there is something for everyone. Beginners can stay at the front side of La Rosiere and the more intermediate can ski all the way to Italy and back.
We are based in ski-in-ski-out wellness apartments right in the centre of La Rosiere surrounded by shops, restaurants, ski school, and ski hire and fabulous views on the south-facing mountain side so sun all day.
If you are a beginner and have had enough after your ski lesson you can get back to your accommodation easily and choose to relax there or try out the wellness facilities such as a gym, swimming pool, and spa area and relax with a massage. Or have lunch in a restaurant whilst enjoying amazing views.
Summer information
Our Yoga Teachers
Over the 17 years that AY has been organising our bespoke retreats, we have always made sure that we work with exceptional yoga teachers who are dedicated to their practice and live and breathe yoga, so you can feel safe in the knowledge that you will be inspired, relaxed and tensions dissolved by the end of your retreat with us.
About the yoga
Morning Class
Our morning classes are held in our indoor yoga space which is one of the two apartments living space. it is spacious and has views of the valley.  Awaken your body, pay special attention to warming those muscles, stretching out the legs and building stamina for your day exploring the breathtaking environment.
Evening Class
After your days of hiking and exploring, unwind and relax tired bodies with a restorative evening yoga class in the yoga shala. This gentle session will vary each evening and include pranayama and meditation to help the mind and body really let go and allow you to enter a state of deep relaxation.
All yoga equipment is provided for you on this yoga holiday in the French Alps.
Highlights
Stay in a beautiful area of the French Alps

Stunning scenery and breathtaking views

Stay in wellness apartments with a spa, sauna, steam, 15 m pool

Enjoy lots of hikes throughout the week

Try new activities like white water rafting, biking, and more

Enjoy delicious plant-based and vegetarian food all week

Time out to relax and unwind
About the food
All of our retreat chefs are highly experienced and passionate about their craft. We have always been a vegan/vegetarian company! Expect delicious and creative brunch, lunch, and 2-course evening meal. Each meal will be balanced to keep you energised all day.
Breakfast will be a vegetarian/vegan breakfast with eggs, cows milk to tea and coffee and butter. The rest of the meals will be plant-based but with plenty of protein.
Please let us know in advance if you have dietary needs and we can cater for these.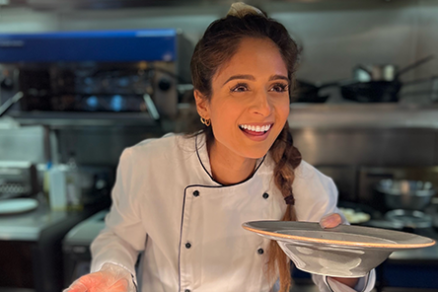 Tara Acton
Tara runs an award-winning catering business in the UK specialising in veganising classic dishes with no compromise on flavour, texture & enjoyment! She has worked...
Suitability
This hiking yoga holiday French Alps is suitable for those who love hiking, the great outdoors and being active. All ages are welcome and no experience of hiking is necessary but a good level of fitness is desirable. The yoga is suitable for all levels and ages
Advanced
All ages
Beginners
Intermediate
Men & Women
All walks were fab! Paragliding was the best and I think there was a good selection of activities and Cycling in the Bourg-St-Maurice gets 10/10!
Tony – French Alps
Nice venue. Great Scenes and Mountain views. Great Chalet and Great Location Yoga Space is cosy and nice balcony to have outdoor space. Very enjoyable must be the best hike I've been on. Met my expectations overall. Great week! The staff is the perfect team! The yoga changed my life! Dynamic together. There was the perfect amount of activity and relaxation.
Karen – Hiking French Alps
Good team! Brilliantly organised, taking into account weather, what people wanted to do and of course yoga. What an amazing way to tick TWO things off my bucket list, hiking AND yoga in the beautiful Alps literally!
Joanna – Hiking Yoga French Alps
10/10! Beautiful Chalet, great facilities, loved the hot tub, lounge, deck, everything!
Vickie – Hiking French Alps
This week has surpassed my expectations. I have met some amazing people and the combination of the yoga, stunning scenery and great hospitality has made it a holiday I won't forget for a long time!
Emma – French Alps