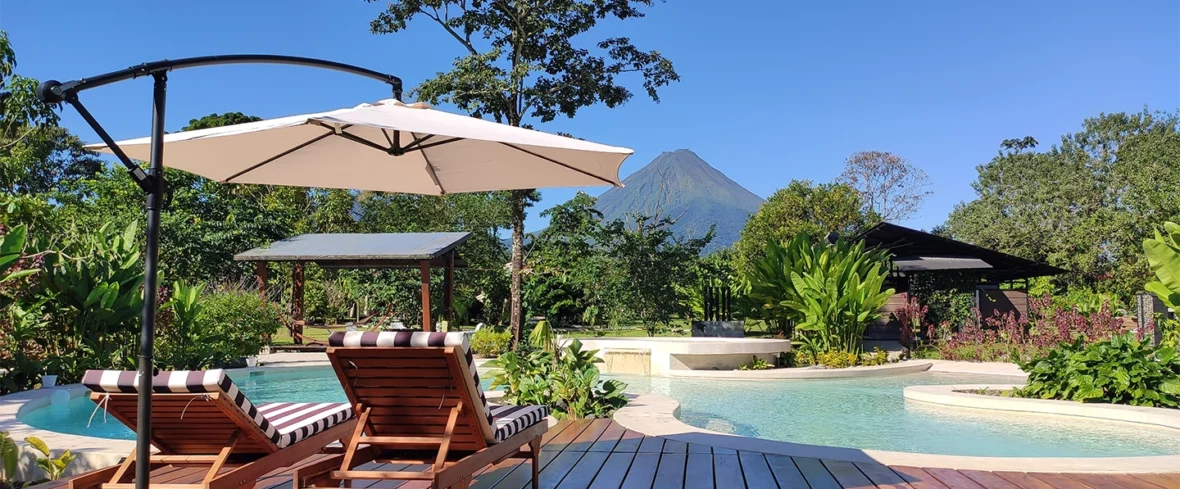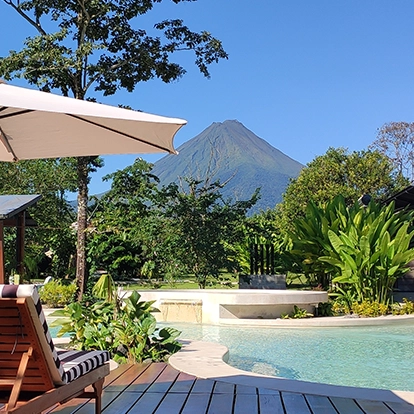 Costa Rica January/February 2024
Costa Rica Two Location Adventure Yoga Holiday 31st January - 10th February 2024
New for 2024 is our two-location adventure! Stay for 3 nights in Arenal National Park and experience the volcano, hot springs, rain forest and hanging bridges, staying in a private tented camp. Then enjoy 7 nights of relaxing in the hip surf town and wellness mecca of Nosara.

31st January 2024

Costa Rica
For 2024 we are adapting our Costa Rica adventure, to include a 3-night adventure in the region of Alajuela, La Fortuna, so that you can explore the Arenal Volcano National Park and what it has to offer. This 10 day adventure has volcanos, cloud forests, hot springs, bird life, beaches, surf, and yoga making up the sweet pura vida Costa Rica is known for.
Are you ready for an adventure?
You will start your Costa Rica yoga adventure in Arenal for 3 nights, staying in an exclusive boutique glamping hotel that has 8 single occupancy private beautiful tents and two twin occupancy tents, all with en-suite bathrooms and a veranda. With a yoga shala, pool and private grounds, relax here after an exhilarating day of adventure.
In Fortuna, you will hike around the Arenal volcano and enjoy the thermal hot springs one day and the next day explore the jungle on the hanging bridges when the animals are most active. With yoga twice a day to balance and restore and friendly staff you will be looked after.
Next stop, Nosara! Your home from home for the next 7 nights. Based on the Pacific coast, you will be staying in a gorgeous private luxury villa that is only a few minutes walk from the beautiful surf and sand of Playa Guiones, one of the main surf and swim beaches in Nosara. Relax and enjoy the spaciousness of the main villa, the private pool with a seating area; and what is called a Rancho, a downstairs open-air dining and relaxation space with a few bedrooms located here and the yoga shala is situated on the first floor above.
Beautifully, yoga takes place in the yoga shala to the sounds of monkeys and tropical birds each morning and evening. After a delicious breakfast, take a dip in the pool or take a short walk down the beach. Maybe, relax at the villa or try surfing on one of the best surf beaches in the country. You may wish to wander into town or feel exhilarated with one of the many activities on offer in the surrounding area. Maybe zip-lining through the rainforest canopy, a quad bike tour along the coast, visiting a chocolate or coffee factory and so much more.
To find out more about what we get up to on our Costa Rica Yoga Holiday from a guest who has experienced it, check out this blog from the lovely Ceyda!
Find out what you will eat in Costa Rica here
7 reasons to LOVE Costa Rica here
Find out more about the venue at the bottom of this page in the accommodation section.
Itinerary
Nosara
We have chosen the area of Nosara as it offers so many choices. Of course, you can tailor the yoga holiday to your preferences, whether it be a pure surf holiday, or you might opt for adventure activities. You might simply want to relax on the beach and read a great book. As always, it's up to you as it's your yoga holiday. We are available to help you make it whatever you want it to be.
Here are the options of what you can do whilst on your yoga holiday in Nosara, Costa Rica:
Surf on the best surf beach Playa Guiones.
Walk around Nosara town with its boutique shops and delicious cafes.
Take a quad bike tour into the mountains to visit an organic farm, coffee plantation and waterfall.
Fly amongst the canopy of the rainforest on a zip-line tour.
Take a boat trip to see dolphins and turtles or explore surrounding beaches and go snorkelling.
See below for the daily schedule:
7am: Morning coffee and pre-yoga snacks
7.30am – 9am: Energsing morning yoga class
9am: Costa Rican style vegan breakfast
10am-4pm: Enjoy an excursion, beach day, relax by the pool
4pm-6.30pm: Evening sunset yoga
7pm: 2 course evening vegan meal
A Typical Day
Day 1
Depart San Jose at 9am to arrive at Arenal for lunch, enjoy a relaxing day, take a wander in to La Fortuna, relax by the pool, evening yoga and dinner
Day 2
Enjoy a day out walking around Arenal volcano and after relax in the hot springs
Day 3
Up early to walk the hanging bridges when the animals are most active
Day 4
early morning yoga and breakfast and depart to go to Nosara your beach destination. 5 hour transfer, arrive at 4pm, eveing yoga and dinner
Day 5 - 10
Beach life! relax and enjoy excursions of our choice
Day 11
Early departure for transfer to airport
*
Itinerary is subject to change depending on weather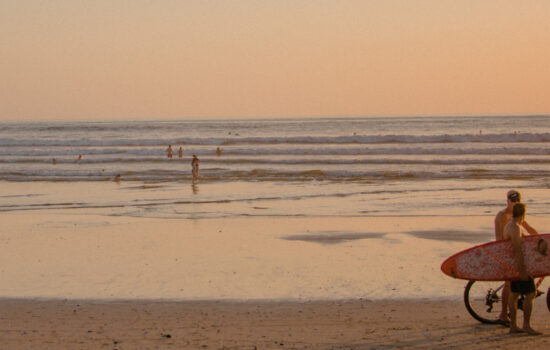 Beautiful Costa Rica
Embark on an adventure like no other with our yoga retreats in Costa Rica, the ultimate haven for those seeking La Pura Vida – The Good Life. This Central American paradise, renowned for its yoga and wellness retreats, provides an idyllic setting for relaxation and rejuvenation. Yoga retreats in Costa Rica are a great way to unwind and connect with nature. The country's serene beaches, lush rainforests, and scenic landscapes make it an ideal destination for a wellness retreat.
Read more
Costa Rica is categorised as one of the happiest places in the world to live, it has no army, the country generates more than 99% of its electricity through renewable energy and Nicoya is a blue zone, meaning that its inhabitants live active lives well over 100 years old.
One of the most popular destinations for yoga and wellness retreats in Costa Rica is the small surf town of Nosara – home to our Costa Rica yoga holiday. This laid-back town surf town is located on the Pacific coast and is known for its beautiful beaches, excellent surf breaks, and relaxed vibe. Nosara stands as a testament to the allure of Costa Rica as an ideal destination for your next yoga retreat or wellness holiday.
Costa Rica is also famous for its natural wonders, including five active volcanoes. These majestic peaks offer breathtaking views and are a must-visit for anyone interested in hiking and outdoor activities. For 2024 we are starting our Costa Rica yoga adventure in Arenal National Park, where one of the active volcanos is, Mount Arenal. Here you will experience the jungle, biodiversity, bird life, thermal springs, and cloud forest, a contrast to the Pacific coast but a truly memorable experience.
In addition, Costa Rica is known for its delicious coffee and chocolate, which are produced locally and are a must-try for visitors. The country's laid-back lifestyle and friendly culture also make it an ideal destination for those embracing wellness and health retreats in Costa Rica to escape the hustle and bustle of city life.
Costa Rica is a magical destination for those seeking a yoga or wellness retreat. With its beautiful beaches, lush rainforests, and majestic volcanoes, it offers an ideal environment for relaxation and rejuvenation. Whether you want to unwind in a small surf town like Nosara or explore the country's natural wonders, Costa Rica is the perfect destination for your next wellness getaway.
We recommend booking for longer and planning a tour so that you see as much of this special country as you can. If you choose to do this you might want to fly to Liberia with Tui which flies weekly so you can go for 2 weeks instead of 10 days.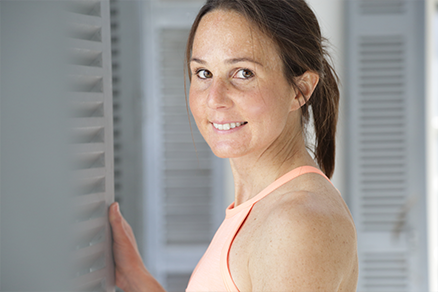 Felicity Wood
During a stressful period of working in the corporate world, running marathons and taking part in Ironman triathlons, Felicity found Yoga; a practice that totally...
About the yoga
Morning yoga on your yoga holiday in Costa Rica:
To begin, wake up early to the sounds of the jungle, arriving on your mat at our yoga shala either in Arenal or in Nosara. The practice will begin as a gentle awakening, building up to more dynamic postures. Soon, you will find you can settle into meditation quicker than before, and that silence is something to be cherished. Feel energised and refreshed and ready for your day in the sun.
Evening yoga on your yoga holiday in Costa Rica:
Arrive at our yoga shala for sunset yoga! Furthermore, we will have a beach sunset yoga evening on one evening too in Nosara. Our evenings are for Yin and Restorative to unwind from the activities of the day before settling into a more restorative practice, Yoga Nidra, and guided meditation.
Highlights
Private yoga retreat venue in Arenal in Nosara right on the beach

Walking distance into Nosara town and La Fortuna town, Arenal

Enjoy adventure activities in Arenal - see volcanoes, jungle, thermal springs, hanging bridges

Enjoy the choice of a private pool or the Ocean to swim in

Experience the wellness Mecca of Nosara and Pura Vida

Adventures that will create memories to last a lifetime
About the food
Truly, the food in Costa Rica is heavenly. Simple, fresh, and delicious meals with some of the most delicious fruit you will ever eat!
To start, your breakfast and 2 evening meals in Arenal are made by local chefs, and you will enjoy local-style veggie breakfast and dinners.
In Nosara, we will be enjoying breakfasts created by one of our talented chefs that include traditional dishes, fresh fruit, and juices. Of course, there is also plenty of Costa Rica's famous coffee!
To end, evening meals will be nourishing your yoga experience with wholesome, plant-based meals.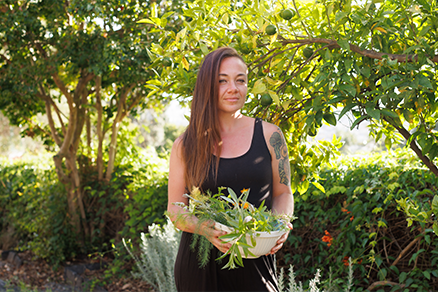 Chloe Webb
Chloe spent her twenties living and working in London, running the kitchens in cool East London cafes whilst freelancing in events catering on the side....
Suitability
As you can imagine, your yoga holiday in Costa Rica is suitable for anyone who likes to escape the cold of the northern hemisphere! For many, Costa Rica has been on their yoga bucket list for years. Beginners are welcome as well as all ages.
Advanced
All ages
Beginners
Intermediate
Men & Women
The holiday far exceeded my expectations. I am new to come on holiday by myself but immediately felt at home, looked after and part of a family. The food was delicious and have loved relaxing and reflecting in the beautiful garden in the hotel. Yoga was wonderful. I can't believe how much I have learned about myself and yoga in 10 days. I am going home so uplifted and happy. Thankyou!
Sandy – Yoga holiday
I felt I have come away transformed, healed and really connected to myself, nature my body through yoga and connected to others I formed great relationships with over the time of this yoga holiday. I feel really happy and content, unwound and very very grateful to have been part of this.
Jane – Yoga holiday
AdventureYogi offered me much more than a retreat. They gave me space to return to myself and reconnect with my wants and desires. I can't thank the team enough for reviving my batteries, stimulating my curiosity and re-invigorating my passion for life – each and every day.
Katie – Yoga Holiday