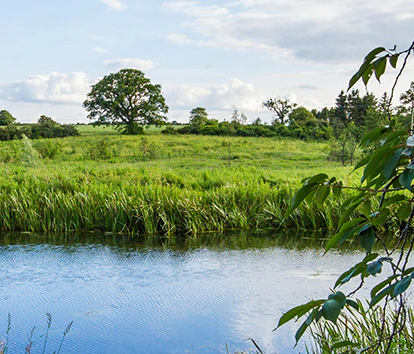 Easter Yoga Wellness Retreat Norfolk
Norfolk, 29th March - 1st April Easter 2024
Join us for a long weekend of wellness on our Easter yoga retreat Norfolk at our stunning eco-retreat centre. Enjoy beautifully landscaped gardens with a Japanese garden and swimming lake
Come and join us on our Easter yoga retreat in Norfolk. Our venue is an established eco-retreat retreat centre, powered on 90% renewable energy with 21 acres of grounds that have been rewilded attracting all kinds of wildlife.
There is a lot to enjoy at this retreat during your stay with us. There is a wild swimming lake, boats to row, a Japanese zen garden and acres of magical garden with meditation benches and space to find tranquillity in nature. There is also an outdoor heated pool for daytime fun and fire pits for star gazing at night. There is also a cafe where you can try their coffee and cake and afterwards have a swim in the pool or lake. There is plenty of space to relax, unwind and just be.
Come and join us on our Easter yoga retreat in Norfolk!
Itinerary
This Easter yoga retreat starts from 4pm on Friday, so that you have time to arrive, settle in and relax. The first yoga class starting at 6pm – 8pm followed by dinner.  We finish at 11am on the Monday after the usual morning schedule and breakfast.
Daily Itinerary
8 am
Hot lemon and ginger and protein snacks pre yoga
8am – 8.25am
Silent meditation walk around the grounds
8.30am – 10.30am
Morning Yoga & Meditation Class
10.30am
Brunch served, vegan / vegetarian, wholesome, healthy, filling, creative
11am-1pm
Free time to read and relax
1pm – 3.30pm
Saturday – a walk to Hill Fort. Sunday – relax at the venue or try other walks
3.30pm – 5.30pm
Free time
5.30pm – 7.30pm
Evening yoga and meditation class
7.40pm 
Delicious vegetarian / vegan feast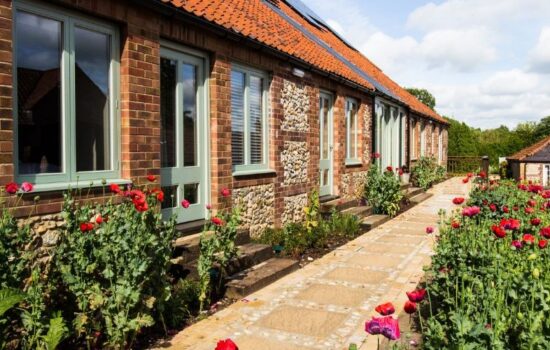 Beautiful Norfolk
Searching for yoga retreats in Norfolk? Escape to the rolling landscape of North Norfolk, where you can find tranquility and rejuvenation. Our retreat is located near Swaffham, an old market town, and is just a 30-minute drive away from the beautiful beaches of Holkham and Wells-by-the-sea.
Read more
Immerse yourself in the peaceful countryside that surrounds our wellness retreat in Norfolk, a region that has been predominantly farming for centuries. Market towns are scattered throughout the area, adding to the charm and serenity of the surroundings.
During your stay, we offer a guided walk to Castle Acre, an ancient castle and monastery that was tragically destroyed when King Henry VIII dismantled the Catholic Church. This picturesque village is steeped in history, providing a captivating backdrop for your walk.
Our yoga and wellness venue is a sustainably run retreat center, with a strong focus on environmental conservation. The grounds are a sight to behold, featuring a Japanese Garden, winding paths through woodlands, and cozy benches that offer the best views. Take a dip in the swimming lake or pool, or gather around the fire pits in the evening for a truly memorable experience. It's more than just a house and a garden; it's a haven for relaxation and connection.
Conveniently located only 2 hours from London and with easy access to the north and midlands, our retreat is perfectly situated for anyone seeking a yoga day or a meditation retreat in Norfolk. Come and discover the tranquillity that awaits you in this idyllic setting.
Norfolk is home to one of our favourite beaches in the UK, check out our blog post on the best beaches in the UK.
If this is your first yoga retreat with us, here's what to expect on your first adventure yogi retreat.
Our Yoga Teachers
Over the 17 years that AY has been organising our bespoke retreats, we have always made sure that we work with exceptional yoga teachers who are dedicated to their practice and live and breathe yoga, so you can feel safe in the knowledge that you will be inspired, relaxed and tensions dissolved by the end of your retreat with us.
About the yoga
Our yoga classes at our Easter yoga retreat Norfolk are really special, with natural light coming in to the purpose-built, high ceiling yoga shala, you can really start to harness the energy and new beginnings that Spring offers.
On our Easter yoga retreats the classes are suitable for all abilities, from beginners to intermediate levels. Everyone is welcome. We have a range of inspiring and experienced teachers who are well practised at adapting the class for everyone's level.
Morning sessions are a more dynamic practice and the evening sessions are gentle with lots of meditation and relaxation.
Enjoy this energising yoga for springtime
Highlights
Restore and revitalise over 4 days so you leave feeling refreshed and energised

Eat delicious vegan/ vegetarian healthy and nourishing foods

Explore the extensive grounds

Sleep in beautifully designed rooms all with en-suite bathrooms

Keep your carbon footprint to a minimum at this venue

Energising yoga in the morning and restorative in the evening

Swim or row in the lake
About the food
We are a plant-based company and take great pride in creating incredible food on our retreats. Our chefs create diverse and imaginative menus that really highlight the seasonality of local produce. We are able to cater to all dietary requirements.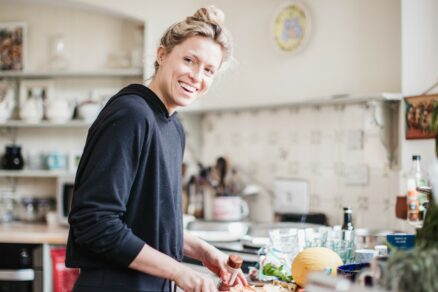 Charlotte Hopson
Charlotte's motivation is to share her passion for seasonal, plant-based ingredients and encourages guests to use their time on retreat to reconnect with their relationship to food. As a Pilates, Yoga teacher and Chef she believes that with a balanced approach to exercise, eating well, and making more mindful choices about how and what we consume, we can live a more nurturing, self-supporting and planet-friendly lifestyle. 
Suitability
This Easter yoga retreat Norfolk is suitable for anyone who'd like a weekend away with wellness, healthy food and Yoga. Beginners are welcome, we love yoga newbies.
All ages
Beginners
Intermediate
Men & Women
I enjoyed the mix of Forest and Yin, You really do have such good teachers. Yin definitely felt great in the evenings. Highly recommended. Felt rejuvenated and refreshed.
Paul – Norfolk
Without the excellent chefs we wouldn't have been able to do this due to dietary needs. Thank you so much for being so flexible. The venue was very pretty. The location was great from London. Loved that was in the country but near the beach.
John – Norfolk
Beautiful venue and bedrooms. Really easy to get to from London with plenty of picturesque walks
Julie – Norfolk
I arrived with trepidation. Left feeling elated. It was so much better than I had expected, good food, excellent yoga, peaceful location. A much-needed break from the madness of life. Just a perfect way to spend a weekend. Feel rejuvenated.
Tom – Norfolk