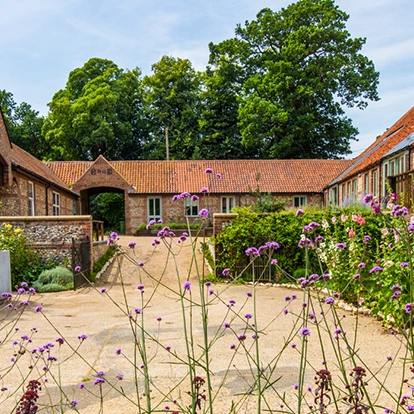 August Bank Holiday Yoga Wellness Retreat Norfolk
Norfolk, 23rd - 26th August Bank Holiday 2024
Join us for a long weekend of wellness on our August bank holiday yoga retreat Norfolk at our stunning eco-retreat centre. Enjoy beautifully landscaped gardens with a Japanese garden and swimming lake
One of the best times of year to stay at this retreat centre, when the summer is at its peak and the grounds are truly stunning in all their glory.
Enjoy yoga outside in the sunshine in the morning to energise and enjoy a more restorative practice in the evening on this august bank holiday yoga retreat in Norfolk. Enjoy a guided walk to Castle Acre on the first afternoon and a yoga workshop with your teacher on the second afternoon.
We love it here and have been running our yoga retreats here for 14 years! As an eco-retreat centre, everything has been built with sustainability at the heart of all that they do.  There is a swimming lake where you can row boats, a newly developed garden with meandering paths, a Japanese garden and fire pits to stargaze in the evenings. There is also an outdoor heated pool to cool off and take the heat off and a garden cafe where you can enjoy a coffee and cake after a swim.
Find a connection to nature in the expansive grounds and find enjoy meeting new people.  Reconnect to you and release tensions and stresses of everyday life.
Enjoy a guided walk to castle Acre and the next day take a day trip to Holkham beach if you came by car.
Find out more about Norfolk here
Itinerary
The yoga retreat starts from 4 pm so that you can settle in and relax before the yoga class that starts at 6 pm – 8 pm and then dinner.
We finish at 11 am after the usual morning schedule and breakfast.
Daily Itinerary
8 am – 8.25am
Silent meditation walk in the grounds
8.30am – 10.30am
Morning Yoga & Meditation Class
10.30am
Brunch served, wholesome, healthy, filling, creative
12pm-5pm
Free time to read and relax
1pm – 3.30pm
Saturday – a walk to Hill Fort with packed lunch.
12pm - 5pm
Sunday – relax at the venue, drive to Holkham Beach if you came by car, try other walks
5pm – 7pm
Evening yoga and meditation class
7.15pm
Delicious vegetarian feast
9pm
Fire pit star gazing
10pm
Bedtime!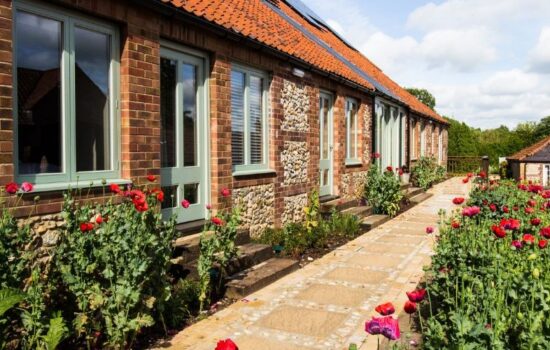 Beautiful Norfolk
Searching for yoga retreats in Norfolk? Escape to the rolling landscape of North Norfolk, where you can find tranquility and rejuvenation. Our retreat is located near Swaffham, an old market town, and is just a 30-minute drive away from the beautiful beaches of Holkham and Wells-by-the-sea.
Read more
Immerse yourself in the peaceful countryside that surrounds our wellness retreat in Norfolk, a region that has been predominantly farming for centuries. Market towns are scattered throughout the area, adding to the charm and serenity of the surroundings.
During your stay, we offer a guided walk to Castle Acre, an ancient castle and monastery that was tragically destroyed when King Henry VIII dismantled the Catholic Church. This picturesque village is steeped in history, providing a captivating backdrop for your walk.
Our yoga and wellness venue is a sustainably run retreat center, with a strong focus on environmental conservation. The grounds are a sight to behold, featuring a Japanese Garden, winding paths through woodlands, and cozy benches that offer the best views. Take a dip in the swimming lake or pool, or gather around the fire pits in the evening for a truly memorable experience. It's more than just a house and a garden; it's a haven for relaxation and connection.
Conveniently located only 2 hours from London and with easy access to the north and midlands, our retreat is perfectly situated for anyone seeking a yoga day or a meditation retreat in Norfolk. Come and discover the tranquillity that awaits you in this idyllic setting.
Norfolk is home to one of our favourite beaches in the UK, check out our blog post on the best beaches in the UK.
If this is your first yoga retreat with us, here's what to expect on your first adventure yogi retreat.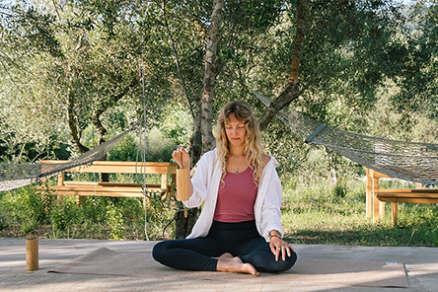 Marie Williams
Marie is a Yoga Teacher and Yoga Therapist, specialising in Vinyasa Flow, somatic movement, Yin and Restorative yoga. Her more active classes are not all...
About the yoga
Morning yoga on your August bank holiday yoga retreat Norfolk:
During your yoga retreat in Norfolk, you will be treated to 2 x 2-hour classes a day. Enjoy an energising flow class in the morning to increase flexibility and strength while making you feel relaxed, leaving plenty of time for meditation and savasana.  Get what you need from each class by going inward and really listening to your inner wisdom so that you can nourish and revive in the individual way that you need.
Evening yoga on your August bank holiday yoga retreat Norfolk:
The evening yoga class will be more restorative finding yourself in longer holds, allowing the body to open up in its own time. Feel grounded, calm and nourished from the evening practice.
If it is warm and sunny yoga will be outside
Highlights
Indulge in four hours of yoga a day

Relax by the swimming lake and read a book

Take a dip in the swimming lake or take the row boat out

Keep you carbon footprint low at this venue

Enjoy the meandering paths and relax in the Japanese garden

Firepit, stargazing (weather permitting)

Enjoy the outdoor heated pool
About the food
We are a plant-based company and take great pride in creating incredible food on our retreats. Our chefs create diverse and imaginative menus that really highlight the seasonality of local produce. We are able to cater to all dietary requirements.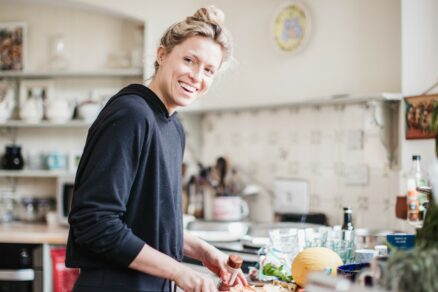 Charlotte Hopson
Charlotte's motivation is to share her passion for seasonal, plant-based ingredients and encourages guests to use their time on retreat to reconnect with their relationship to food. As a Pilates, Yoga teacher and Chef she believes that with a balanced approach to exercise, eating well, and making more mindful choices about how and what we consume, we can live a more nurturing, self-supporting and planet-friendly lifestyle. 
Suitability
This August bank holiday yoga retreat Norfolk is suitable for anyone who'd like a weekend away with wellness, healthy food and Yoga. Beginners are welcome, we love yoga newbies.
Beginners
Intermediate
Men & Women
Price definitely reflected the quality of the weekend. Lots of yoga, amazing food and nice accommodation in a great location. The yoga was great. I liked how the morning one was more energising and the evening one more relaxing. Lovely yoga space.
Andy – Lake District
I enjoyed the mix of Forest and Yin, You really do have such good teachers. Yin definitely felt great in the evenings. Highly recommended. Felt rejuvenated and refreshed.
Paul – Norfolk
J'adore AdventureYogi. I came to restore some balance into my hectic life . I left with a spring in my step and hopefully with some new friends. Thank you.
Jo – UK Retreats
A true escape and tranquil surroundings in which to rejuvenate and heal. Wonderful people, perfect venue, Nafia's energy and enthusiasm is contagious. Thank you so much for a life-changing weekend. I go home with renewed energy and look forward to the future with an open heart.
Holly – Peak District