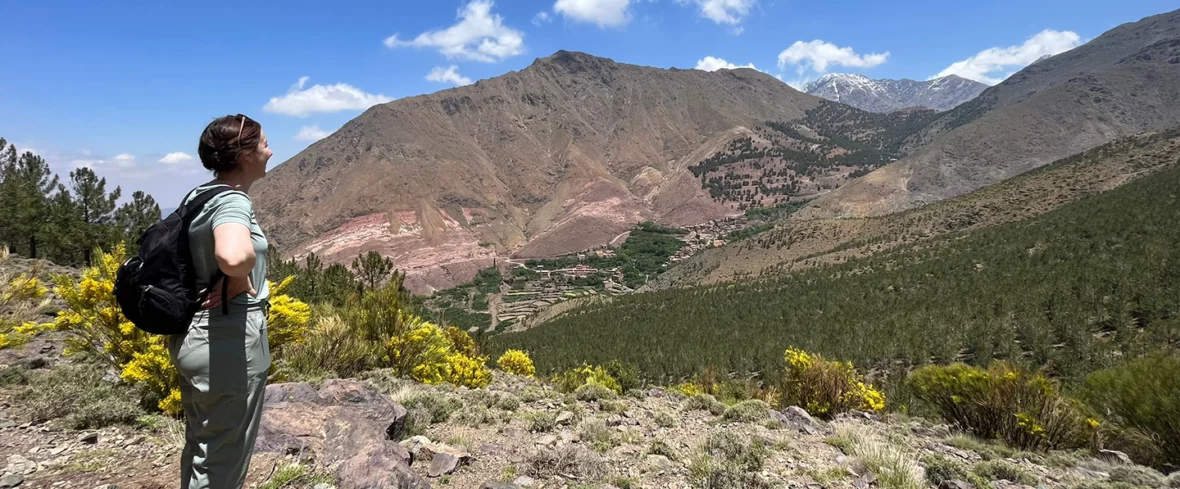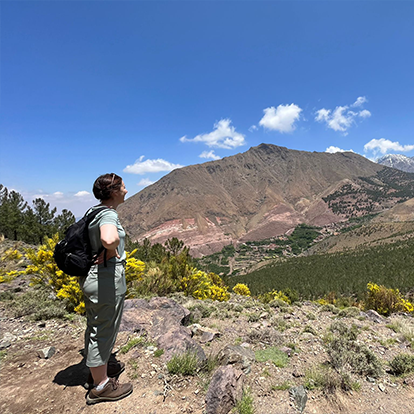 Atlas Mountains Autumn Escape 2023 – NEW DATE ADDED!
Autumn Yoga Retreat Atlas Mountains, Morocco: 23rd - 27th November 2023
Enjoy a 4 night 5 day hiking and yoga break in the Atlas Mountains, Morocco. With guided hikes each day see how the local community live, enjoy mint tea and great hospitality.
Our usual venue for Atlas Mountains has changed for this retreat, we are now staying in their beautiful sister hotel, still located in Imlil and with stunning views up to the Kasbah and Toubkal.
Join us for our hiking and yoga short break to the Atlas Mountains in Morocco. Only 90 minutes away from Marrakech, stay deep inside the National Park with spectacular views of the valleys and in the distance Jbel Toubkal which stands at 4167m – the largest mountain in Northern Africa.
With day temperatures around 23 degrees at this time of year, allow your body to relax again in the warmth of the sun and let summer last a little bit longer. Enjoy breathing in the fresh mountain air at our cosy Kasbah accommodation in the Atlas Mountains.
On our hiking and yoga holiday in the Atlas Mountains, everything is included once you land in Marrakech so switch off, enjoy the scenery, the food, the culture, the hammams, the hikes and of course, the yoga!
See our 9 reasons to visit Morocco
Itinerary
Once you have landed at Marrakech, your yoga holiday has started! Enjoy the scenic drive up to the foothills of the Atlas Mountains.
Your first evening starts with a short yoga class and then dinner.
On the last day enjoy a morning yoga class and brunch before you head home.
A Typical Day
8am
pre yoga snacks and teas
8.30am - 10am
Energising morning yoga
10am
wholesome vegetarian brunch
11am - 5pm
Hiking and activities, either a half day hike either side of lunch or a whole day hike
2.30pm
Lunch when at the Kasbah
3.15pm - 5pm
Relaxation time, enjoy the hammam
5pm - 7pm
Restorative evening yoga
7.15pm
deliicous Moroocan style Vegetarian evening meal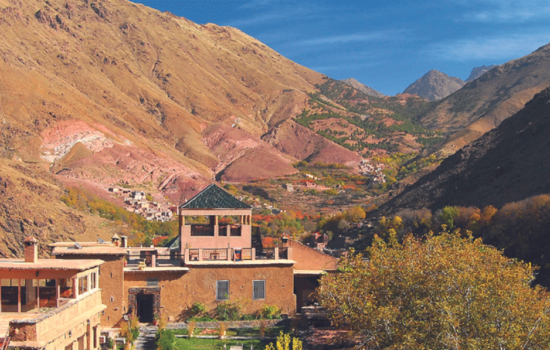 Beautiful Atlas Mountains
The Atlas mountains are a vast mountain range that spans 2500km across the north of Africa through the countries of Morocco, Tunisia and Algeria and they separate the Atlantic and Mediterranean coastline from the Sahara desert. It is a mountain range of diverse terrain, climates and wildlife and it is also inhabited by lots of small Berber villages on the mountainsides and Mount Toubkal is the highest peak at 4167metres  – the almost the same height as Mont Blanc in the Alps which is 4809m and you can climb Mount Toubkal aswell.
Read more
The weather there is seasonal with cold winters at around 20 degrees celsius to 7 degrees celsius at it's lowest and 35 degrees celsius at it's hottest in June – August.
The best times to go are spring and autumn where it is sunny and dry with some rainfall so that the trees are green but cool enough to enjoy hiking, the stunning views and visiting Berber villages for mint tea and some rug shopping!
In the Atlas Mountains, you will head to our venue, the Kasbah. It is based in the Toubkal National Park and set dramatically below the towering flanks of Jbel Toubkal, the highest mountain in North Africa standing at 4167 metres. Imlil, and its surrounding valleys, are a world apart from the bustle of the city and a place of peace and seclusion. The Kasbah is situated at 1820m and is just 60km from Marrakech.
Our Yoga Teachers
Over the 17 years that AY has been organising our bespoke retreats, we have always made sure that we work with exceptional yoga teachers who are dedicated to their practice and live and breathe yoga, so you can feel safe in the knowledge that you will be inspired, relaxed and tensions dissolved by the end of your retreat with us.
About the yoga
Morning Class on your Atlas Mountains yoga holiday:
Our 1.5 hour morning classes are designed to help you awaken your body, focusing on energising and invigorating your body, ready for an exhilarating day exploring the stunning scenery.
Evening Class on your Atlas Mountains yoga holiday:
After your day hiking, exploring or relaxing in the autumn sunshine, return to the Kasbah to unwind and relax tired bodies with a restorative evening yoga class. This gentle session will vary each evening and include pranayama and meditation to help the mind and body really let go and allow you to enter a state of deep relaxation.
Highlights
Stay at your very own castle in the sky

Daily guided hikes in stunning scenery

Two hammams to choose from for ultimate relaxation

Experience local berber culture

Relax and unwind in the peace and tranquility of the mountainous landscape
About the food
The food is created by the local Berber team who work at the Kasbah. As we are high in the Atlas Mountains the food is seasonal, local and organic.
Expect freshly made breakfast, lunch and dinners. breakfast is a buffet of dried fruit and nuts, local loaves of bread, eggs, locally made nut butter, fresh local coffee and teas.
Lunches are tagines of pulses, dried fruits, fresh aubergines, courgettes, peppers, salads and dinner is a selection of the same. Enjoy fresh coffee, drinking water and any other types of soft drinks any time of the day.
Dinner is a selection of warm Moroccon style stews and salads perfect for the cooler evenings.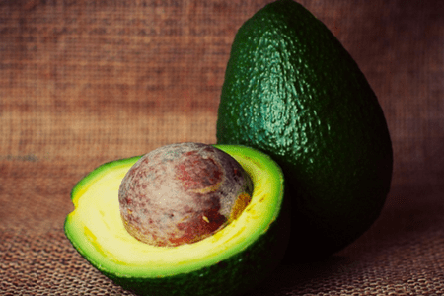 Our Yoga Chefs
Suitability
This Atlas Mountain autumn yoga retreat is suitable for anyone who'd like a short break away with activities and relaxation in equal measure, for hikers or walkers and for those who enjoy wellness, healthy food and Yoga. Beginners are welcome as well as all ages.
All ages
Beginners
Intermediate
Men & Women
I felt I have come away transformed, healed and really connected to myself, nature my body through yoga and connected to others I formed great relationships with over the time of this yoga holiday. I feel really happy and content, unwound and very very grateful to have been part of this.
Jane – Yoga holiday
The holiday far exceeded my expectations. I am new to come on holiday by myself but immediately felt at home, looked after and part of a family. The food was delicious and have loved relaxing and reflecting in the beautiful garden in the hotel. Yoga was wonderful. I can't believe how much I have learned about myself and yoga in 10 days. I am going home so uplifted and happy. Thankyou!
Sandy – Yoga holiday
AdventureYogi offered me much more than a retreat. They gave me space to return to myself and reconnect with my wants and desires. I can't thank the team enough for reviving my batteries, stimulating my curiosity and re-invigorating my passion for life – each and every day.
Katie – Yoga Holiday