Top 7 Destinations for 2018
Have you been trawling the internet trying to choose the destination for your next adventure?
There's so much choice now but we've whittled it down for you. Here are our top 7 destinations around the world for 2018.
1. Canada- Ultimate Wild Destinations
Vast, varied and filled with places of immense beauty. Canada is a destination that gives you room to unplug and rejuvenate your mind, body, and soul. From ranches to log cabins, mountains, and rivers, Canada offers some of the worlds most beautiful national parks. Our favourites are in Alberta. You can spend the day on Lake Louise and let the majestic power of the towering mountains diminish your worries. Truly, there are loads of activities available. Of course, you may just want to relax and take in the amazing scenery!
2. Portugal – Beach Destinations
Did you know Lisbon is Europe's sunniest capital? Furthermore, Portugal was named Europe's best destination at this year's World Travel Awards. Have we convinced you yet?
Aside from the above-average hours of sunshine, Portugal offers culture, amazing food and some hidden gems. One of these, Porto Covo, is amazing for surfing. Currently, the beaches are seldom busy and with few tourists, you can mix more with the locals. The waves are great and the water isn't too cold. Why not book a flight for 2018 and immerse yourself in the sea.
3. Sri Lanka – All-round Destinations
Sri Lanka has become one of the hottest destinations to travel to in 2018. It has boomed over the last 5 years, mainly because the country is now stable and safe to travel.  You won't believe how much there is to see and do. To start, the train ride through the tea plantations from Nuwara Eliya to Kandy is said to be the finest in the world and honestly, we have to agree. Furthermore, the cultural triangle will leave you in awe while the national parks, home to elephants and leopards are guaranteed to put a small on your face! But of course, the gorgeous white sandy beaches lining every part of the teardrop island will be what bring you back again and again. We suggest you give yourself time to really get to know this incredible jewel of an island.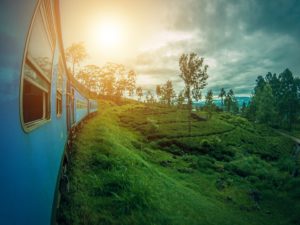 Japan
As you can imagine, there is an exciting buzz around Tokyo as they prepare to host the 2020 Olympics. Although many westerners associate Tokyo as a destination of technology, hustle, and bustle, there is another side to this city. Visitors are welcome at Japanese temples which are great places for meditation. Zazen is one of the Zen practices to obtain serenity of the mind, by sitting cross-legged on the floor in silence. Alternatively, submerge yourself in the hot springs of Kyushu. Then, experience the outdoor Onsen Baths in Hyotan, or alternatively, the indoor tubs are made from a fragrant Hinoki wood that smells like newly felled pine. Honestly, you fell like you are bathing in a forest. If you are really adventurous, try our their skiing with metres of snow each year in Nagano or Hokkaido.
5. Santorini
Santorini is one of the most famous Island destinations in The Greek Archipelago, well known for it's blue and white churches. In fact, we guarantee you have seen pictures of the stunning village of Oia! Boasting an endless view across the Caldera, open-roofed restaurants and hotels are built into the cliff face. Here, you have the number 1 spot for the most breathtaking sunsets. The Caldera is a sunken volcano after an eruption which destroyed a larger Island to create Santorini and the volcano submerged underwater. It is worth the visit just to see this site.

6. Chile
Chile has become a newly accessible destination with British Airways launching a flight from Heathrow to Santiago. Truly, Chile is a country of extremes in nature. Experience the Atacama Desert which is one of the driest places on earth. In fact, some areas have never experienced rain! By contrast, you can ski in Chile even in the summer, in areas such as Farellones. But, if you're looking for somewhere picturesque, head to Valparaiso known for its steep funiculars and colourful clifftop homes. Finally, Patagonia is ideal for those who love the outdoors – with mountains, lakes, and valleys with amazing hiking trails.
7. Sweden – Soul Soothing Destinations
Sweden spearheads the culture of well-being in the workplace and this carries over to everyday life. There are many spas and retreats to escape to, a tradition which began over 300 years ago. To start, Skane nature reserve, in southern Sweden is unspoiled and blissfully peaceful. For a true Swedish style, well-being break spends as much time in nature as possible. Surround yourself with forests and tranquillity and make this a destination that really soothes the soul.
If you are looking for a holiday and need some help, we are happy to assist so please get in touch here. We run our yoga holidays in Sri Lanka in Bentota and its surrounds and we spend two weeks in Santorini in June/July.