Sundal with Sprouted Chappati Recipe
Sundal – A Delicious Dish Anytime of the Year
This scrumptious Sundal and sprouted Chappati is easy to make and so delicious! Originally, created for our Pop-Up Yoga Supper Soiree in London in April 2015 we have been dreaming of it since. We run our Pop Up evenings about 5 times a year as an opportunity for the AY community to re-connect and come together. Essentially, in an easier way that isn't a whole weekend, but everyone can get a top up in yoga, breathing, slowing down and delicious healthy foods cooked for you!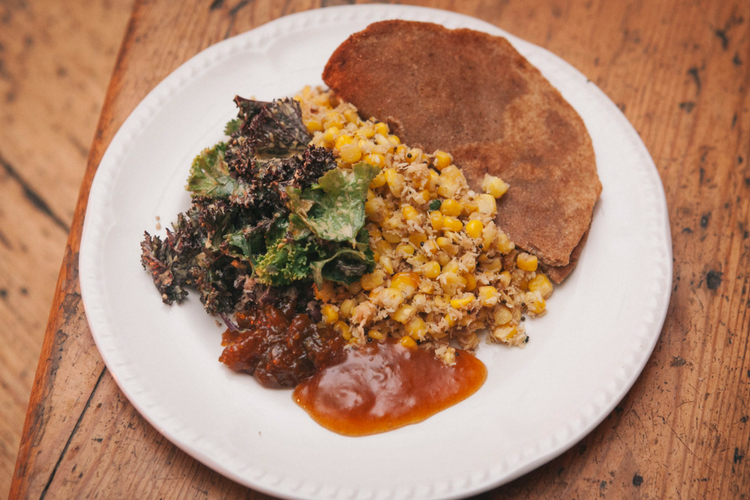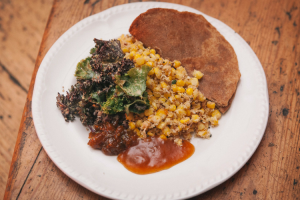 Sundal Recipe
Sundal can be made with chickpeas, different types of beans, lentils or sweet corn. You will always add the desiccated coconut in the end, but you can add different spices according to taste. In fact, to give you an idea of how many delicious variations there are of wonderful Sundal, check out this blog of 52 recipes!
Sundal Ingredients:
– can of cooked chickpeas / beans / sweetcorn
– 1 tbsp coconut oil
– tsp mustard seeds
– 1 tsp coriander seeds
– small red chilli
– 2 tbsp desiccated coconut
Method:
To start, heat the coconut oil in a frying pan or wok. Add the mustard and coriander seeds + red chilli, the flavour base of your Sundal. Wait until they start popping. Then, dd the chickpeas / beans / sweet corn. Stir for a bit and in the end add the coconut and salt to taste.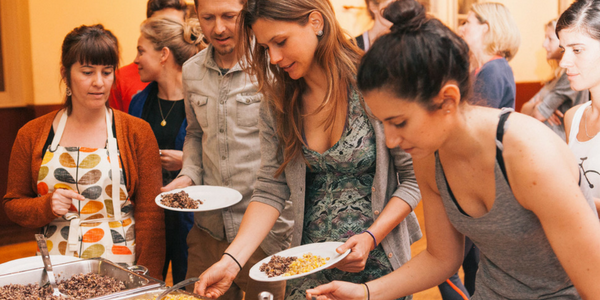 Chappati Ingredients:
– 1 cup sprouted wheat flour
– Water
– Salt
– Coconut Oil
– Ghee
Method:
Honestly, we think Chappati is the best accompaniment to a Sundal! To begin, in a bowl mix the flour with water. It should be roughly 1 cup of water, but you want the consistency of the dough to be soft and moist. Then, cover with a tea towel and let it rest for 20 minutes. Next, make little balls and with a rolling pin stretch the dough until you get a nice round pancake. You will need to sprinkle your working surface with more flour, so the dough doesn't stick. Heat the olive oil in a frying pan. When it's really hot, add the chappati and fry. They tend to form air bubbles, so just use a spatula to press and let the air out.
Enjoy!