Baked Eggs – Spinach Recipe (Video)
Delicious Baked Eggs recipe
AdventureYogi chef Charlotte Kjaer 
Baked eggs span across a wide range cultures througout the world! From Mexico to Morocco, Spain and everywhere inbetween! This Spinach based recipe is perfect for sharing at breakfast or brunch. Vegetarian and gluten-free, this rustic recipe can also be modified with dairy-free alternatives. If you have a smaller pan or skillet that you can easily make it for one or use a bigger pan and make enough for the whole family to tuck into!
Check out the video below!
Baked Eggs Ingredients:
– ½ lemon (zest and juice)
– 200g Greek yoghurt (or a dairy-free alternative)
– 1 tsp smoked paprika
– tsp paprika
– 2 garlic cloves, finely chopped
– ½ tbsp coconut oil
– 200g Spinach
– 150g baby plum tomatoes, halved
– 4 eggs
– Salt and pepper (to taste)
– 1 tsp olive oil
– Chilli flakes (optional)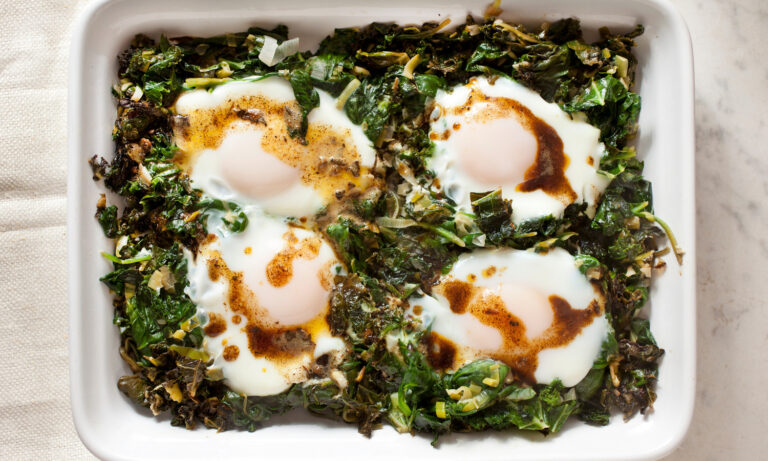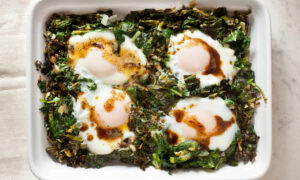 Baked Eggs Method:
– To start your baked eggs Grate the zest of half a lemon into the Greek yoghurt. Add the juice of half a lemon and mix well. Sprinkle half the paprika mixture onto the yoghurt and set aside.
– Heat up the coconut oil in a skillet then add the garlic. Fry the garlic on high heat for 1-2 minutes, until lightly browned.
– Add the spinach and mix well with the garlic. Once the spinach has wilted slightly, add the chopped tomatoes and fry for another 1-2 minutes. Drain any excess water. Too much excess water will effect your baked eggs.
– Make 4 holes in the skillet, and crack 1 egg into each hole. Add salt and pepper to taste. Continue cooking on medium heat until the eggs have set.
– Drizzle a little olive oil onto the yoghurt mixture, then spoon onto the baked eggs. Add some more of the paprika mixture and a few chilli flakes. Serve immediately.
Enjoy!