Spiced Hot Chocolate – The Ultimate Winter Indulgence
Spiced Hot Chocolate
This is how to make your hot chocolate into a near-spiritual experience!
Spiced Hot Chocolate is the ultimate winter indulgence. This drink tastes heavenly and feels comforting. Additionally, it is packed full of superfood goodness! This is a recipe commonly found throughout Mexico and Central America, especially along the Caribbean coasts. So, as you sip this heavenly cup you can transport yourself to somewhere tropical too!
What makes this Spiced Hot Chocolate magic?
Chilli – There are so many amazing benefits to chilli! Thought to improve digestive health, boost metabolism and immune system responses as well as help fight fungal infection,  colds and flu! Chilli also has anti-inflammatory properties.  Chilli is also used as a method of pain relief.
Cinnamon – As well as tasting delicious cinnamon is filled with anti-inflammatory, anti-viral and packed full of goodness. Cinnamon is thought to reduce blood pressure, lower blood sugar levels and relieve digestive discomfort!
Dark Chocolate – Where to begin?! Fits of, recent studies have found that dark chocolate could help brain function and memory as well as maintain heart health and control blood pressure! To boost, it has lots of anti-inflammatory properties and its flavonoids promote nutrient absorption!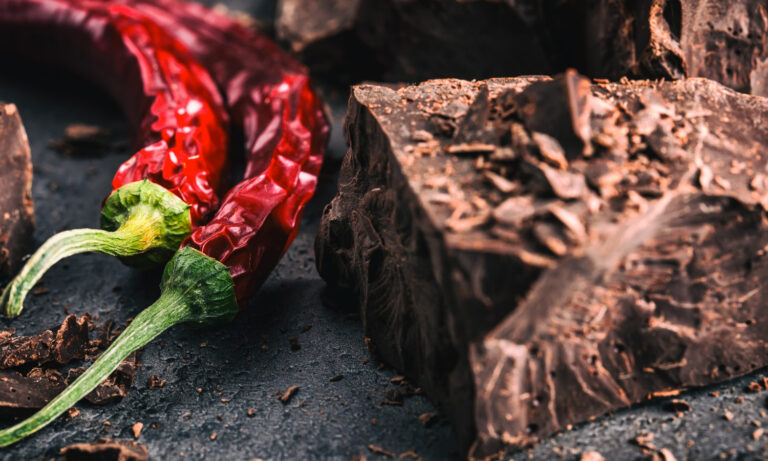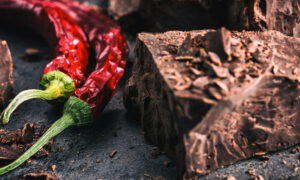 Ingredients for Spiced Hot Chocolate
Based on per person
1 cup of milk of your choice – we love Coconut or Oat Milk
35g of good quality dark chocolate
1/4 teaspoon on cinnamon
Pinch of cayenne pepper or, a small piece of fresh red chilli. You choose how spicey you want to go!
Pinch of sea salt
Sweetener of your choice. You can use no sweetener or, we like a little sprinkle of coconut sugar.
Method for Spiced Hot Chocolate
In a pan, add the milk and chocolate and gently bring to a temperature where the chocolate starts to melt.
Continue to heat gently while stirring until all chocolate has melted and blended into the milk.
Add your spices and continue to heat on a lower temperature for 2 minutes.
If your chilli is fresh, remove it and then add sweetener.
Pour into a mug and enjoy!
If you want to go full indulgence with your spiced hot chocolate, you can easily turn this into a chocolate sauce! Pour it over your favourite puddings or even into your morning coffee by using more chocolate and less milk to make it thick!
Join us on retreats in the UK and in some of the worlds most amazing destinations. Check out our calendar and subscribe to our newsletter to be kept up to date with everything we have going on!