Sardinia in May – Everything to See & Do | Sardinia
Sardinia in May
Are you looking for the perfect place to escape the hustle and bustle of everyday life this May? Look no further than Sardinia, Italy's second-largest island and a true gem of the Mediterranean. Known for its stunning beaches, clear blue waters, and rugged landscapes, Sardinia is a paradise for nature lovers and adventure seekers.
May is an excellent time to visit Sardinia, as the island experiences warm and pleasant weather with temperatures averaging around 20°C. This means you can enjoy all the outdoor activities that Sardinia has to offer without the intense summer heat, but of course you'll still catch a tan!
Whether you're looking for a relaxing beach holiday or an action-packed adventure, Sardinia has something to offer everyone. So pack your bags and head to this beautiful island this May for an unforgettable experience!
Sardinia Weather in May
In May, Sardinia experiences warm and pleasant weather with temperatures averaging around 20°C. The highs during the day can reach up to 25°C, while the lows at night can dip to around 14°C. The island typically receives an average of 40mm of rainfall during this month, with occasional light showers. The sea temperature is also pleasant, averaging around 19°C, making it perfect for swimming and water activities. Either way, you are guaranteed plenty of sun to get outdoors and explore.
Festivals and Events in Sardinia in May
The Cavalcata Sarda is one of the most colorful and exciting events in Sardinia, and it takes place every year in the city of Sassari on May 21st this year. The event is a celebration of Sardinian culture and traditions, and it features a vibrant parade of horses and riders in traditional dress, along with music, dancing, and food.
The Cavalcata Sarda has a long history, dating back to the 18th century when it was a way for wealthy landowners to show off their horses and their riding skills. Today, the event is much more than just a display of wealth and status; it is a celebration of Sardinian identity and a way to preserve and promote the island's rich cultural heritage.
The parade begins in the morning, with riders and horses assembling in the Piazza d'Italia, the main square of Sassari. As the parade makes its way through the city streets, the riders perform various riding maneuvers, including the "pariglia" – a choreographed display of riders and horses as well as musical performances, traditional Sardinian folk music and the sound of the "launeddas", a type of Sardinian woodwin instrument.
The parade culminates in the Piazza Azuni, where there is a final display of riding skills and a prize-giving ceremony. After the parade, visitors can sample traditional Sardinian food and drink at stalls set up around the square.
This celebration is an absolute blast, full of history, tradition, and excitement. It's held every year on May 1st in Cagliari, the capital city of the stunning island of Sardinia. It is all about honouring the patrol saint of Sardinia, Sant'Efisio, who is said to have saved the island from a deadly plague in the 17th century. The celebration starts with a procession that lasts for four days, and let me tell you, it's not your average parade.
The procession includes a colorful and lively parade of traditional Sardinian costumes, musicians, dancers, and of course, the statue of Sant'Efisio, all decked out in his finest vestments. The procession travels a staggering 65 kilometers, from Cagliari to the small town of Nora and back again, and it's all done on foot.
But here's the real kicker: the procession is also joined by thousands of pilgrims from all over Sardinia and beyond, who walk alongside the parade carrying candles, flags, and offerings for the saint. It's a truly magical experience, and the energy is absolutely electric.
The celebration is held every year in Olbia, a picturesque city located in the north-eastern part of the beautiful island of Sardinia, Italy. It honours the patrol saint of Olbia, who is said to have protected the city from invaders and pirates. And let me tell you, they sure know how to throw a party to show their gratitude! This year it takes place on May 15th, and if you are in Sardinia, this is not one to miss.
The festivities start with a colorful parade and ends at the magnificent Basilica of San Simplicio, where a mass is held to honour the saint. But don't think for a second that the party ends there! Oh no, my friend, the real fun is just beginning. After the mass, the city transforms into a carnival-like atmosphere, with food vendors, street performers, and music filling the air.
You can indulge in some of the most delicious Sardinian cuisine, from savory pane carasau (a traditional Sardinian flatbread) to sweet seadas (a dessert made of cheese and honey). And you can even try some of the local wine, which is renowned for its robust flavour. But the real highlight of the Feast of San Simplicio is the traditional horse race, known as the "Palio di San Simplicio." This heart-pumping event sees jockeys from different neighborhoods of Olbia racing their horses around the main square, all vying for the coveted prize.
Best Places to visit in Sardinia in May
Alghero – This beautiful coastal town is located on the northwest coast of Sardinia and offers stunning views of the Mediterranean Sea. In May, the weather is warm enough for swimming and sunbathing, and there are plenty of charming cafes, shops, and restaurants to explore. You can also visit the historic old town, with its medieval walls and towers, and take a boat trip to the nearby Neptune's Grotto.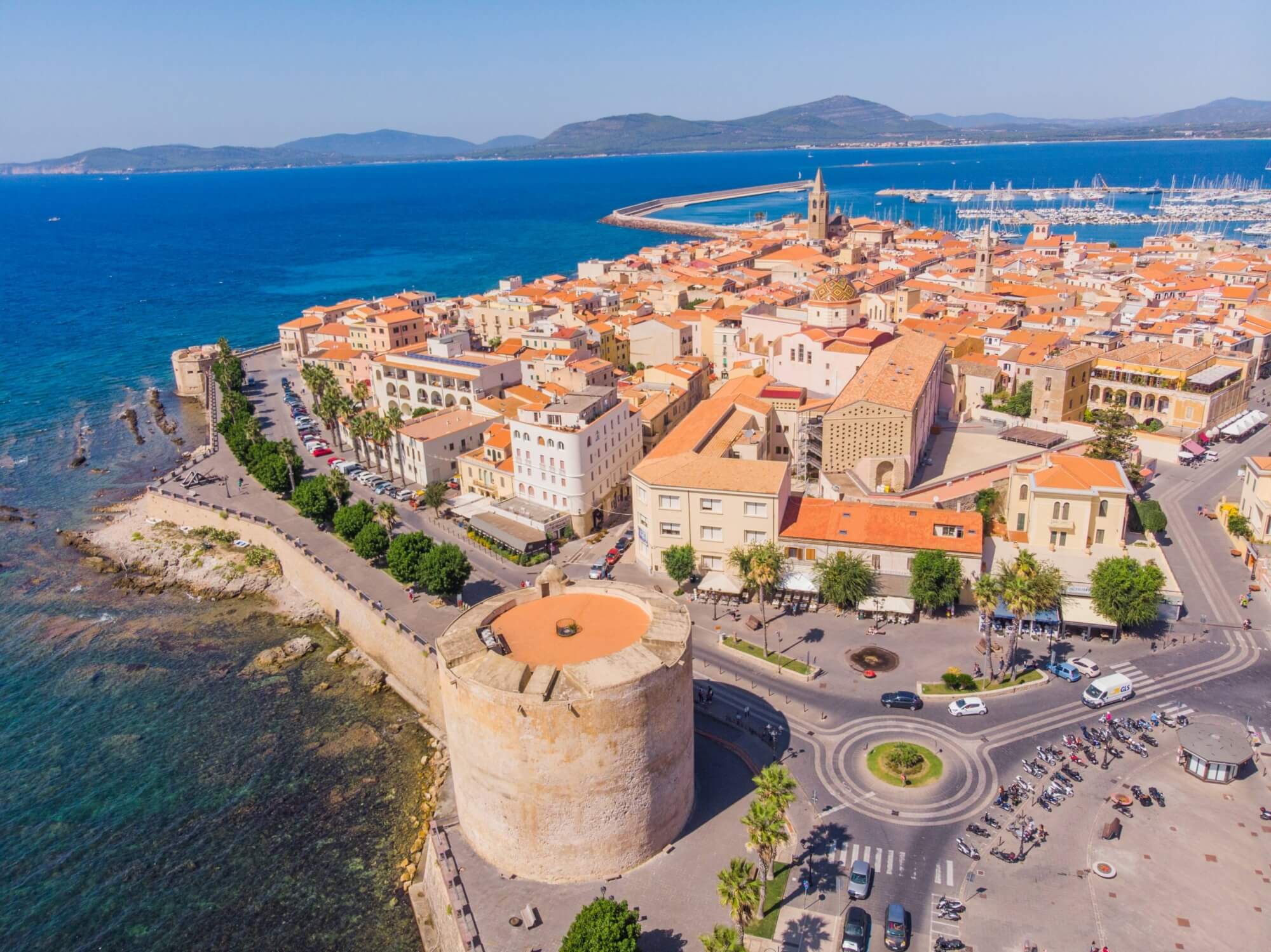 Gennargentu National Park – May is a great time to explore Sardinia's rugged interior, and Gennargentu National Park is the perfect place to do it. This vast wilderness area covers over 70,000 hectares and is home to some of Sardinia's most stunning natural scenery, including rugged mountains, deep gorges, and crystal-clear lakes. You can go hiking, mountain biking, or horseback riding, and there are plenty of guided tours available if you prefer to explore with a knowledgeable local guide.
Costa Smeralda – If you're looking for a luxurious getaway, the Costa Smeralda is the place to be. This stretch of coastline on the northeast side of the island is home to some of the most exclusive resorts and beaches in Sardinia, and in May, the crowds are still relatively low. You can spend your days lounging on the white sand beaches, swimming in the crystal-clear water, and exploring the glamorous marinas and chic boutiques of Porto Cervo.
Best Things to do in Sardinia in May
Explore the stunning beaches – Sardinia is famous for its gorgeous beaches, and May is the perfect time to visit. With the weather warming up, you can soak up the sun and take a refreshing dip in the turquoise waters. Whether you prefer secluded coves or long stretches of sand, there's a beach for everyone in Sardinia. And if you're feeling adventurous, you can even try your hand at some water sports, like paddle boarding or windsurfing.
Attend a traditional festival – Sardinia is home to some of the most vibrant and colorful festivals in Italy, and May is no exception. From the Feast of Sant'Efisio to the Feast of San Simplicio (which I just told you about), there's always a celebration to join in on. Immerse yourself in the local culture, sample some traditional food and drink, and dance the night away with the friendly locals.
Go hiking in the mountains – Sardinia isn't just about beaches and festivals; it's also home to some stunning mountains and rugged landscapes. May is the perfect time to lace up your hiking boots and hit the trails. Explore the stunning mountain ranges, like the Gennargentu or the Supramonte, and take in breathtaking views of the island. And if you're feeling really adventurous, you can even try some rock climbing or canyoning.
FAQ about travelling to Sardinia in May
What is the weather like in Sardinia in May?
In May, the weather in Sardinia starts to warm up, with average temperatures ranging from 18°C to 24°C (64°F to 75°F). However, it can still be a bit chilly in the evenings, so it's always a good idea to pack a light jacket or sweater.
Are there a lot of tourists in Sardinia in May?
May is still considered the low season in Sardinia, so the crowds are generally not as intense as during the peak summer months. However, there will still be some tourists around, especially in the more popular areas like the Costa Smeralda.
What are the best things to do in Sardinia in May?
May is a great time to explore Sardinia's beaches, attend traditional festivals, and go hiking in the mountains. You can also visit historic sites like the Nuraghe di Barumini or the Roman ruins at Nora.
Is it easy to get around Sardinia in May?
Yes, getting around Sardinia is relatively easy in May. The island has a good network of buses and trains that can take you to most major destinations, and renting a car is also a popular option.
What kind of food can I expect to find in Sardinia in May?
Sardinian cuisine is known for its hearty meat dishes, fresh seafood, and flavourful cheeses. In May, you can expect to find delicious dishes made with seasonal ingredients like artichokes, fava beans, and wild asparagus.
Are there any special events or festivals in Sardinia in May?
Yes, there are several festivals and events that take place in Sardinia in May, including the Feast of Sant'Efisio, the Feast of San Simplicio, and the Sagra delle Ciliegie (Cherry Festival) in the town of Mamoiada. These celebrations offer a great opportunity to experience Sardinian culture and traditions.
Visit Sardinia Adventure Yogi Style
If you want to visit Sardinia Adventure Yogi style we have four spectacular adventure holidays coming up this year. We will be staying in the north coast of the island, near Capo Testa and the vibrant town of Santa Teresa Di Gullara. Gallura means 'stony' and this area is famous for its granite rocks, weathered and shaped by the elements. We will have a variety of indoor and outdoor yoga practice, plus in your down time you can indulge in local pastries, wines and cheese and explore the ruins of ancient civilizations and mysterious stone towers.
If you want to join us for 6 nights in a stunning private villa, check out the dates here.