Red Lentil and Cashew Nut Curry
Red Lentil and Cashew Nut Curry – A Traditional Goan Dish
As you may or may not know, AdventureYogi sometimes spends winter on the sunny shores of South Goa, staying in the most beautiful spot near the beaches of Agonda and Patnem. We spend our retreat off the beaten track (just the way we like it!) and staying at a retreat centre that was formerly a cashew nut plantation. This has inspired this delicious, warming recipe by the chefs at our retreat and so we thought we would share something tasty that we will be enjoying whilst we are there, but also something that you can enjoy at home! Introducing our red lentil and cashew nut curry.
5 interesting facts about the cashew nut
1. The cashew in your Red Lentil and Cashew Nut Curry is a bit magic. Starting its origins from a tree native to Brazil's Amazon rain forest, it has spread all over the world by Portuguese explorers in the 16th century and today. Now, it is cultivated in many countries and Goa, India being a Portuguese colony was one of them.
2. The cashew nut actually bears from the cashew tree from pear-shaped false fruits called "cashew-apples" and from these cashew apples comes to a cashew nut that is encased in a hard outer coating where a single cashew nut comes from. Amazing!
3. Cashew nuts are full of goodness and scrumptious to boot. They are packed with minerals, especially manganese, potassium, copper, iron, magnesium, zinc, and selenium are concentrated in these nuts. A handful of cashew nuts a day in the diet would provide enough of these minerals and may help prevent deficiency diseases. Selenium is an important micronutrient, which functions as a co-factor for antioxidant enzymes which are the most powerful antioxidants in the body.
Copper is a cofactor for many vital enzymes, Magnesium helps to balance calcium and keep our muscles nice and relaxed. Zinc is a co-factor for many enzymes that regulate growth and development, gonadal function, digestion and strengthens our immune system.
Packed full of goodness!
4. Cashew nuts are rich in heart friendly good fats; namely monounsaturated-fatty acids like oleic, and palmitoleic acids. These fats help lower bad cholesterol and boost good cholesterol.
5. Cashews are also good in many essential vitamins such as pantothenic acid (vitamin B5), pyridoxine (vitamin B-6), riboflavin, and thiamin (vitamin B-1). Your Red Lentil and Cashew Nut Curry is starting to sound pretty healthy!
Now you know all about the wonders of the cashew nut…now it's time to enjoy eating them!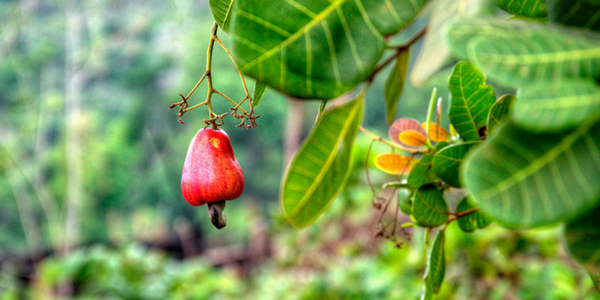 Red Lentil and Cashew Nut Curry
Ingredients
– 2 medium red onions finely diced
– 6 cloves of garlic finely chopped
– 1 tin of chopped tomatoes
– 10 cherry tomatoes halved
– 1 ½ cups red lentils
– ½ tsp ground coriander
– Half  tsp ground cumin
– ½ tsp mustard seeds
– 1 tbsp cumin seed
– tbsp fresh grated ginger
– 1 tsp green chilli finely chopped, deseed if you are not a chilli person!
– Salt and pepper to taste
– ½ cup cashews toasted and sprinkled with cinnamon and turmeric powder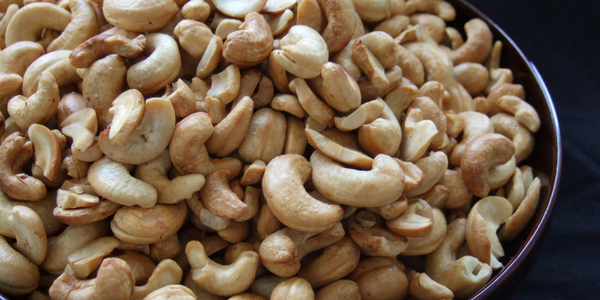 Red Lentil and Cashew Nut Curry Method
1. To start your Red Lentil and Cashew Nut Curry, soak the red lentils for 10 mins then drain and add to hot water in a cooking pot, boil for 15 mins and remove.
2. Meanwhile, in a hot pan toast the cumin and mustard seeds till they begin to pop. Then add the onion and a little butter and oil. Cook until the onions and soft and add a sprinkle of salt.
3. Then, add the garlic and spices and cook on low heat till it becomes sticky.
4. Next,  add the tinned tomatoes and cook for a further 4 minutes before adding the lentils to cook for a further 10-15 mins. Taste for seasoning and adjust accordingly.
5. Up tp you, you can now set this aside to eat later or dig right in. Before serving sprinkle over a very generous and full of freshly chopped coriander leaf, the cherry tomatoes and finally the best bit, toasted spiced cashews.
6. To finish, serve your Red Lentil and Cashew Nut Curry with a little black rice, sliced avocado, and a raw tomato and onion salsa for excellent balance.
7. Enjoy!