Easy Raw Chocolate Recipe
We all Love Chocolate. It's just a fact. 
Even more so these days seeing as we know that we can get raw chocolate with 100% cacao powder making hit basically health food. Kind of. Either way, it is super easy to make and delicious! So, we thought we would make it easy for everyone by sharing our raw chocolate recipe! Enjoy!
Raw Chocolate Recipe
– 200g Cold pressed cacao (chocolate) butter, cut into small chunks or grated
– 150g Raw cacao (chocolate) powder*
– 200g Sweetener of choice; agave nectar, honey, date syrup, coconut sugar etc
– A pinch of good quality salt (we like Himalayan Crystal salt)
– ½ tsp vanilla powder, or half a pod
*Raw cacao nibs can also be used instead of powder, you can grind these in a coffee mill until they are powdered (clean the coffee grinder first!)
Raw Chocolate –
You will need
– 2 bowls, one that fits inside the other to create a double skin effect (glass or ceramic preferable, do not use metal)
– A whisk
– Sharp knife or grater
– Silicon moulds of your choice
Raw Chocolate Method
– Boil some water and pour into the large bowl about ¼ full. Then place the smaller bowl inside so it floats on the water. Press the small bowl down so it touches the bottom of the outer bowl, no water should spill in. You have just created your very own Bain Marie! This allows you to warm the mixture to its melting point but keeps it from getting too hot or coming into direct contact with the harsh heat of a flame.
– Add the cacao butter, stirring until it melts. Once it has completely melted, you can take the small bowl out and put it on the counter for more stability.
– Add the cacao powder a little at a time, whisking as you go to avoid lumps.
– Add your sweetener, the salt and vanilla, whisking until you have a nice creamy consistency.
– Pour into moulds of your choice, then place in the fridge or freezer to set. Or you dip fresh fruit into your melted chocolate for extra sweetness!
– Handcuff yourself to the kitchen table so you can't nibble before they've set. After an hour or so, enjoy!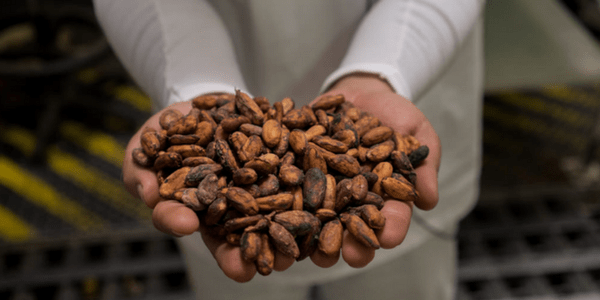 Raw Chocolate – the possibilities are endless! 
This is a very basic and delicious guide to making your own raw chocolate. Once you've mastered this- the healthy chocolatey world is your oyster! Give yourself time while making this chocolate, it's not complicated but it can become your very own meditation or 'me' time. There's no need to rush, (the chocolate often curdles if you do!) Enjoy the tastes, smells and sensations while stirring your pot.
Then go wild! Add some fruits or nuts, fragrant spices or grated orange zest. Dreaming of Turkish delight? Add a few drops of pure rose essential oil and you've just made your very own; share with your lover. Let us know how your raw chocolate recipe goes!
For more delicious workshops come along to our 3 and 5-day detox yoga retreats where we teach you other clean and healthy recipes that are quick and easy for you to incorporate into your daily lives. Or we have lots more delicious clean and healthy recipes on our blog so try them out and let us know what you think! For energy-balls try our recipe here!