Mhairi's Buckwheat Groat & Seedy Granola 
Homemade granola is always a breakfast winner.
Every now and again on retreat, there is a little something that just catches everyone's eyes and taste buds that suddenly becomes a must-have item. Unsurprisingly, homemade granola is always one of those things!
Yes, store brought is very convenient but it is also very expensive and often packed full of sugars and an excessive amount of oats. Making your own granola is super easy, really cost-effective and allows you some creativity to play with amazing flavour combos!
One of our all-time favourites recipes comes from our wonderful retreat chef Mhairi who uses it to top perfect breakfast pots (think divine layers of rhubarb compote, chia pudding, coconut yoghurt and elderflower infused blueberries!) for our lucky retreat guests! Her recipe has some unique ingredients that always intrigue retreat guests trying to figure out what the mystery flavour is and ultimately, how do they make a giant batch of it!
Mhairi's Buckwheat Groat & Seedy Granola
Buckwheat Groats
Buckwheat groats? What on earth are they we hear you cry! Well, quite simply groats are the hearty hulled seed of the buckwheat plant. Unlike its name suggests, buckwheat is in fact the fruit of a leafy plant and not a wheat at all. Furthermore, Buckwheat is packed with vitamins, antioxidants, and plant protein, and has even been proven to lower cholesterol and the risk of heart disease! Buckwheat groats add a deliciously nutty, crunchy element to your granola but can also be toasted and added on top of salads for an extra texture too.
We love these healthy little morsels!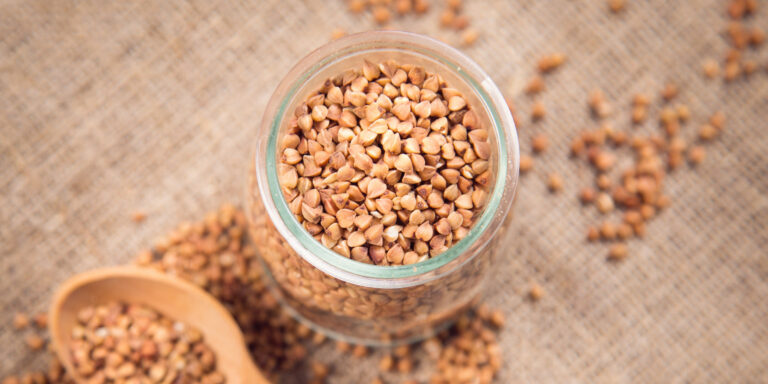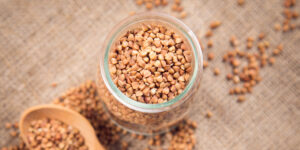 Tahini
Mhairi is of the strong opinion that tahini just makes everything taste better and we are starting to agree!! Made from hulled sesame seeds, tahini adds an amazing depth of flavour as well helping bind all your dry ingredients together. Luckily, it also has some fantastic health properties that add not just a layer of flavour but also benefits to your morning!
Packed full of minerals and vitamins
A great source of healthy fats
Rich in antioxidants
Studies suggest Tahini may offer anti-cancer benefits, especially for the kidneys and liver
Contains anti-inflammatory compounds
Thought to strengthen the central nervous system
Tastes delicious!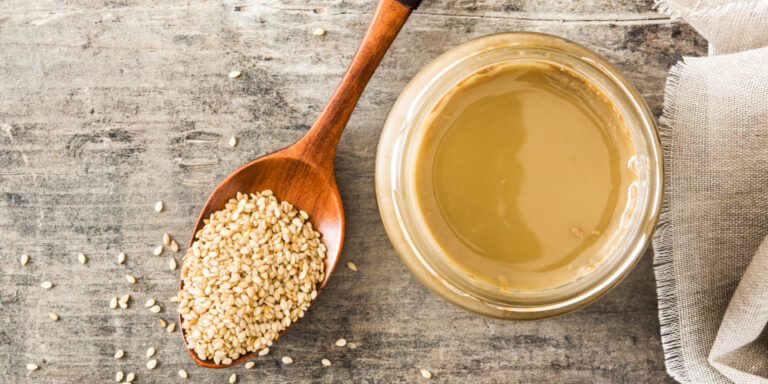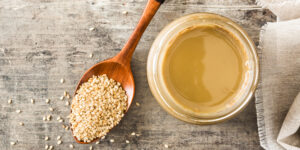 Granola Ingredients
100g jumbo oats
100g buckwheat groats
200g mixed seeds (I tend to use a mix of pumpkin, sunflower, hemp & sesame seeds)
60ml / 4 tbsp tahini
4 tbsp / 60ml  agave syrup
60ml / 4 tbsp melted coconut oil
How to Make Your Granola
Combine the oats, buckwheat groats, and mixed seeds together in a bowl.
Add the tahini, agave syrup, and melted coconut oil to a bowl or jug, and using a fork or whisk simply whisk together; you want to create a smooth but thick paste.
Stir your paste through the oat and buckwheat mix, it will resemble a kind of loose flapjack mixture.
Spread the granola mix thinly over a lined baking tray (you may need more than one tray). Bake for 20-30 minutes at 160℃, turning the tray halfway through for even baking.
Once baked, without mixing the granola, leave it on the tray to cool completely; this is very important as this what allows the granola to cool and stick together. Once cooled, gently break apart into clusters and store in an air-tight container or jar.
And there you have it! It is so simple you will quickly be wondering why you have been buying it at the supermarket for all these years! Remember, you can get super creative with flavours too. Why not add some dried fruit, nuts or coconut flakes!? Spices like cinnamon, cardamom and vanilla make amazing additions. For a perfect, super speedy breakfast