Madeira in July – Everything to See & Do | Madeira
Madeira in July
Welcome, fellow adventurers, to the stunning island of Madeira, where July unveils a tapestry of captivating experiences and natural wonders. Nestled in the heart of the Atlantic Ocean, this Portuguese paradise beckons with its lush landscapes, vibrant events, and delightful weather. As you embark on your summer escapade, let's dive into what makes Madeira in July a truly unforgettable destination. Get ready to immerse yourself in a world of breath taking vistas, rich traditions, and warm island hospitality.
Madeira Weather in July
In July, Madeira showcases its warm embrace as temperatures range between 22°C and 26°C, creating a perfect balance for outdoor adventures. The island enjoys abundant sunshine, granting you endless opportunities to explore its natural wonders. While rainfall is generally limited during this time, occasional showers may surprise you, so packing a light raincoat is advisable.
Festivals and Events in Madeira in July
This awesome holiday is all about celebrating the anniversary of the archipelago's independence from mainland Portugal back in 1976. It's not just about the fancy ceremonies. Families and friends get to have a blast too! Picture this: delicious picnics, fun-filled events, and the air buzzing with excitement! Get ready to join in on the festive vibes and make some incredible memories!
Funchal Jazz Festival
Let's talk about one of the coolest events on the music scene: the Funchal Jazz Festival! Taking place on July 7th 2023, the festival is an annual extravaganza that attracts jazz enthusiasts from far and wide. It's like a jazzy paradise where the atmosphere is buzzing with energy and the notes of saxophones, trumpets, and pianos fill the air. It's not just all about music, it's also a celebration of art, culture, and the vibrant spirit of the island. Picture yourself strolling through the charming streets, exploring local crafts, savoring mouth watering delicacies, and meeting friendly faces along the way. It's a true feast for all your senses!
Get ready for a sizzling event that kicks off the summer season with a bang! The Madeira Summer Opening is the ultimate celebration of all things summer on the gorgeous island of Madeira. It's a festival that brings together locals and visitors alike, creating an electric atmosphere filled with joy, laughter, and non-stop fun. It will take place on July 14th, 15th, 21st and 22nd 2023 and this is definitely an event not to be missed!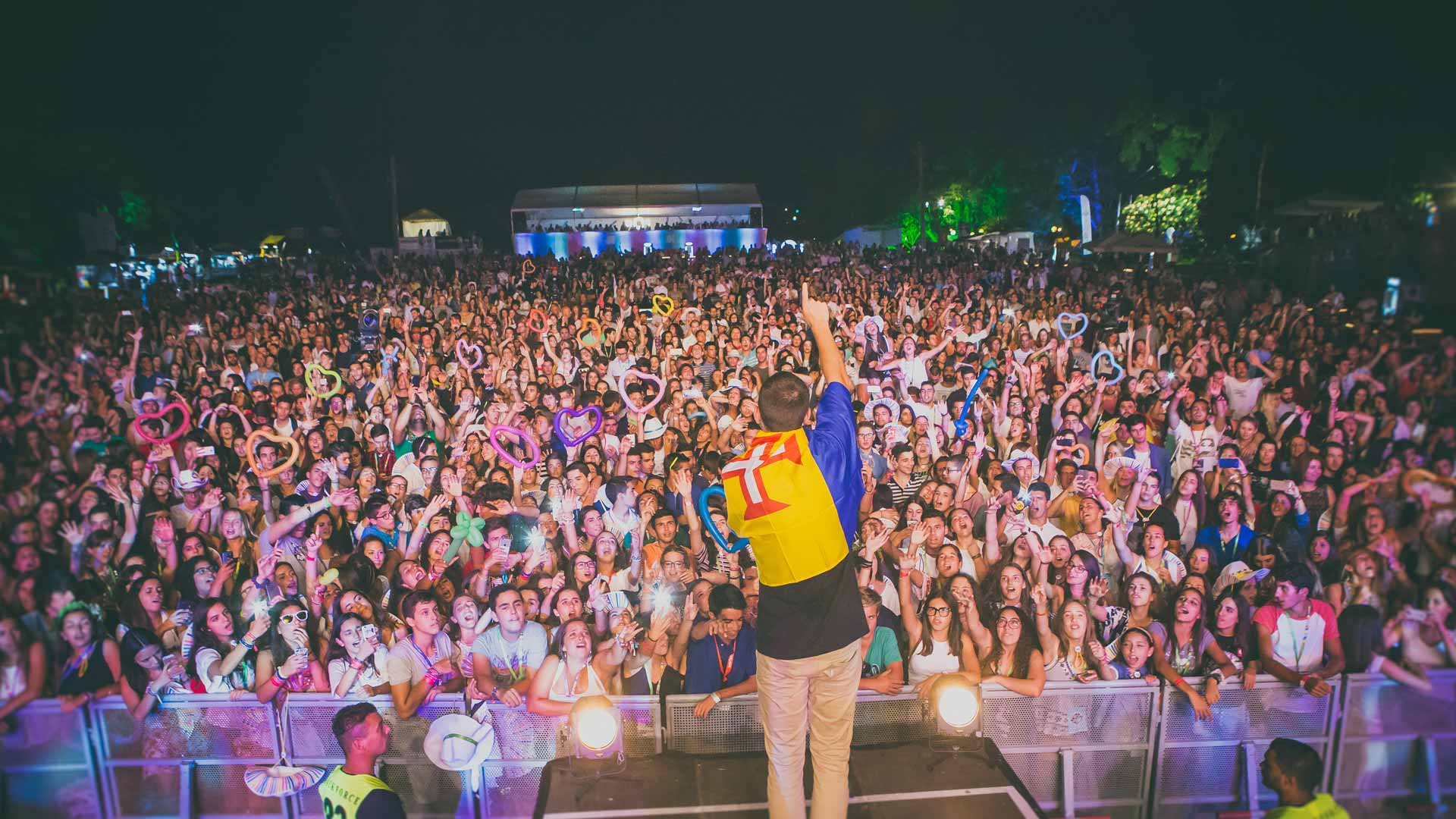 Best Places to visit in Madeira in July
Funchal
Discover the charming capital city of Madeira, Funchal! Lose yourself in its picturesque old town with colorful houses and flower-filled balconies. Get immersed in the lively markets, like the Mercado dos Lavradores, where you can find fresh produce and traditional crafts.
Don't miss the stunning Funchal Cathedral, a beautiful 15th-century structure with intricate woodwork. And make sure to visit the Monte Palace Tropical Garden, a paradise of exotic plants and peaceful ponds overlooking Funchal.
Ponta de São Lourenço
Nature lovers, you'll adore Ponta de São Lourenço! This breathtaking nature reserve on the eastern tip of Madeira offers dramatic coastal hikes with stunning views of the Atlantic Ocean. Dive into crystal-clear waters and keep an eye out for rare plants and seabirds.
Pico do Arieiro
Calling all adventure seekers! Head to Pico do Arieiro, the third-highest peak in Madeira. Reach the summit for awe-inspiring panoramic views and catch unforgettable sunrises. Explore hiking trails that lead you through lush forests, narrow ridges, and hidden waterfalls.
Travelling to Madeira means experiencing the captivating streets of Funchal, exploring the untouched beauty of Ponta de São Lourenço, and embracing the mountain adventures of Pico do Arieiro. It's a dream destination for relaxation and thrilling experiences!
Best Things to do in Madeira in July
Embark on a mesmerizing levada hike, an iconic Madeiran experience that takes you through the island's intricate network of irrigation channels. Immerse yourself in lush forests, where vibrant shades of green surround you, and the sounds of nature envelop you. Traverse along scenic paths that wind through picturesque landscapes, offering breath taking views of cascading waterfalls and hidden valleys. With trails suitable for various fitness levels, levada walks cater to both avid hikers and leisurely explorers, providing an intimate encounter with Madeira's untouched natural beauty.
Set sail on an unforgettable adventure in search of majestic marine creatures. The warm waters surrounding Madeira create a thriving habitat for a rich diversity of species, including dolphins, whales, and even turtles. Hop aboard a boat excursion led by knowledgeable guides who will share fascinating insights about these magnificent creatures. Marvel at the playful dolphins as they frolic in the waves, and be captivated by the awe-inspiring sight of majestic whales breaching the surface. This thrilling experience allows you to witness nature's wonders up close and create lifelong memories.
Sample Local Cuisine
Indulge in a culinary journey through Madeira's vibrant food scene, where traditional flavors and fresh ingredients take center stage. Start by savoring the succulent espetada, skewers of tender meat cooked over an open fire, infusing them with a smoky aroma and mouth watering taste. Delight your taste buds with the renowned black scabbard fish, a local delicacy often accompanied by banana or passion fruit sauce. And, of course, no visit to Madeira is complete without indulging in the island's famous fortified wine, Madeira wine. Explore cozy restaurants, local markets, and food festivals to discover the rich tapestry of flavors that define Madeiran cuisine.
Relax on the Beaches
Unwind on Madeira's inviting golden shores, where sun, sand, and sea await. Head to Praia Formosa, a picturesque pebble beach in Funchal, offering stunning views of the Atlantic Ocean and comfortable facilities. Alternatively, venture to the neighboring island of Porto Santo, famous for its extensive sandy beaches, where you can lounge under the sun and enjoy the refreshing Atlantic breeze. Take a dip in the crystal-clear waters, perfect for swimming and snorkeling, or simply bask in the tranquility of the coastal scenery. Beach lovers will find their paradise on Madeira's shores, where relaxation and natural beauty converge.
The Monte Wicker Basket Cars in Madeira are a unique and thrilling mode of transportation that has become an iconic symbol of the island. These traditional wicker sledges, locally known as "Carros de Cesto," offer an exciting way to descend the steep streets of Monte, a suburb of Funchal.
The journey concludes in the Livramento neighborhood, where you'll disembark from the wicker basket car. From there, you can explore the area or choose to visit the Monte Palace Tropical Garden, which is nearby.
FAQ about travelling to Madeira in July
Is July a good time to visit Madeira?
Absolutely! July offers fantastic weather and a range of exciting events, making it an ideal time to explore Madeira.
What should I pack for my trip to Madeira in July?
Pack light and comfortable clothing, including swimwear, sunscreen, a hat, and a light raincoat for unexpected showers.
Are there any safety precautions I should take?
While Madeira is generally safe, remember to stay hydrated, wear sunscreen, and be cautious while hiking in the mountains or swimming in the ocean.
Can I swim in the sea in July?
Certainly! Madeira's warm waters are perfect for swimming, snorkeling, and other water activities.
How do I get around Madeira?
Madeira has an efficient public transportation system, including buses and taxis. Alternatively, renting a car provides flexibility and easy access to various attractions.
Are there any travel restrictions or entry requirements?
It's important to check the latest travel advisories and entry requirements before your trip, including any COVID-19-related protocols.
What currency is used in Madeira?
Madeira, like mainland Portugal, uses the Euro as its currency.
What language is spoken in Madeira?
Portuguese is the official language, but English is widely spoken in tourist areas.
Are there any must-try local dishes?
Yes! Don't miss out on trying traditional dishes like bolo do caco (garlic bread), lapas (limpet), and the famous Madeira honey cake.
Can you recommend any off-the-beaten-path activities in Madeira?
Certainly! Explore the charming villages of Santana, visit the enchanting Laurissilva Forest, or take a boat tour to the hidden gems of the Desertas Islands.
Summary
In summary, July in Madeira is a time when nature's splendor blends harmoniously with lively festivities. From scenic hikes and sun-soaked beaches to vibrant festivals and culinary delights, Madeira is a treasure trove waiting to be explored. Embrace the island's warm embrace and book your upcoming retreat to Madeira today. Unleash your adventurous spirit and create memories that will last a lifetime on our unique adventure yoga retreats coming up!