Kenya In October – Everything to See & Do
Kenya in October
October is a wonderful time to visit beautiful Kenya, a land so rich in history, culture, wildlife and wilderness. October is considered to be the peak safari season in Kenya. During this time, the weather is ideal for wildlife viewing, as the vegetation is not too dense and animals are more visible. Kenya also offers wealth of activities for tourists. Explore the iconic Masai Mara National Reserve, visit bustling cities like Nairobi, or relax on the white sands of the coast. With diverse landscapes and rich culture, Kenya promises to be an unforgettable adventure.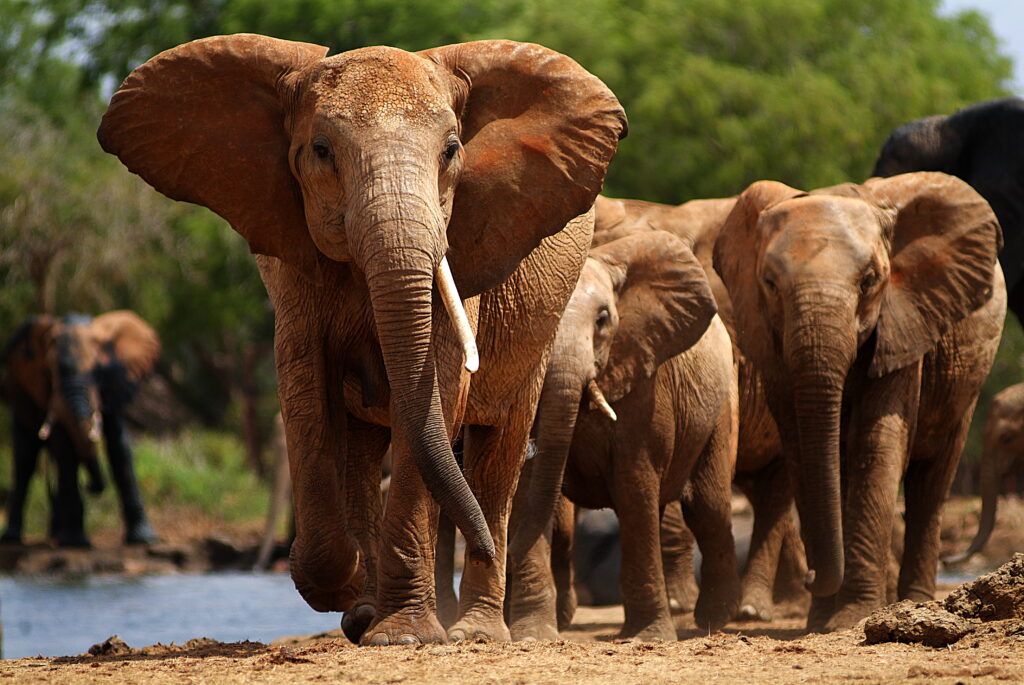 Kenya Weather in October
The temperatures in Kenya in October are relatively high, with an average high of 28 degrees and an average low of 18 degrees. The amount of average rainfall in Kenya during October varies from region to region. Coastal areas receive less rainfall than other parts of the country, with an average of around 50mm per month. However, some areas in Western parts of Kenya receive higher amounts of rainfall, with an average of around 200mm per month. 
Despite the relatively high temperatures during October, the humidity levels are somewhat low, ranging from 50-70%. This makes Kenya in October comfortable, especially in the evenings and mornings. However, due to the tropical climate you should be prepared for occasional showers and thunderstorms.
Festivals and Events in Kenya in October
Festivals
The 9th Lamu Yoga Festival is taking place in Lamu, Kenya from October 25th – 29th 2023. Located on an island on the north coast of Kenya, is it one of the most popular health and wellness destinations in Kenya and for good reason! Days start with morning yoga on the beach, meditation under the moonlight and a beach opening ceremony, Swahili dinner, Dhow sail and final bonfire. If you are in Kenya during the month of October, this is a must do!
Holidays
Formerly known as Moi Day, Huduma Day is a Kenyan holiday celebrated on October 10th. It marks the coming to power of Kenyan President Daniel Torotich Arap. However, as the county's constitution continued to be amended, the administration felt it was time to reconsider what Moi Day signified. It was officially restored following a landmark judicial judgement by Kenya's Supreme Court in 2017 which ruled it should be renamed and given a new significance. The new name is Swahili for 'service', reflecting the holidays new spirit.
Mashujaa, Swahili for 'heroes', is a national day in Kenya celebrated on October 20th, to honour all those who contributed towards the struggle for Kenya's independence or positively contributed in the post independence Kenya.  The holiday was once known as Kenyatta Day, named after Jomo Kenyatta, who was first Prime Minister and later President of Kenya.
Best Places to Visit in Kenya in October
If you are visiting Kenya in October, you must visit the Masai Mara National Park to experience the great migration of the wilder beasts and other animals. The great migration is unique to the Serengeti and the Masai Mara, as more than 1.5 million animals make their way from the Serengeti to the Masai Mara in search of water and greener pastures. Although the rush of animals will be gone by then, you will still manage to see a few of these incredible animals and it is truly a sight to behold.
A trip to Diani Beach, one of the most popular tourist destinations in Kenya, is a must see. With a coastline of more than 11 miles of rolling white sands and crystal clear waters of the Indian Ocean. You can spend the day relaxing in the sun or exploring the ocean with snorkelling or get adventurous with kitesurfing and skydiving.
Of course you cannot visit Kenya without experiencing the ultimate Safari in Tvaso National Park – home to red elephants and large open spaces. A stop on our Adventure Yogi Retreat, Tvaso is located between Nairobi City and Mombasa and is made up of two separate parks, East and West and is one of the world's largest national parks.
Tvaso East is slightly larger and generally flat with dry planes across the Galana River and is home to the Lugard Falls.
Tvaso West is more mountainous and wet and is home to the black rhino, elephants, Masai lion, hippos and Masai giraffes – a truly incredible experience seeing these animals in their natural habitat.
Best Things to do in Kenya in October
One of the most beautiful experiences to do in Kenya is to visit the Elephant Orphanage and Giraffe Centre, a perfect day trip to play with mischievous elephants, marvel at the Rothchild's giraffes and admire stunning beads and jewellery which have been handcrafted by African women.
If water adventures are your thing then you can visit the Kisite Marine Park and Wasini Island for a private tour including lunch. Swim through crystal clear waters, enjoy a boat cruise for dolphin spotting and explore the culture with an historical tour around Wasini Fishing Village and the Shimoni Slave Caves, where enslaved people were kept before being sent to Arabia.
You are sure to be feeling hungry now so you can spend the evening on an authentic Arabic dhow boat in the Indian Ocean. Indulge in a delicious seafood dinner, relax and stargaze, admire the twinkling lights of Mombasa.
FAQ about travelling to Kenya in October
Do I need a Visa to travel to Kenya?
You need a visa to enter Kenya. Kenyan entry visas are exclusively issued electronically, with passengers required to obtain their e-visas before departure. You can apply for single entry and transit visas on the e-visas website. It's around $50 US.
What currency is used in Kenya?
The currency used throughout Kenya is the Kenyan shilling. Mastercard and Visa are also accepted in most major tourist destinations.
What is the best way to get to Kenya?
You can fly to Mombasa Moi airport. There are currently no direct flights so you have to fly via Nairobi and take a connecting flight.
What vaccines do I need for Kenya? 
Please consult your doctor or a health professional because there are a few, like yellow fever and you may need some booster jabs for things like hepatitis depending on when you last had them. You may want to take Malaria tablets also.
What entry requirements are there for Kenya? 
As of August 2022, the Kenyan government ask for proof of vaccination for COVID-19. Unvaccinated need to present a negative PCR test 72 hours prior to the fight. You have to fill in a passenger locater form. More information can be found on the government website.
Is the SGR train from Nairobi to Mombasa safe for both passengers and luggage?
Yes, it is absolutely safe for both passengers and luggage.
What should I pack for my Safari in Kenya?
It is important to be comfortable as you are in a vehicle for a few hours whilst looking for wildlife. It's best to pack loose thin trousers / joggers / yoga pants or comfortable shorts. The morning game drives can start off a little chilly so pack a light jumper or a shawl. A hat to protect from the sun, t-shirts, long-sleeved tops for the evening and mosquitoes. Trainers for the safari section of the holiday. Flip flops for the beach! Suncream. Pack a backpack for packed lunches or drinks and easy access whilst travelling. A good book or three. A water bottle but you can't drink the tap water but may be able to access water fro the tented camps in the game park. Bring a light shawl for evenings at the beach and for cover in savasana in the evening. Mosquito spray.
With all that being said, October is a fantastic time of the year to visit beautiful Kenya with endless activities and adventures to take advantage of. It is the ultimate bucket list destination for Safari, water sports, awe inspired beaches and incredibly rich in culture.
If you have been thinking about Kenya, we have an upcoming retreat in October that includes 4 nights in Tvaso National Park and 5 nights on Diani beach with yoga everyday. Join us here.