Gluten-Free Mince Pies Recipe
They really are the taste of Christmas! These Gluten-Free Mince Pies are the perfect festive treat.
Here's our recipe for a crumbly, fruity Christmas classic that you don't have to feel too guilty about. We don't think being gluten-free should ever prevent you from having something as glorious as a mince pie over the festive season! So,  we want to share with you our Gluten-Free Mince Pies recipe so you can indulge at will!
Ingredients for Gluten-Free Mince Pies:
– 200g gluten-free flour
– 1 tbsp powdered sugar
– 125g diced cold butter
– Zest of 1 orange
– 200g mincemeat (Meridian gluten-free, organic mince) or you can make your own!
For the topping:
– 25g ground almond
– 1/4 tsp ground cinnamon
– 25g almond flakes
– melted butter – 25g
– 25g brown or cane sugar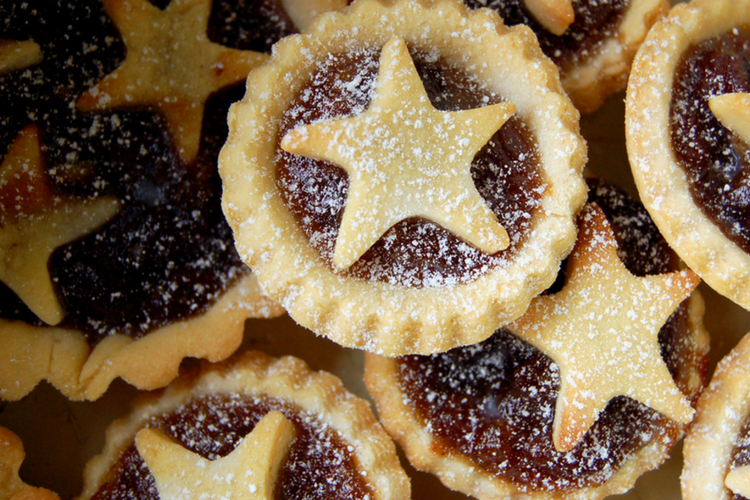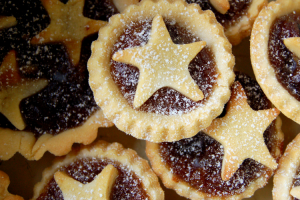 Gluten-Free Mince Pies Method:
1. For the Gluten-Free Mince Pies pastry, mix the cold diced butter with the flour (it should end up looking like breadcrumbs). Next, add in the powdered sugar and orange zest. While mixing, add 4 tablespoons of water, one at a time, until the dough comes together. Knead the dough, flatten it into a circle, wrap in cling film and keep in the fridge for at least 30 minutes.
2. Preheat the oven to 180°C. Sprinkle flour onto the countertop, and roll the pastry out till its about 2-3mm in thickness. Use a pastry cutter to cut out circles. Roll the scraps up and make more circles out of them (or use a star-shaped pastry cutter to make the star toppings with the scraps, instead of the crumble topping in step 3). Add the cut-out pastry circles to a muffin tin, then fill each one with 1 full tsp of mincemeat and spread out till it's smooth. (At this stage, if you are cooking for Christmas in advance, you can freeze as they are. Use within 1 month)
3. Star-topped: If you are making star-topped Gluten-Free Mince Pies, then just add the stars on top of each pie instead of the crumble. Bake for 20 minutes or until golden brown. Once they're done, leave them to cool for a few minutes and enjoy!
4. Crumble-topped: Mix all the ingredients in a bowl and sprinkle them on top of each mince pie. Bake for 20 minutes or until golden brown. Once they're done, leave them to cool for a few minutes and enjoy!
For more healthy recipes, check out the recipe section on our blog!