Cornwall in May | Everything To See & Do
Cornwall in May
Welcome to the enchanting realm of Cornwall in May, a time when this captivating coastal gem truly comes alive. With the vibrant burst of spring in full swing, Cornwall beckons with open arms, offering a symphony of natural beauty, cultural treasures, and idyllic landscapes. As the warmer winds embrace the coastline, Cornwall transforms into a haven of coastal wonders. Immerse yourself in the dramatic seascapes, where turquoise waters meet rugged cliffs and sandy beaches stretch as far as the eye can see. It's the perfect time to dip your toes in the refreshing Atlantic waves, embark on scenic coastal hikes, or simply bask in the sun's gentle embrace.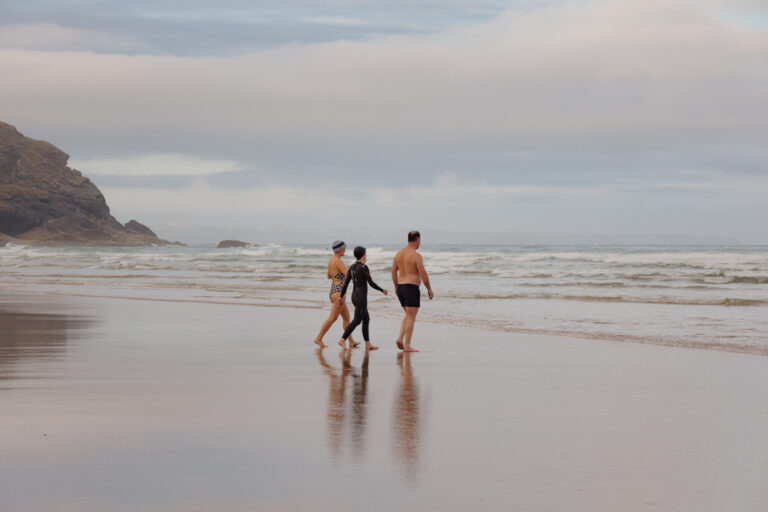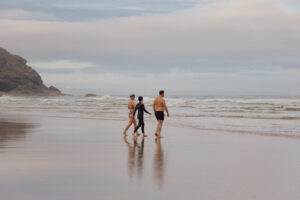 Cornwall Weather in May
In May, Cornwall emerges from its winter slumber into a realm of mild and inviting weather. Expect daytime highs ranging from 11°C to 15°C, and lows that hover around 7°C to 9°C, making it a pleasantly temperate time to explore. While the occasional spring shower might arrive, the average rainfall decreases from the previous months, allowing you to enjoy the outdoors more freely. As the sun graces the coastline with longer hours, May becomes an ideal window to revel in Cornwall's stunning landscapes, from its dramatic cliffs to its serene beaches.
Festivals and Events in Cornwall in May
May in Cornwall isn't just about scenic beauty; it's a month of lively festivities that celebrate culture, art, music, and food. Get ready to immerse yourself in the vibrant tapestry of this coastal paradise and create memories that'll last a lifetime!
Fowey Festival of Arts and Literature
Dive into a world of creativity at the Fowey Festival. Engage with renowned authors, artists, and musicians in this charming coastal town. From workshops to talks, it's a celebration of arts in all forms. The 2024 festival will run from May 10th – 18th, so if you are in Cornwall in May, be sure to check it out!
Helston Flora Day
Join the locals in Helston for the colourful Flora Day celebration – a Spring festival to celebrate the end of Winter. Dressed in finery, the locals dance through the streets, weaving through houses and shops in a mesmerizing display of tradition and joy. Flora Day 2024 will take place on Wednesday May 8th and is an unmissable celebration of local culture and history!
St. Ives Food and Drink Festival
Calling all foodies! Head to St. Ives Food and Drink Festival to savour the finest Cornish flavours. The festival is full to the brim of culinary delights, cooking demonstrations, and live music, this festival is a feast for your taste buds and your soul. The festival takes place on the stunning Porthminster Beach so you'll have the perfect mix of food and a place to dip the toes! Dates for the 2024 festival are still to be confirmed but keep an eye on their website if you are in the mood for food!
Padstow Obby Oss
Prepare for a unique spectacle in Padstow as the town comes alive with the Obby Oss celebrations. It's a May Day celebration like no other and steeped in history! Join the colourful processions, dance to folk music, and be part of a centuries-old tradition. It takes place on May 1st every year so if you get the chance to experience it, you won't regret it. 
Best Places to visit in Cornwall in May
Get ready for a whirlwind adventure as we explore the must-visit places in Cornwall during the fabulous month of May. From stunning coastlines to enchanting villages, Cornwall has something for every traveller:
St. Ives
Set your sights on St. Ives, a coastal gem that's a feast for the senses. Wander through its cobbled streets lined with art galleries, sip on local brews in charming cafes, and soak in breathtaking views from the coastal paths. Don't forget to explore the golden sands of Porthmeor Beach and catch the magical light that has inspired artists for generations.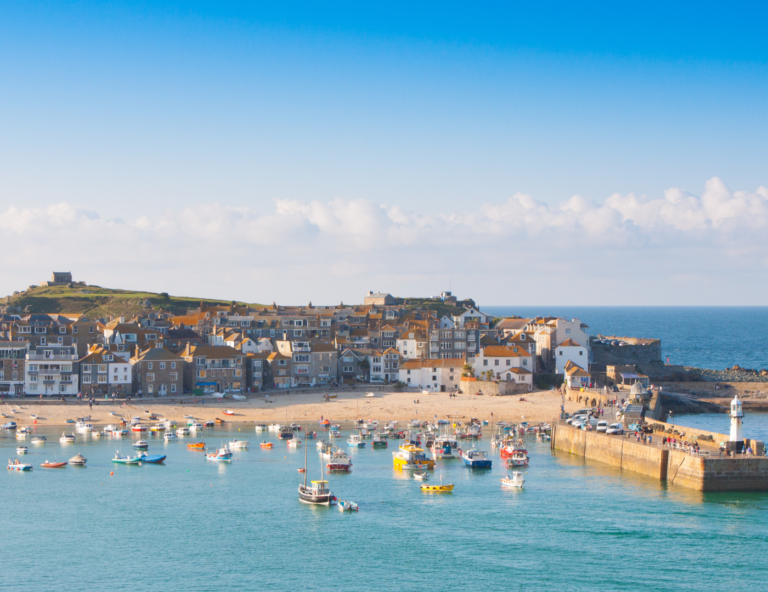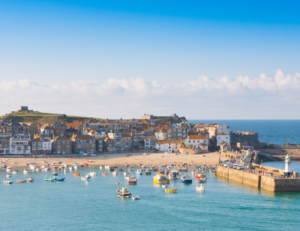 Tintagel Castle
Unleash your inner adventurer at Tintagel Castle. Perched dramatically on the rugged cliffs, this legendary site boasts tales of King Arthur and offers spellbinding ocean vistas. Climb the steps to the island, cross the new bridge, and let your imagination run wild amidst the ancient ruins.
Mousehole
Discover the enchanting village of Mousehole, a postcard-perfect hideaway that exudes charm. Stroll along the picturesque harbour, savour fresh seafood at cosy eateries, and lose track of time in its captivating lanes adorned with colourful flowers.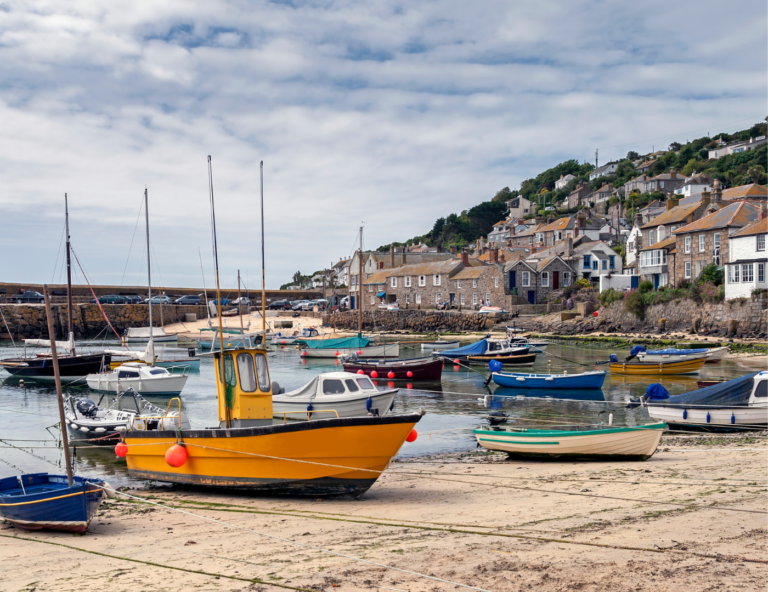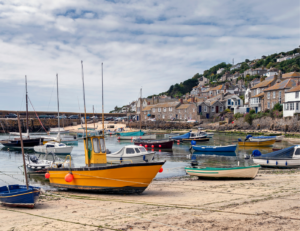 Eden Project
Embark on a journey to the futuristic landscapes of the Eden Project. Wander through biomes that transport you to diverse climates and ecosystems, from lush rainforests to Mediterranean gardens. It's a captivating blend of education and adventure!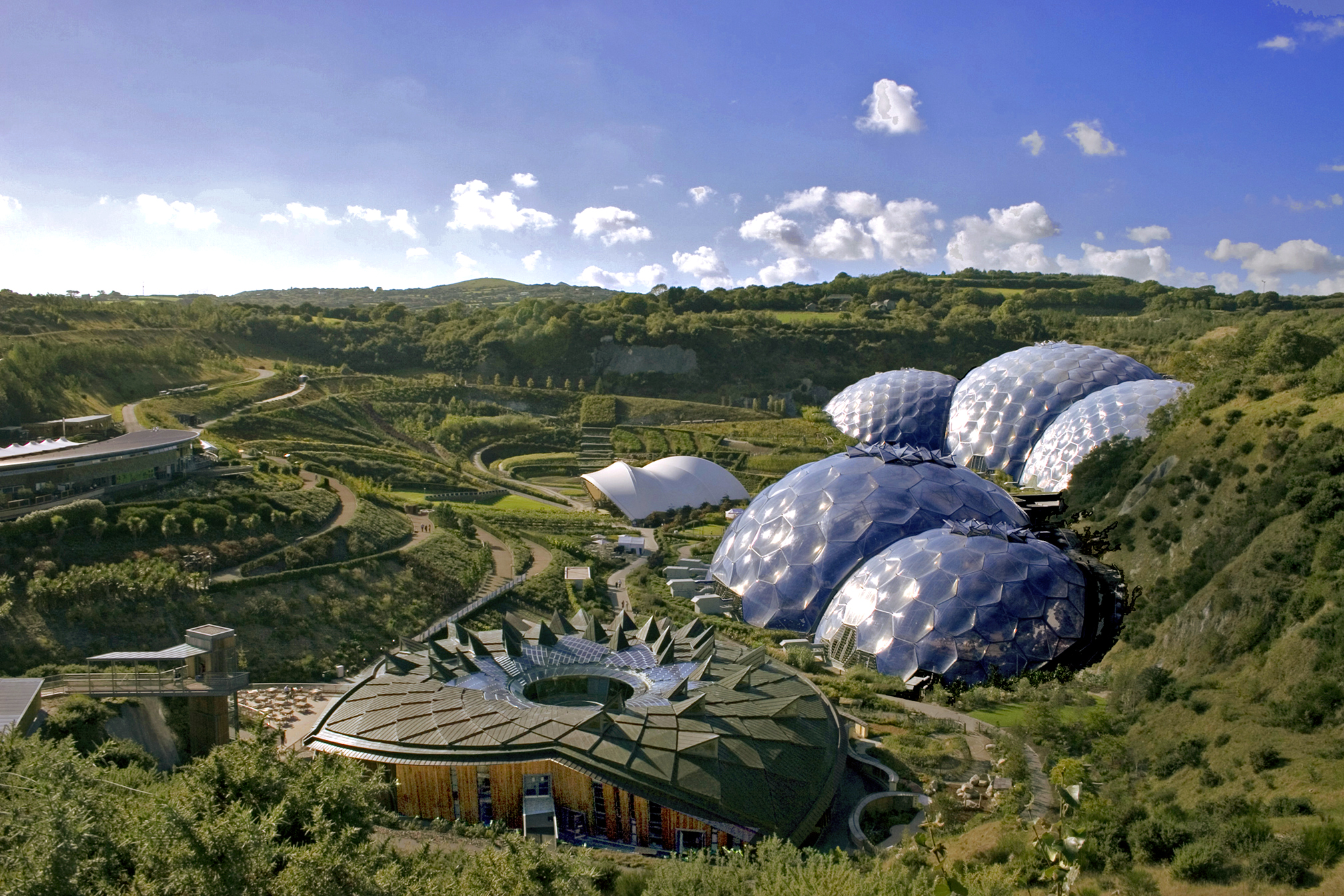 Lizard Peninsula
The Lizard Peninsula beckons with its wild beauty. Explore the dramatic cliffs, gaze at the stunning Lizard Lighthouse, and keep an eye out for seals basking in the sun. Hike the coastal trails for vistas that will leave you breathless.
Porthcurno
Dive into the crystalline waters of Porthcurno, a beach that feels like paradise. The turquoise hues and soft sands make it an ideal spot for sunbathing, picnicking, and simply unwinding as you listen to the gentle waves.
Port Isaac
For a touch of authenticity, venture to Port Isaac. Wander through its charming streets that you might recognize from the TV series "Doc Martin." Feel the warmth of the community and indulge in fresh Cornish pasties that satisfy both hunger and curiosity.
Best Things to do in Cornwall in May
May in Cornwall is your opportunity to embrace a whirlwind of activities that promise fun, thrill, and unforgettable memories. Whether you're catching waves, chasing sunsets, or uncovering hidden treasures, Cornwall in May is your canvas for adventure.
Paddle Boarding in Newquay
Ride the waves of fun with paddle boarding in Newquay. Feel the rush as you stand atop the board, gliding over crystal-clear waters. Whether you're a pro or a beginner, the ocean welcomes you to an unforgettable aquatic adventure.
Minack Theatre
Take your cultural exploration to the Minack Theatre, a dramatic open-air venue carved into the cliffs. Watch a play or simply bask in the breathtaking views of Porthcurno Bay – it's an artistic adventure unlike any other.
Gwithian Beach Sunset
Immerse yourself in the magic of a Gwithian Beach sunset. The skies put on a show of brilliant hues as the sun kisses the horizon. Bring a picnic, relax in the sand, and let the beauty of nature sweep you off your feet.
Bodmin Moor Adventure
Embark on an exhilarating adventure on Bodmin Moor. Hike the windswept landscapes, explore the mysterious Jamaica Inn, and chase panoramic views that make you feel on top of the world.
St. Michael's Mount Exploration
Conquer the mythical St. Michael's Mount, an island crowned by a castle. Wade across the causeway during low tide or take a boat during high tide to uncover the secrets of this historic marvel.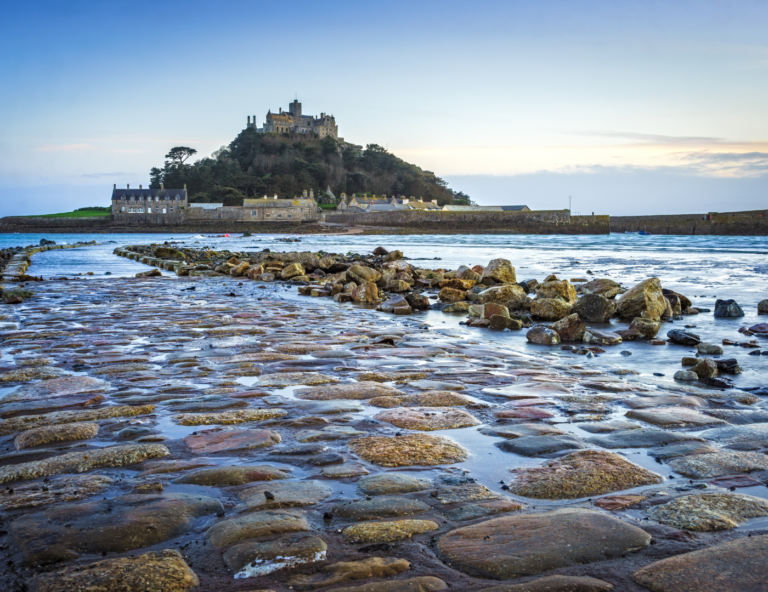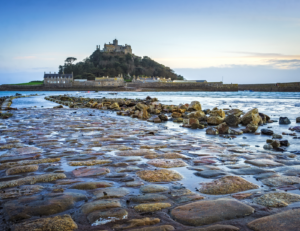 FAQ about travelling to Cornwall in May
Is May a good time to visit Cornwall?
Absolutely! May is an ideal time to visit Cornwall. The weather is comfortable, the landscape is lush, and many attractions and activities are available.
Are the beaches suitable for swimming in May?
Yes, the beaches in Cornwall are suitable for swimming in May. While the water might still be a bit chilly, many visitors enjoy dipping their toes or taking a refreshing swim in the ocean.
Are outdoor activities available in May?
Definitely! May is perfect for outdoor activities like hiking, coastal walks, cycling, and water sports. It's a great time to explore Cornwall's stunning landscapes and enjoy various adventures.
Are there any festivals or events in May?
Yes, Cornwall hosts a variety of events and festivals in May. From the Fowey Festival of Arts and Literature to the Helston Flora Day and food festivals, there's something for everyone to enjoy.
Is it crowded in Cornwall in May?
Compared to the peak summer months, Cornwall is generally less crowded in May. It's a fantastic time to explore attractions without dealing with the large summer crowds.
What should I pack for a trip to Cornwall in May?
Pack layers, including light jackets, sweaters, and rainproof clothing. Comfortable walking shoes, swimwear, sunscreen, and a hat are also recommended.
Can I expect to see spring flowers and gardens in bloom?
Absolutely! May is a prime time to witness spring blooms and lush gardens. Many gardens, such as the Lost Gardens of Heligan and Trebah Garden, are at their most vibrant during this month.
Are there any water activities available in May?
Yes, May is great for water activities like paddle boarding, kayaking, and surfing. While the water might be a bit cooler, it's still enjoyable for those who love aquatic adventures.
Summary
From exploring charming villages to indulging in outdoor adventures, this is a month of pure delight. Don't miss the chance to experience Cornwall's magic firsthand. Join our upcoming wild swimming and coastal walking retreats in May 2024, where you can immerse yourself in the beauty of Cornwall's coast and countryside. You can join us May 24th – 27th and May 27th – 31st. Secure your spot now and make 2024 a year of discovery and exploration!