What to Consider When Booking a Yoga Retreat
 Feeling nervous about booking a yoga retreat?
Don't worry, you aren't alone. Most people do feel this way. Whether you are new to yoga and want to dive in at the deep end or are more experienced and go to weekly classes, you may have considered going on a retreat. However,  the choice and variety can be really confusing!
You have to think about what you are looking for that fits your needs at that time, what you feel comfortable with, and what you want to get from it. Here are our top tips coming from newbies' eyes. If this is your first retreat ever too – then go over to my blog about what to expect from your first yoga retreat to help dispel any myths or opinions that you may have heard.
1. When do you want to go?
A lot of people book a yoga retreat weekend quite the last minute. They can be contractors, self-employed, employed, mums or people don't know when they are stressed until they are so stressed that they feel they need a break. For yoga holidays abroad – a bit more planning has to happen, like a normal holiday, so people plan a bit more in advance. The further away, the more in advance they plan. A good thing to remember, however, is if you book in advance then there is usually a great early bird offer on that may be too good to resist – so booking in advance does have its advantages.
2. Where do you want to go?
Choices choices! With so many options out there it is up to you. Check to see how much time off you have and then decide. There is a multitude of retreats throughout the UK and they are becoming prevalent all over the world. Going with a company will give you more security as they are established and are more professional than individual yoga teachers who may never have run retreats before.
3. How long do you want to go?
As mentioned above, there are weekend retreats in the UK that are 2 – 3 nights over the weekend. This is not very long and easy to commit to so these work for everyone but particularly if you are a mum and can't take much time away, are in between jobs and have a few days spare, are very busy, and need a break but can't take a whole week, the self-employed who don't give themselves enough time off anyway!… If you have never been on a retreat before and you want to try it out before committing to a week then weekends are great for this also. Just try a weekend to see if you like it. We have lots of guests who do this – come for a taster on a weekend and then once they know what we do and feel safe and have enjoyed it, they venture further afield as they know what they are going to get. If you feel you really need a longer holiday, then dive in and look for week-long breaks.
4. 

How much do you want to spend?
There are different price ranges for retreats on weekends and weeks. In the UK you can start a weekend retreat from as little as £250 and up to £700 so it depends on what you feel comfortable spending. For holidays abroad for a week if you are looking at mid-range you can get a great holiday package for £1200 – £1500 for a week and that's all in – so flights, travel, food, accommodation, yoga plus extras.
These are the logistical factors you have to think about and once you have these nailed, other things you need to consider are:
5. The type of yoga
If you are new to yoga this may not be as important to you. Destination, price, and what's included, and when it is. You know you want to do yoga but as you don't know much about it you will go and try it out. That's very brave! But you can rest assured that you aren't alone as lots of people do this. If you still need reassurance that the holiday will be great – a good idea is to find the company or teacher on Google or Facebook and read some reviews from previous guests. This is a great way to get a feel of the company or person you are looking to book with and see their teaching styles. If you aren't new to yoga retreats you may know what type of yoga you are looking for, so you could do a search for specific types of yoga practices and see what comes up.
6. How many hours of yoga a day
This may not matter to you or it may matter a lot. The average amount of yoga per day is 3 hours, 1.5 in the morning and the same in the evening. Some may offer more yoga per day as this may be more of an immersion experience into yoga, so a bit more serious. We like to combine adventure or activity with yoga. That, combined with healthy eating, and a good amount of downtime! We offer 4 hours of yoga a day on our wellbeing UK weekends and then 3 hours on our holidays. On holidays, that is enough yoga and we are busy being active or having fun somewhere else. If you're quite new to yoga then this amount of time is plenty.  Otherwise, you will get a bit achy if you spend the whole day in immersive yoga.
7. What are you looking to get out of your retreat experience
You should know what kind of retreat or holiday you are looking for – whether it's the more serious immersion, a more active break, a more restorative break, beach time, action-packed, relaxed, a lot of time for sleep and R&R, more holistic and life coaching type breaks, healthy eating cleanses or boot camp style. So, really take time to think about what it is you want to get out of your yoga retreat! Then, start searching. By taking the time to read what each company has written on their website you will be able to see what type of retreat is on offer. Not only that but also what you can get out of it. You may want to notice what feelings come up and if you feel excited by it. If you do, that's the one!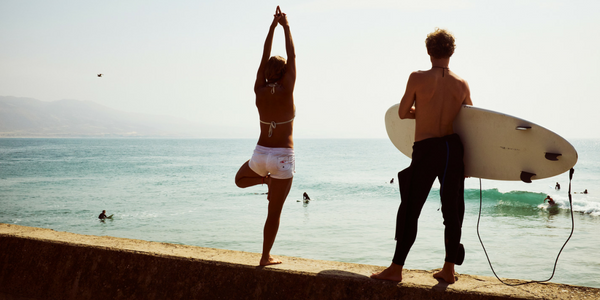 There is so much choice out there! Now, make sure that you take your time when booking so that you choose the best retreat for you. We have been running retreats for 10 years throughout the UK, in France, Greece and Ibiza and further afield such as Morocco and Sri Lanka and we have met a lot of guests who have been through this experience. If you would like some guidance then please get in touch with us – we are happy to advise!