Product Review: Calyana Yoga Mat
Calyana Yoga Mat Blues
Being a yoga retreat company, of no fixed abode we move from venue to venue throughout the UK and abroad. That means, we need a lot of yoga mats, especially if we have 4 retreats on the same weekend! Even though mats call themselves sticky mats, hands and feet can have a tendency to slide at the most inopportune times. We met Calyana at the Om Yoga Show this year (2014) and we had a go, and were instantly hooked!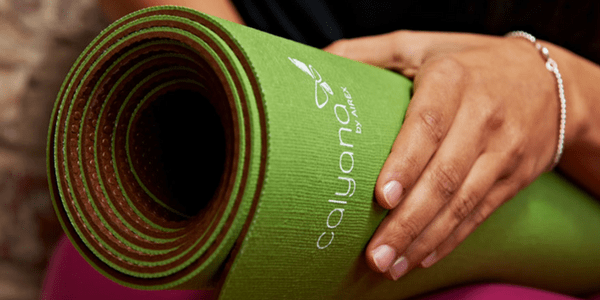 5 reasons why we love the Calyana yoga mat
1. 100% anti-slip: As soon as I lifted my hips to downward dog, hands, and feet foundations firmly pressing into the mat, I could tell that my hands weren't going anywhere. The mat feels heavier than the average mat but this reassured me that it is durable and will last for ages. This is because of the 100% anti-slip thanks to sophisticated texture and underside with a circular pattern.
2. Comfortably cushioned: Not only has the focus been on anti-slip and durability, they have even thought about comfort too. Under the hands, arms or even head, I felt totally supported by the mat, although it is thinner than the average sticky mat it feels thick and stable.
3. 100% sustainable: As always, this is very important to us at AY. The mats are designed in Switzerland and manufactured in Germany and they are tested for harmful substances with Oeko-Tex Standard and they passed with 100%. These mats are manufactured using sustainable materials with environmentally friendly technologies.
4. Experts in foam: Designed by AIREX in Switzerland, these guys have over 50 years of experience in foam and originally make gymnastic mats so they know about cushioning, support and durability.
5. Easy to carry and easy to clean: If you are an AdventureYogi yourself and love to travel with your mat, then this is the one to go for. Lightweight, take it on a short holiday or a trip of a lifetime..it will be with you until the end!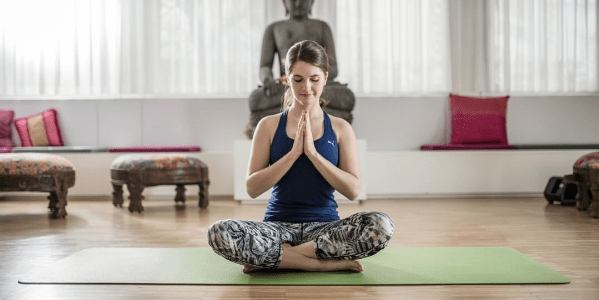 If you would like more info on this mat please go to the Calyana website.
Or come and try out these fab mats on our yoga retreats in the UK or yoga holidays abroad!