Almond and Cashew Nut Milk Recipe
Nut Milk is delicious and oh so good for you!
Now, this is one of the most popular recipes on our Yoga Retreats in the UK. Our almond and cashew nut milk is so divine that you will put to one side dairy and convert to making your own! Most likely, s soon as you get home from the retreat. Honestly, we are constantly asked for this recipe so we have decided to share it with everyone.
Over the years there has been a boom in dairy-free milk. Oat, nut, rice, and hemp milk are now a standard affair at any supermarket and are starting to rival with their dairy competitors! In fact, Asda has just announced they will be introducing a new aisle in their stores dedicated solely to vegan items! You may also have noticed that these milk alternatives are not cheap. Luckily for us all, nut milk is super easy and very cost-effective to make.
Our indulgent nut milk recipe combines almonds and cashews. This gives you an incredible creamy flavour and texture. Truly, it makes the most perfect coffee, and is incredible ice cold, poured over your favourite cereal.  Read below and have a go at making your own!
Ingredients
– 1 cup almonds
– 1 cup cashews
– tsp vanilla
– Pinch sea salt
– 3 or 4 cups water (depending on how thick you would like it)
Nut Milk Method
Soak the almonds and cashews overnight in plenty of clean water. Drain and rinse before adding them along with the other ingredients to the blender. Blend 4 to 5 times to get a nice creamy texture. Leave to settle and separate and then strain through either a muslin clothe or fine sieve. It will keep for 4 days in the fridge. Not ideal for freezing.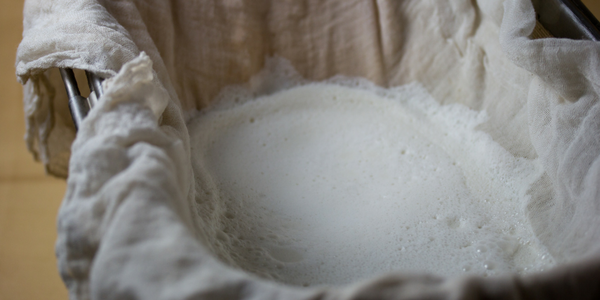 This nut milk is perfect on cereal, in porridge, or just enjoyed by itself! Bursting with vitamin E, protein, essential fatty acids and mineral-rich this is a fabulous way to get nutrients into your body quickly.