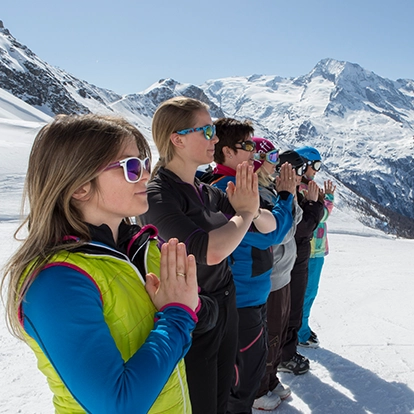 Ski/Snowboard La Rosiere, French Alps in March 2024
9th - 16th March 2024 Ski Yoga Holiday
Skiing and snowboarding are back! Come and join us for an exhilarating ski yoga holiday in La Rosiere, French Alps. Staying in a ski-in-ski-out wellness apartment hotel you are free to go up the mountain when you like, relax at the venue or enjoy the wellness spa or village of La Rosiere.

09th March 2024

La Rosiere, French Alps
We are very excited to be heading back for winter 2024 to our skiing yoga holiday in the French Alps. We started AdventureYogi with this yoga holiday in 2006 so skiing and snowboarding yoga holidays are our passion.
We are back to an old favourite ski area, La Rosiere and the ski area of San Bernadino. It is a fantastic ski area that combines La Rosiere on the French side and La Thuile on the Italian side that it connects to.
We are in newly developed ski-in-ski-out wellness apartments in the heart of La Rosiere ski village, so you can come and go as you please to the slopes and you have shops, cafes, and ski hire shops at your fingertips. The apartment also has warming ski lockers so after a day on the slopes you can lock your kit away and know that it will be dry the next day.
An extra bonus is that the apartments also have a wellness centre and you have access to a 15-metre indoor heated swimming pool, saunas, indoor and outdoor hot tubs, and a gym. It is open from 10 am – 10 pm so a morning swim or a late-night sauna is possible.
We will be staying in two apartments next door to each other and one will be the yoga space and the other the living/dining space. Both have valley views, which are stunning of the whole valley of the Tarantaise valley, with stunning sunsets every night.
La Rosière – Espace San Bernardo ski area stands out for its sunshine, snow coverage and its connection with Italy. New in 2019 was created a whole new ski area called the Mont Valaisan ski area. It boasts 5 new red runs at an altitude of 2800m, offering more challenging terrain for the more advanced skier or boarder. It also offers more freeride terrain too.
La Rosiere is also known for great beginner runs and gentle slopes so it is perfect for all levels. If you are a beginner you can choose to relax at the apartment after your lessons and enjoy the wellness centre.
Start the day with yoga and get set for a full day's skiing. Return to the apartment whenever you feel like it, enjoy the spa wellness area, unwind with a massage and a more restorative yoga class, ready for a delicious 2-course hearty and wholesome vegan/vegetarian evening meal.
If you don't want to fly you don't have to – get the train to Bourg St Maurice which is only a 25-minute transfer away.
Itinerary
Arrive in time for a welcome meeting and dinner at 8pm. Yoga will be from 7am – 8am each morning to energise and then again at 6pm – 7.15pm and dinner will be at 7.30pm.
Your last day of yoga will be Friday evening. You have some time to enjoy the wellness area of the wellness hotel and if you are a beginner you can enjoy it during the daytime if you choose not to spend all day on the mountain.
We can help arrange ski lessons for you prior to the holiday so that you will know what your personal schedule will be.
Take a look at the La Rosiere – San Bernado ski area piste map to see the Italian side and the new areas in La Rosiere.
Daily Schedule
From 6.45am
Wake up, tea, hot lemon, pre yoga snack
7am
Morning power hour yoga class
8am
Energising breakfast
From 9am - 4.30pm
When you are ready head out for a day on the mountain and come down when you wish
4.30pm
Or earlier, come back to the apartment, enjoy the wellness spa area, swim, sauna, steam, massage
6pm - 7.15pm
Evening restorative yoga
7.30pm
Hearty, warming and wholesome evening meal
9pm
Wind down and relax time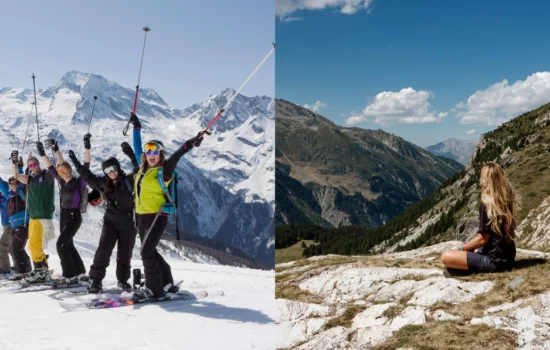 Beautiful La Rosiere, French Alps
For 2024 we are running both our ski/snowboard yoga holidays and hiking/multi-adventure yoga holidays in La Rosiere in the French Alps.
Read more
We have been staying around this area for the last 15 years and love the summers in the ski resort as much as the winters.
This ski/ summer mountain area is a part of the Tarentaise Valley which comprises other ski areas such as Val D'Isere and Tignes, Les Arcs and St Foy. La Rosiere is situated on the south-facing side of the mountain range so the front face of the ski mountain has sun all day with beautiful sunsets.
Ski Information
Low carbon travel:  If you would prefer to travel by train rather than fly then there are trains via Paris from London St Pancras to Bourg-Saint-Maurice and then only a short 20-minute transfer to your accommodation.
You can get 15% off your ski pass if you travel by train – find out more here.
La Rosiere itself is a part of the San Bernadino ski area, which is connected with La Thuile in Italy which means that you can enjoy the playful traverse to La Thuile which is usually the road in the summer for the mountain pass.  It also means you can enjoy croissants for breakfast and pasta or pizza for lunch. Or a bombadino if you are feeling adventurous!
The ski area is great for beginners, intermediate and advanced, there is something for everyone. Beginners can stay at the front side of La Rosiere and the more intermediate can ski all the way to Italy and back.
We are based in ski-in-ski-out wellness apartments right in the centre of La Rosiere surrounded by shops, restaurants, ski school, and ski hire and fabulous views on the south-facing mountain side so sun all day.
If you are a beginner and have had enough after your ski lesson you can get back to your accommodation easily and choose to relax there or try out the wellness facilities such as a gym, swimming pool, and spa area and relax with a massage. Or have lunch in a restaurant whilst enjoying amazing views.
Summer information
Our Yoga Teachers
Over the 17 years that AY has been organising our bespoke retreats, we have always made sure that we work with exceptional yoga teachers who are dedicated to their practice and live and breathe yoga, so you can feel safe in the knowledge that you will be inspired, relaxed and tensions dissolved by the end of your retreat with us.
About the yoga
Morning Class
Our morning classes are held in the yoga space with stunning views of the valley below. Your power hour yoga class will awaken and warm your body and mind so that you are ready for your day on the mountain. The yoga teacher will pay special attention to warming muscles, stretching out the legs and building stamina for your day of adventure.
Evening Class
After your full day of skiing or snowboarding, return to enjoy a hot tub and sauna and then relax and unwind tired bodies with a restorative evening yoga class. This gentle session will vary each evening and include pranayama and meditation to help the mind and body really let go and allow you to enter a state of deep relaxation.
Enjoy our blog about preparing for your ski holiday to save any excess aches and pains and our Apres-ski yoga sequence to cool down and minimise stiffness.
Highlights
Ski in ski out accommodation right in the heart of La Rosiere

Located next to all the shops, cafes, restaurants. ski shops

A wellness apartment hotel benefit from the wellness area with swimming pool, sauna and steam room

Warming lockers to store ski kit

Great for beginners and intermediate skiers/boarders

Ski the San bernadino ski area La Rosiere and La Thuile in italy

Yoga twice a day to keep muscles prepped for skiing
About the food
All of our retreat chefs are highly experienced and passionate about their craft. We have always been a vegan/vegetarian company since 2006.
Expect a delicious warming and wholesome breakfast to get you ready to hit the slopes and a 2-course hearty evening meal to fill you up after an exhilarating day skiing or snowboarding.
We are usually more vegan these days but seeing as we are in the French Alps expect a fondue and a selection of local cheeses. If you are vegan or gluten-free or have any other dietary needs we can cater for this, just let us know on booking.
One evening meal will be spent at a local restaurant.
Lunch – you are surrounded by shops to be able to buy lunch in various places or get snacks for the mountain for lunch. Or there are lots of mountain restaurants to choose from to enjoy.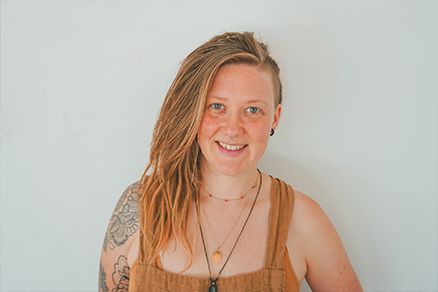 Mhairi MacLeod
Originally having grown up in the North-East of Scotland, Mhairi now travels as a plant-based chef and on our retreats she allows the food to complement the atmosphere and the experience that is being offered to the guests.
Suitability
This skiing yoga holiday in the French Alps is suitable for anyone who loves yoga and /or skiing/ snowboarding and wants to combine the two for the ultimate skiing experience. In a picturesque and convenient setting next to the slopes exhilarate and relax at the same time. Beginners are welcome as well as all ages.
Advanced
All ages
Beginners
Intermediate
Men & Women
I have been on 4 ski yoga holidays now. I love Sainte Foy and enjoyed the fact that we could ski at a number of locations. I'll be booking again next year!
Alex Pantzar – Ski Yoga
Our ski area is a picture book resort with lovely empty slopes and the chalet was perfectly placed. I was nervous about combining yoga and skiing but it turned out to be the ideal blend. Wonderful bunch of people. Would do it again in a heartbeat.
John Jones – Ski Yoga
The yoga ski holiday was great. I loved the different approach to morning and evening sessions you could tell they were tailored to the skiing.
Lawal Brown – Ski Yoga